Prema Racing says the illegal part fitted to Charles Leclerc's car that cost him Formula 2 pole in Hungary was fitted in error and not to gain a performance advantage.
Ferrari Formula 1 junior Leclerc had thought he had secured a record-breaking seventh consecutive pole position but he was stripped of his first place grid spot hours after qualifying at the Hungaroring.
Scrutineers discovered that his car's differential had been fitted with a shim that was different to the material mandated in the F2 regulations.
The shim, which is placed between the cover and first plate in the differential, was made of brass and not steel as the rules stipulate.
"We made it in brass just because it's easier to cut and because the mechanics didn't know and in Formula 3 and other series you use the materials you want," Prema's technical director and Leclerc's engineer, Guillaume Capietto, explained to Autosport.
When asked if the brass shim could give any performance benefit, Capietto said: "No, there is no friction because all the parts are linked, so there is no rotation between the parts."
Prema also clarified that the shim had only been fitted onto Leclerc's differential because it was showing signs of wear, and that it had not been used at the previous round of the series at Silverstone.
The brass shim was not used on Antonio Fuoco's car.
"Depending on the thickness of the plate - you need [the shim] or not," said Capietto.
"In fact you need this to compensate the wear of all the plates to maintain the pre-load.
"This differential was a bit more worn, so we had to add one shim, on the other car it is not.
"On the previous race it was not [used] as well - it's something we just did for here."
Prema boss Rene Rosin said the Italian squad took "full responsibility" and apologised to Leclerc and Ferrari for the issue.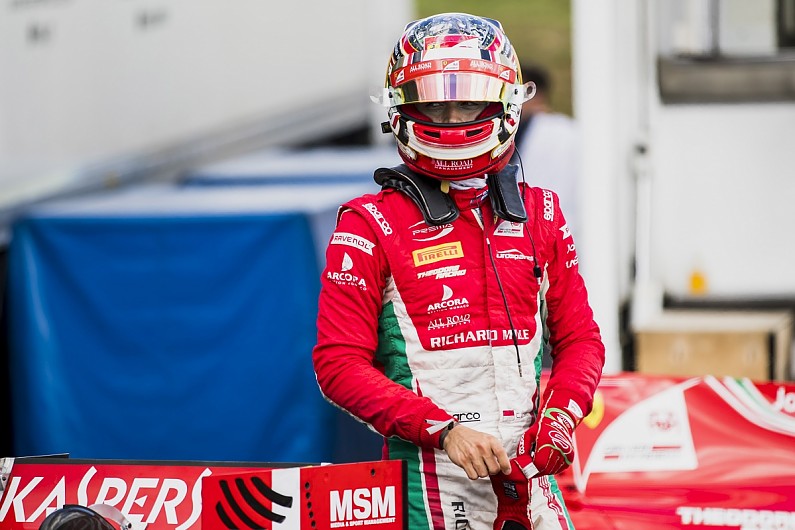 He also responded to any speculation that Prema was circumventing the rules to give Leclerc, who has a 67-point advantage in the F2 standings, any performance boost.
"There is a lot of reaction on social media - 'Prema is cheating' - but look on the history of Prema, it's never been found guilty for not-sporting behaviour - never," he said.
"It's one of the principals that I'm telling the engineers, the mechanics, the drivers.
"Of course you're racing on the limit - if you want to perform, if you want to win, you need to race on the limit - that's understandable.
"And mistakes can also happen, but we are not here to cheat."
As a result of losing pole, Leclerc will start this afternoon's feature race from 19th on the grid.
Briton Oliver Rowland, who is third in the championship, will now start in first place for DAMS, with Leclerc's closest points rival - Russian Time's Artem Markelov - alongside him on the front row.