Renault Formula 1 development driver Oliver Rowland scored a first Formula 2 victory in a disrupted feature race at Monaco, as championship leader Charles Leclerc retired after leading early on.
DAMS driver Rowland beat Russian Time racer Artem Markelov to the victory after taking the lead from Leclerc when the safety car appeared for the second time.
At the start, Leclerc, who had been airing concerns about his car's clutch on the grid, got off the line without issue.
The Ferrari protege had to defend hard against Alexander Albon on the run to St Devote and locked up but was able to stay in front.
Leclerc had pulled out a 1.6-second lead over Albon when the safety car was deployed for the first time as Nicholas Latifi's DAMS car stopped with smoke streaming from its engine in the tunnel.
Albon used the interruption to make an early switch to the super-softs, while Leclerc, Rowland, Markelov and Nobuharu Matsushita opted to stay out on their softs.
When the race restarted on lap 12 of 41, Leclerc shot clear of Rowland in an attempt to pull a big enough gap to pit and rejoin ahead of Albon - who was seventh when the race resumed, the first of the runners who had stopped - without losing track position.
The flat-out strategy looked to be working for Leclerc, who had raced to a 6.1s lead over Rowland, and 23.6s over Albon, when the second safety car period changed the race dramatically.
Campos Racing's new signing Robert Visoiu and Louis Deletraz collided at Mirabeau and slid into the barriers on the outside of the track.
Although Deletraz was able to reverse his Racing Engineering car out of danger, Visoiu was stranded and the safety car was deployed as the marshals craned it away.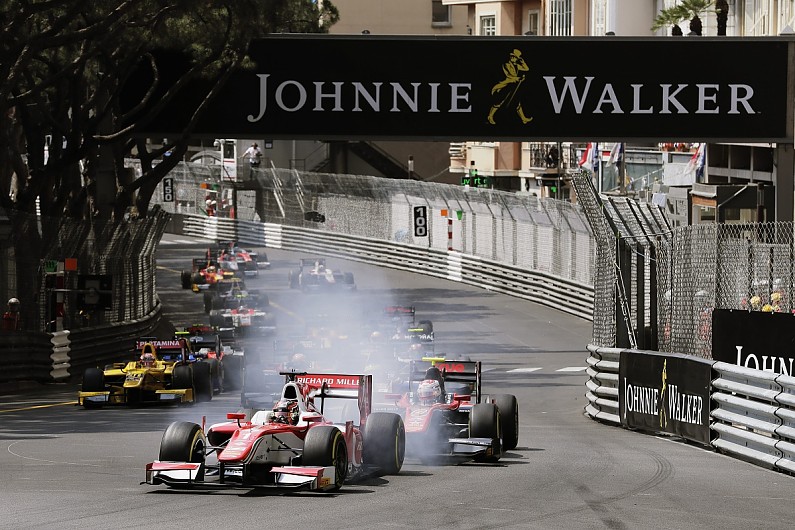 Leclerc was called in by Prema Racing as soon as the incident occurred but before the safety car was sent out.
Although he rejoined in front of Albon, when Rowland, Markelov and Matsushita pitted under the slower speed of the safety car, they were able to keep their positions at the front of the field and relegate the former race leader to fourth.
Things got worse for Leclerc when his left-front wheel began vibrating dramatically and although he pitted again to get it checked, he was forced to retire with suspected suspension damage.
Rowland dropped Markelov at the restart and kept the Russian at arm's length for the remaining 15 laps to claim his first F2 win by 0.8s and cut Leclerc's championship lead to three points.
Matsushita finished third, while Albon survived 33 laps on the super-softs to take fourth.
Luca Ghiotto ended up fifth, ahead of Gustav Malja, and Nyck de Vries, who fought his way up from 14th on the grid.
Johnny Cecotto came home eighth and will start on pole for the reverse-grid sprint race.
RESULTS - 41 LAPS:
| Pos | Driver | Team | Gap |
| --- | --- | --- | --- |
| 1 | Oliver Rowland | DAMS | 1h00m46.545s |
| 2 | Artem Markelov | RUSSIAN TIME | 0.864s |
| 3 | Nobuharu Matsushita | ART Grand Prix | 13.769s |
| 4 | Alexander Albon | ART Grand Prix | 19.738s |
| 5 | Luca Ghiotto | RUSSIAN TIME | 24.657s |
| 6 | Gustav Malja | Racing Engineering | 28.082s |
| 7 | Nyck de Vries | Rapax | 28.453s |
| 8 | Johnny Cecotto Jr. | Rapax | 29.125s |
| 9 | Jordan King | MP Motorsport | 45.552s |
| 10 | Sergio Canamasas | Trident | 46.581s |
| 11 | Antonio Fuoco | Prema Racing | 47.818s |
| 12 | Ralph Boschung | Campos Racing | 50.772s |
| 13 | Sean Gelael | Pertamina Arden | 53.694s |
| 14 | Nabil Jeffri | Trident | 1 Lap |
| 15 | Louis Deletraz | Racing Engineering | 2 Laps |
| - | Sergio Sette Camara | MP Motorsport | Retirement |
| - | Charles Leclerc | Prema Racing | Retirement |
| - | Norman Nato | Pertamina Arden | Retirement |
| - | Robert Visoiu | Campos Racing | Retirement |
| - | Nicholas Latifi | DAMS | Retirement |
RACE TWO GRID:

| Pos | Driver | Team |
| --- | --- | --- |
| 1 | Johnny Cecotto Jr. | Rapax |
| 2 | Nyck de Vries | Rapax |
| 3 | Gustav Malja | Racing Engineering |
| 4 | Luca Ghiotto | RUSSIAN TIME |
| 5 | Alexander Albon | ART Grand Prix |
| 6 | Nobuharu Matsushita | ART Grand Prix |
| 7 | Artem Markelov | RUSSIAN TIME |
| 8 | Oliver Rowland | DAMS |
| 9 | Jordan King | MP Motorsport |
| 10 | Sergio Canamasas | Trident |
| 11 | Antonio Fuoco | Prema Racing |
| 12 | Ralph Boschung | Campos Racing |
| 13 | Sean Gelael | Pertamina Arden |
| 14 | Nabil Jeffri | Trident |
| 15 | Louis Deletraz | Racing Engineering |
| 16 | Sergio Sette Camara | MP Motorsport |
| 17 | Charles Leclerc | Prema Racing |
| 18 | Norman Nato | Pertamina Arden |
| 19 | Robert Visoiu | Campos Racing |
| 20 | Nicholas Latifi | DAMS |