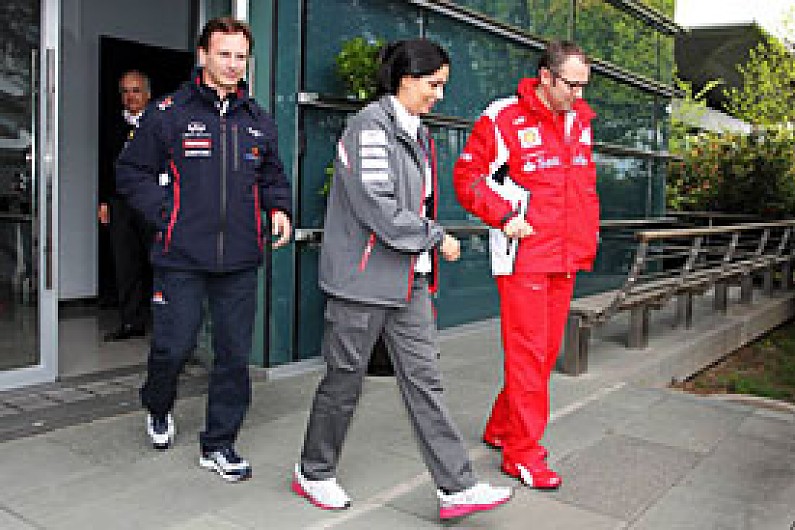 Formula 1 teams are to meet the FIA and Bernie Ecclestone in Monaco on Monday to embark on a fresh push to bring costs down in the sport.
On the back of dialogue between the teams and the FIA about the possibility of the governing body getting more involved in budget control, FIA president Jean Todt has arranged a get together at the Sporting d'Hiver club to move the debate along.
It is understood that a range of topics have been put on the agenda, including the FIA policing the Resource Restriction Agreement, changes to F1's testing format, the 2014 engine rules and new cheaper regulations.
F1 team figures are hopeful that the discussions that will involve every team principal will be positive, and that any agreement coming out of the meeting can then be put through the appropriate channels to be drafted in to regulations.
Ferrari team principal Stefano Domenicali said: "The meeting is related to see if we can find altogether some measures that will reduce the costs in F1. That is the purpose.
"It is just a meeting where we should discuss if we can find consensus in a lot of things that have been proposed and discussed with the FIA in the past weeks.
"This meeting is to see what is the status of the teams and the FIA, to understand if everyone is clear and to see if we can try and save money for the future of F1."
Mercedes-Benz motorsport boss Norbert Haug told AUTOSPORT: "I think it is vital for F1 generally speaking to balance things out, even now.
"It is not a secret that with the new [commercial] arrangements that the top teams are better off, and what we want to have in F1 are competitive midfield teams that can spring surprises.
"It is an ideal situation right now - not for us, as I could live with domination - but at the end of the day if you dominate everything then it is very clear that after a while you do not get the right amount of spectators."
Despite concern from some teams about a dramatic rise in the cost of customer engines for 2014, manufacturers are wary of delaying the introduction of the V6 rules as that would not save any costs for them.
Haug explained: "It is just a question of money. We have a parallel programme and two engine programmes, and you need to get rid of one programme.
"You cannot subsidise it all the time, and one fact is clear: after we have started now, doing it later costs more money. Ferrari, Renault and ourselves, plus PURE, will spend more money if we need to develop longer."
McLaren team principal Martin Whitmarsh thought it was vital, however, that teams did not face a dramatic rise in engine costs for 2014.
"There is no one to my knowledge who has quoted prices, but I suspect the majority of the grid would not be able to afford $20-25 million," he said "So I think we have to work hard with the FIA and the manufacturers.
"We have to respect the fact that the manufacturers are spending a lot of money in developing these new packages. But that is something a lot of teams did not ask for, and it will not be possible to spend that amount of money on power train.
"The FIA and the teams have to get together to make sure that there is a smooth transition from the current regulations to the new ones, and we have a sustainable business opportunity later."