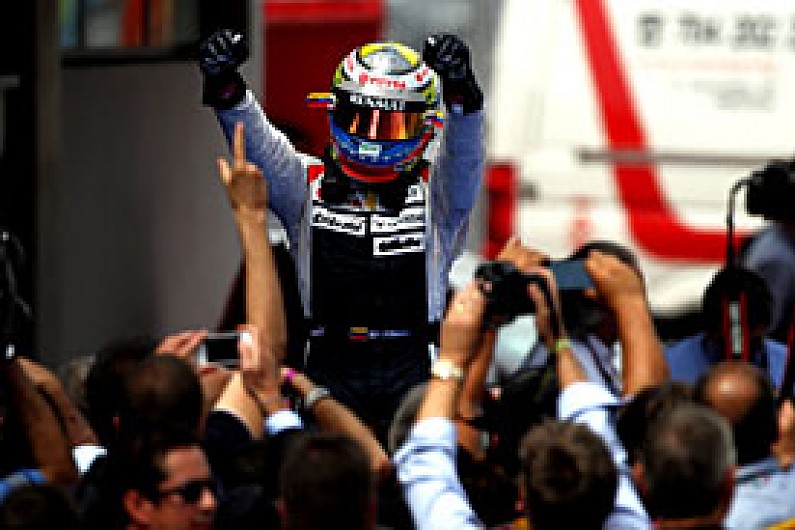 Pastor Maldonado reached a new high in the Castrol EDGE Rankings following his surprise maiden victory in the Spanish Grand Prix.
The 27-year-old became the first Venezuelan to win in Formula 1, and in the process delivered Williams its first grand prix win since 2004, after holding off a late charge from the Ferrari of Fernando Alonso.
The spoils of victory were reflected in the Rankings, with Maldonado rocketing 30 places to an all-time high of 56th - putting him 12th in the F1 standings.
Also boosted by rostrum success was Finland's Kimi Raikkonen, who finished just half a second behind Alonso after a ferocious late charge.
Third was still enough for the Lotus driver to gain 26 places and move to 109th, the closest he has been to breaking the top 100 since late 2010.
In contrast to his fellow podium men, Fernando Alonso's second place was enough to gain him points, but not ground, in the Rankings and he stayed fifth.
He did however move closer to Lewis Hamilton in fourth and indeed the outright Rankings lead, as the top four drivers all suffered slides.
Of the quarter, current leader Sebastian Vettel's fall was the most severe - the German effectively counting the cost of his 2011 dominance.
Force to pit for a new nose and delayed by a drive-through, only a late charge allowed Vettel to finish sixth.
That was a far cry from the dominant pole position-victory combination in last year's Turkish Grand Prix however, the round to be dropped under the rollover system. The result was a slide of 1,000 points, leaving Vettel on his lowest points total since mid-2011.
The same phenomenon accounted for Webber's slide too. Also forced to pit for a new nose, the Australian finished 11th - opposed to his second in Istanbul - and slipped back into the clutches of Jenson Button in third.
Button, for his part, never got going on a weekend in which he struggled with both understeer and oversteer.
An afternoon in traffic resulted in a ninth-place finish, and his own mini-slide - although he effectively closed on Webber in second given the Australian's more pronounced loss.
Lewis Hamilton also suffered a Rankings fall and is now in danger of being overhauled by Alonso - although he at least had a caveat for his eighth-place finish following a disastrous qualifying mistake.
Starting therefore from the back of the grid, rather than pole, Hamilton executed a two-stop strategy with an intelligent and measured drive to eighth, a decent damage limitation.
In the Rankings, he limited the damage caused by Saturday's woes and scored enough points to keep himself fourth, just ahead of Alonso.
To see the full Rankings, visit www.castroledgerankings.com.