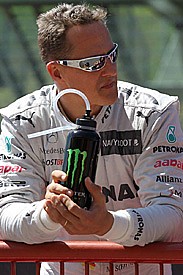 Mercedes's F1 CEO Nick Fry says the team supports Michael Schumacher for having a strong opinion on this year's Formula 1 tyres.
The seven-time world champion has been openly critical about Pirelli's tyres, saying that they don't allow a driver to drive flat-out because of the need to manage them in order to avoid excessive degradation.
"I just think that they're playing a much too big effect because they are so peaky and so special that they don't put our cars or ourselves to the limit," Schumacher told CNN earlier this week.
"We drive like on raw eggs and I don't want to stress the tyres at all. Otherwise you just overdo it and you go nowhere."
Fry said on Thursday that it was up to the media and fans to decide whether Pirelli's approach to F1 tyres is the right one, but he insisted that Mercedes was backing Schumacher's strong views.
"I think the real question is one of philosophy as opposed to whether the tyres are good, bad or indifferent," said Fry, speaking at a press conference announcing a new sponsorship deal with Starwood.
"Pirelli are more than capable of making tyres to any specification and they have been guided to make the tyres we have at the moment. I think I have seen some debate in the media about whether that is the right route for F1 and whether the tyres should be durable enough for the drivers to drive flat out for the whole race.
"That is clearly the perspective that Michael has or whether they are a bit more sensitive which obviously our other driver Nico likes.
"From a team point of view we have no issue that one driver has a particular point of view and the other driver has another point of view and I think that is a good healthy debate and I think it is a question for Formula 1 whether we need the tyres we have or whether, as in history, you have tyres that you can drive flat out on all the time.
"I think that is a question for the teams and the organisers to answer and we support Michael on having a strong point of view on this. It may not be a point of view that other driver share but it is a perfectly valid and intelligent point of view."
Schumacher himself said that he had nothing to add about the topic.
"I think I have said what I have said and I stand by this and there is nothing more to add."