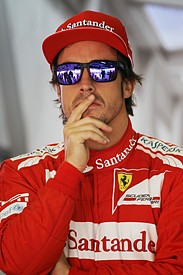 Fernando Alonso is under no illusions that Ferrari will have to improve its car drastically in order to stay in contention for the championship.
The Spanish driver is leading the standings after his win in Malaysia, but he could only qualify in ninth position ahead of the Chinese Grand Prix, nearly 1.5 seconds off the pace.
The Ferrari driver concedes he is not thinking of the championship as his team's form is far from what he was hoping for in order to fight for victories.
Alonso admitted his car has 'big' problems with the aerodynamics, but he reckons that gives Ferrari hope that it can make big gains once it solves them.
"At the moment we all stay focused in the next race," said Alonso. "I think the championship is a target for Ferrari every year because of the history and the way the team is racing, with the passion to win. But obviously we are not stupid.
"We know we are far behind and we need to work. One second is a big gap to recover, but the car has some big problems in terms of aerodynamics which give us the optimism inside the team that we can recover, maybe not one second, but a lot of time if we put a couple of things that are not working in the right place.
"This is the first priority. Once we are happy with the car, we'll see what's the gap. At the moment it's too big because it doesn't work."
Alonso, who fended off Sauber's Sergio Perez to win in Malaysia, said he was not surprised by the pace of the Swiss squad after qualifying behind both the Mexican and his team-mate Kamui Kobayashi today.
"They were one of the quickest in winter testing. They were one of the quickest in Australia and maybe they deserved the win in Malaysia."
The Spaniard did beat world champion Sebastian Vettel in Saturday's session, and he said the German's position is the result of Red Bull not getting everything perfect now it does not have a big edge over its rivals.
"I think Red Bull is not a second in front of everybody, so the qualifyings and the races are more difficult," Alonso said. "You need to be perfect in everything. If some things don't go in the right way, the times are so close that it puts you out of Q3. And maybe this was one of those occasions."