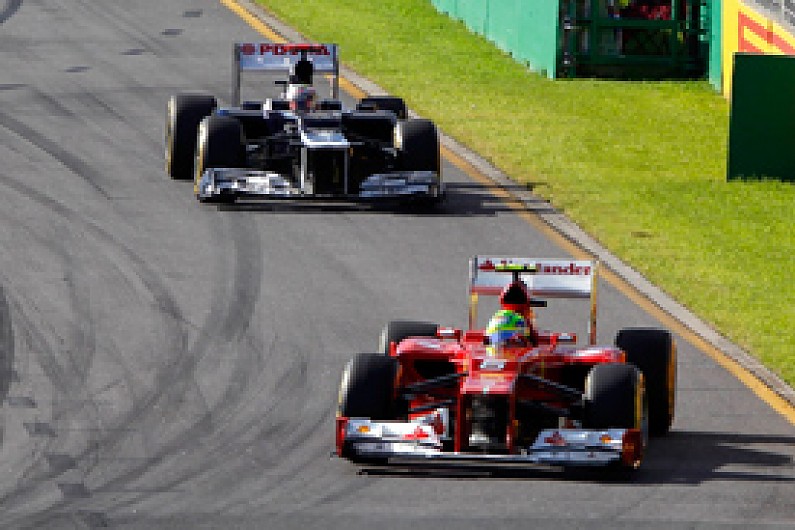 Felipe Massa and Bruno Senna agreed that their collision late in the Australian Grand Prix was a racing incident in which no blame should be apportioned.
The two Brazilians were fighting for 13th with Toro Rosso's Daniel Ricciardo when they touched at Turn 3 on lap 47, leaving the Ferrari with broken suspension and giving the Williams a puncture.
"I did the corner in front, but Bruno had a good turn in because I was fighting with the other car, and he was able to take the line because there was a car on my side," said Massa.
"Then we both did the corner to the left, and he was on the outside and I was completely on the inside. I turned, even a little bit early because I didn't know if he was trying to pass me from the outside. Then he turned in a little bit too much and we touched each other.
"For me it was something that can happen in a race. From my side, there was nothing wrong because I was on the inside. From his side, it was the end of the race and he was trying to fight for the position, so you cannot say he did something completely wrong."
Senna agreed that there was no malice in the tangle.
"Ricciardo had the bad luck that I'd had previously, because when I tried to overtake Felipe on the outside into Turn 13, he pushed me wide, and then Danny passed me," he said. "Then Danny tried to do the same to Felipe on Turn 3, and both of them ran wide and I had a good run on them.
"I tried to overtake Felipe on the outside at Turn 4. That didn't work unfortunately, but it was a racing incident.
"You are fighting for every millimetre of the track and probably if I was a bit slower on the outside we would have probably just touched wheels and it would have been fine, but I was a bit faster and his front wing got in touch with my front tyre and that was that."
Massa was running down the order after having difficulty maintaining tyre life throughout the race.
"I was very positive for the race, but then after five laps the rear tyres were completely going. I had no tyres, I was just sliding around at every corner and none of the other cars were losing tyres, just me," he said.
"I was failing completely with the balance of the car, not just talking about the race, but every day, the whole weekend. We need to understand why."
Senna and Ricciardo were also recovering from delays, having come together in the first-corner traffic jam.
"I've spent a long time now looking at the video and I can see that everybody was clashing together there," said Senna of the lap one clash.
"I saw some cars moving and that's why I went to the outside to get a bit more room, and then of course Danny had a problem with hitting someone and then he touched me."