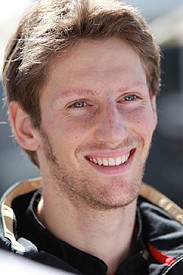 Romain Grosjean remained upbeat despite his early exit from the Australian Grand Prix, as he believes Lotus proved it will be a major force in the 2012 Formula 1 season.
The reigning GP2 champion qualified a superb third for his return to F1 racing, but lost three positions with a slow start and then retired following a second-lap clash with Williams driver Pastor Maldonado.
But Grosjean said his frustration at the incident was lessened because he felt so confident about the rest of the season on the basis of Lotus's Melbourne form.
"The race was quite brief, but I think we have to take the positives from it," he told AUTOSPORT.
"I was easily following the guy in front of me at the beginning. The car is good and feels as we need to have it.
"I'm sure there's more to come and the good thing is that the team atmosphere is great and we're all working together. I'm sure we can achieve some great things this year."
Grosjean felt Maldonado was entirely to blame for their collision.
"He just arrived too quick and couldn't turn his car," said the Lotus driver. "There were yellow flags in Turn 12, and we all slowed down, and I don't think he did. That gave him the advantage a bit and he was really fast at the end of the straight.
"He tried to take me down the inside, but I'd already braked quite late. He came, I turned and I was not going to go straight into the gravel to give him space, and he couldn't turn his car before hitting me and it broke my front suspension and that was it."