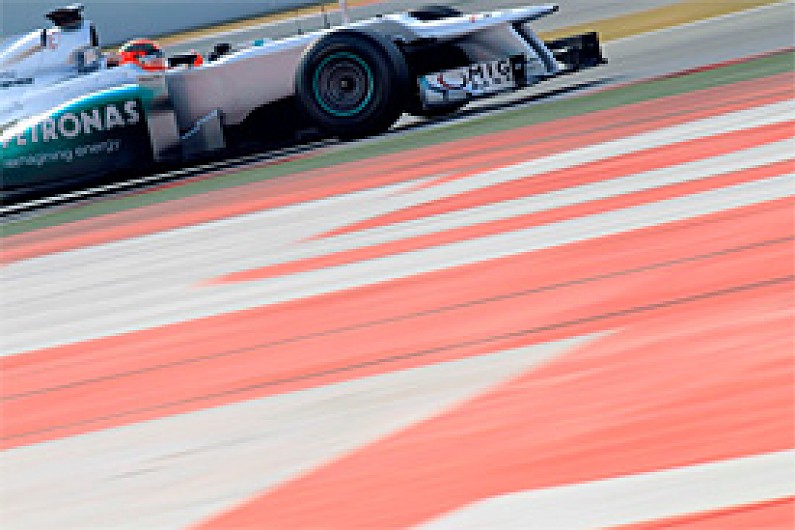 Mercedes team boss Ross Brawn believes everything is in place for the squad to take a significant step forward over its 2011 form this year.
Despite choosing to miss the first test of the winter, Mercedes has looked strong in the pre-season running so far, and Brawn said the build-up had been much more smooth than a year ago.
Asked if the W03 was better than last year's car, he replied: "Yes, very much so. Some of the fundamentals are good, the cooling is good, the systems are working well and it means that all of our engineers can focus on finding performance from the very beginning.
"Whereas last year there was a lot of resource soaked up fixing problems with the car, so we have certainly moved a long way in 12 months.
"I also believe we have got a much stronger structure in the company compared to before, greater depth in the company and more resource in the company, so I am more confident that we will move forward."
Mercedes has appeared to suffer a greater tyre performance drop-off over a stint, particularly on softs, than rivals, but Brawn played this problem down.
"I think the difficulty is that we are in relatively cool conditions in Barcelona trying to work out what the degradation is going to be with different tracks and different ambients and different duty cycles, so it is a little bit difficult to predict," he said.
"But what we are understanding is the sensitivity - things that we can do that change the level of degradation. The drivers are understanding the balance of the car they should try and have to reduce the degradation and I think it is how you translate what you learned here to what we are going to have between Melbourne and the first few races which will be the big challenge.
"I don't think we have a core problem - I think we have a reasonable car in that respect and our race distance simulations are quite reasonable."
Asked where he felt Mercedes currently stood in the pecking order, Brawn said the only certainty was that the frontrunners had moved closer together.
"It varies from day to day, there is no definitive ranking. There is a group," he said. "Even yesterday with the new package the Red Bull didn't seem to stand out but of course they may have been running a huge amount of fuel, we just don't know.
"I think they are going to be competitive, McLaren were pretty sensible and they have a good car, and I don't think we are too far off. But it is just so difficult to judge.
"In the race simulation, you only have to be a little bit out with the balance and it can cost you quite a lot of lap time that you can obviously fix in time for Melbourne.
"So, what is apparent that there are five or six teams in a much closer grouping perhaps than we have seen for a number of years."