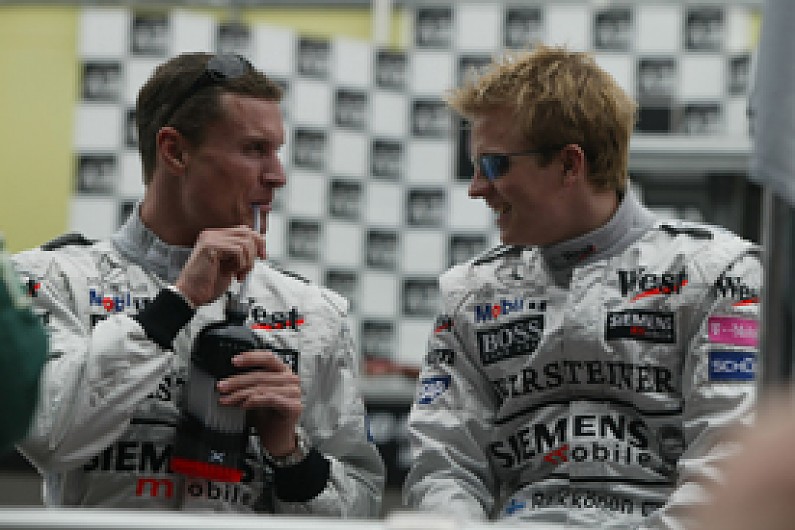 David Coulthard believes his former McLaren team-mate Kimi Raikkonen will be better than ever when he returns to Formula 1 with the Lotus Renault team in 2012.
Renault - which becomes Lotus next year - announced this week that it had secured the services of 2007 world champion Raikkonen, who has spent the last two seasons focusing on the World Rally Championship.
Coulthard drove alongside Raikkonen at McLaren from 2002 to '04, and reckons the maturity and perspective the Finn has gained since his initial F1 stint will be hugely beneficial.
"I think he's more worldly now," Coulthard told reporters at the Race of Champions.
"He's had some changes in his private life and he's in a better place to have a perspective on what a great opportunity this is. Remember he came in straight from Formula Renault to Sauber, and when you go straight from being a kid in a lower formula to being immersed in Formula 1 and you're earning all this money and have all these various distractions, I think you can't really see the wood for the trees.
"So he's taken a step back, and I've no doubt he will communicate with the media better than he did the first time around and he'll give it his all. Good on him."
Now a BBC F1 commentator and DTM racer, Coulthard is sure that Raikkonen has plenty of motivation for coming back to F1.
"Kimi stopped too early in his career, there's no question about that," said Coulthard. "He's gone off and had some fun in rallying.
"I did an event with him earlier this year at the Red Bull Ring and he was just jumping on everything - whether it was motocross bikes or the different cars that were there, he just has a great feeling for pushing the limits. So I've got no doubt at all that he will be on the pace."
Jenson Button also backed Raikkonen's decision to return, though he admitted that news of his Renault deal had come as a surprise.
"It was a shock to me that he's going to be racing for the team he is," said Button. "I was really surprised when they announced Kimi. I thought he had a chance at Williams.
"I think it's really good for the sport. As a driver, he's very, very competitive. If he really wants to race, he's going to be quick.
"From what I've heard from the engineers at McLaren, he knows what he's doing in terms of engineering and setting up the car.
"It's good to have him back and the races will be more fun and obviously the evenings after the races will be more fun..."