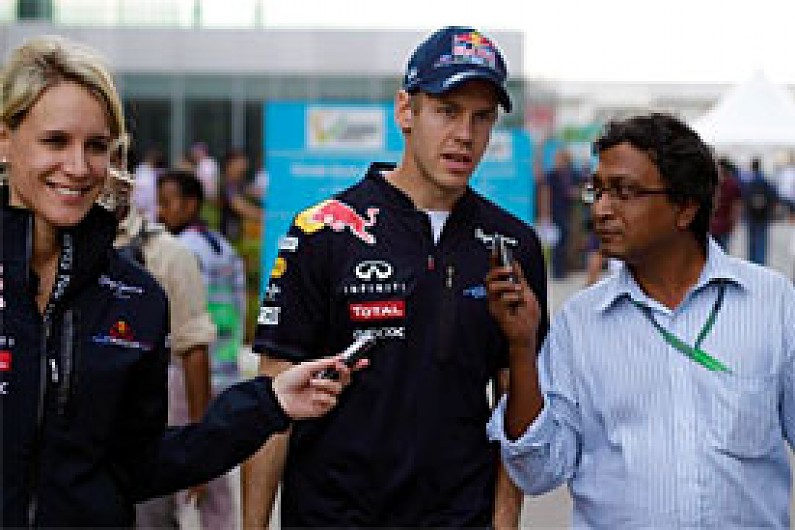 Formula 1's leading drivers say that the deaths of Dan Wheldon and Marco Simoncelli will not diminish their love of motor racing, even though they admit the past few weeks have been a 'sad' time for the sport.
The tragic events in Las Vegas and Malaysia have put a fresh spotlight on the dangers of racing, but world champions Sebastian Vettel, Fernando Alonso, Lewis Hamilton and Michael Schumacher all say that accepting risk is part of an F1's driver role.
"It has been a horrible last two weeks for motorsport," said Vettel. "The moment I came back from Korea I heard about the accident of Dan Wheldon in America. Last week I sat upon the sofa, watched TV, watched the MotoGP, and saw the crash of Marco.
"I wasn't a very close friend, but I knew him. I met him this year and it is horrible to wait and wait and wait, because you know yourself that it is not normally a good sign if you have to wait so long to get an answer on what has happened.
"We all take a certain risk when we jump into a car or get on a bike. But we love motorsport, we love the thrill. At the same time, we always hope that nothing will happen.
"We love what we do, and we are happy to take certain risks, but it is really shocking to see how quickly things can change. I think we should always try to make things safer and we will get criticised for the cars being too far away, the run offs being too big and so on, but on the other hand we never want to put ourselves in a situation like all the MotoGP riders are going through now, or the IndyCar series is going through now.
"So we keep the fingers crossed, and hope for nothing to happen. But, it is not impossible. We know that. So, at the moment, I think the only thing we can do is respect and give the families enough space and enough room. Give them the time they need."
Alonso reckons that although the deaths of Wheldon and Simoncelli had acted as a reminder of the dangers, they would not play on his mind once he was in the cockpit.
"It doesn't affect when you are driving, it affects you during the week," explained the Ferrari driver. "They were very sad days. Being at home, watching television. With the Dan accident I saw it on the replay on the news and I was shocked for two or three days, for sure.
"Then with Marco, I saw it live. I was watching the race, and I could not believe it on Sunday, on Monday, but these things still happen. So very sad days for motorsport and very sad days for us in general.
"But when you are driving and close the visor you don't think about the risk. We love motor racing, we love the competition, and the love of the adrenaline that we have back from driving, it blinds you from the risk.
"We love racing, and we know that it is dangerous. When we are at 320 km/h, which will be more or less the maximum speed here in this track, if something happens with the car there is the risk that you probably have a big accident. But it is impossible to think about that with emotion, and the feeling that you have, driving at that speed. So even if we know the risk, we love our sport."
Hamilton said that the recent deaths had amplified feelings he had experienced following the loss of karting mentor Martin Hines earlier this year.
"They have been seriously tragic the last few months," he said. "Seeing Christian Bakkerud go, who was another great driver, now these two other drivers, and you have Martin Hines who was a big part of the sport and someone who helped me get to where I am.
"I think what it does is it makes you really think about what is most important because I don't remember since I have been in F1 that I had the chance to say thank you to Martin. I think it puts things in perspective. Make sure you have said everything you need to say to people you care about the most."
Michael Schumacher reckons that F1 could never be made totally safe, and said that fate had a big part to play in events.
"I don't think that while we drive, we think that we put ourselves in danger," he said. "First of all, when we take the cars to the limit, that's what we feel comfortable with and therefore our ambition is always to take the cars to the limit and it will be the same here this weekend.
"To have total safety I think is absolutely impossible to call, in any part of life. Yes, there is more risk involved in race car sport and yes, Formula 1 is probably the quickest motor racing sport that you have around the world.
"But at the same time, safety has been hugely improved. If you look at a new project such as this track, there's lots of huge run-off areas and it certainly has a very high standard of safety. If on top, something happens, then that's what I would call fate and fate is something that we all have to face sooner or later.
"I'm certainly very much touched by what has happened for both of the drivers that we have lost but unfortunately you have to say that that's life."