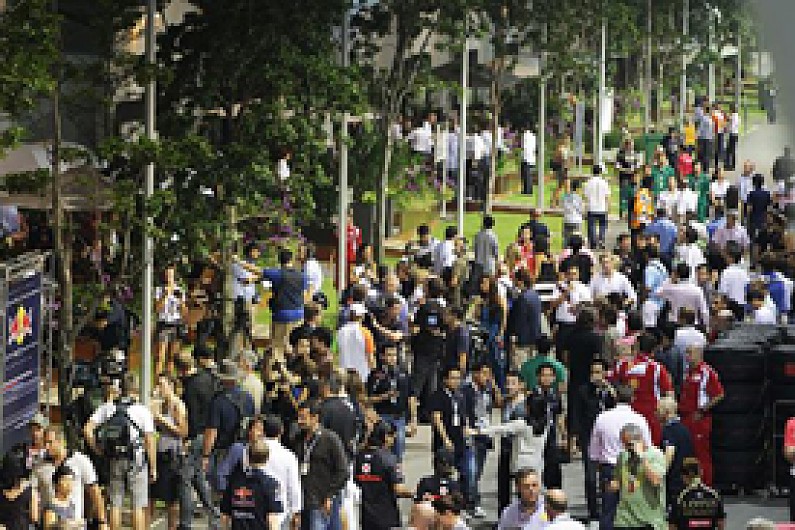 Mercedes GP team principal Ross Brawn has called for a clarification of Formula 1's curfew regulations, after his team was one of three outfits caught out when marketing staff entered the track early at the Singapore Grand Prix.
The Brackley-based outfit joined Red Bull Racing and Virgin Racing in using up one of its four allowable curfews when it was discovered that marketing staff from the three outfits entered the circuit the track during a prohibited time.
Brawn believes that the curfew has worked well so far this season, but he does not understand why marketing staff are classified by the FIA as 'associated with the operation of the car.'
When asked by AUTOSPORT about the curfew issue, Brawn said: "I think there is a little bit of confusion that we just need to tidy up.
"The teams' perspective is that we have the crew of 47, which includes engineers and the various people working on the car, and the reason for the curfew was to make sure that that team, once it was reduced in size, did not get overworked.
"We didn't want to have a situation where that crew worked for a solid 48 hours because of course, if you constrict the size of the team and you don't change the workload, then all you do is work longer hours.
"I think the curfew has worked very well. Everybody's understanding was that it applies to the 47 people, which is a list that is generated and everybody knows who they are and they were people who abide by the curfew.
"In our case, a couple of our marketing commercial girls came to meet some guests at 3.30pm rather than 4pm and broke the curfew, so that is something that we need to discuss with the FIA to tidy up. I cannot quite see an objective in having a curfew for marketing staff. It is something that does need tidying up; I think it is just a misunderstanding."
The unusual timetable at the Singapore GP due to it being a night race has meant the curfew has been imposed at irregular hours - which caught out Scuderia Toro Rosso team principal Franz Tost, who arrived too early for work on Friday.