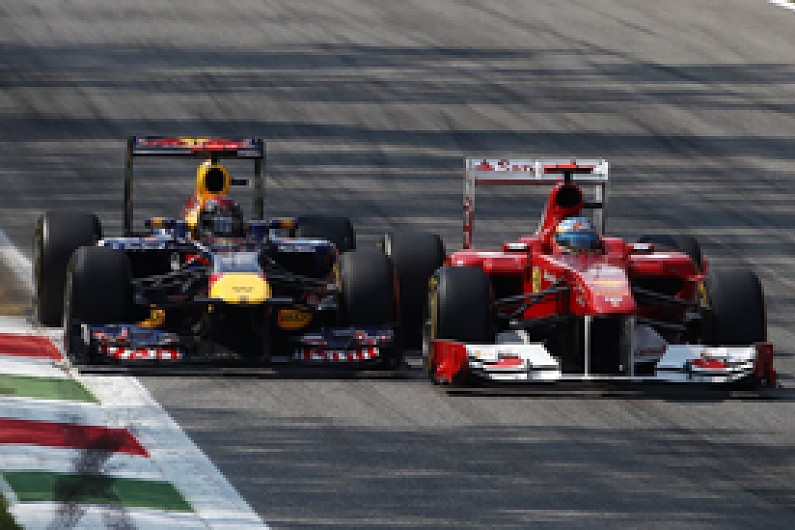 Sebastian Vettel's spectacular overtaking move on Fernando Alonso to take the lead of last week's Italian Grand Prix is proof that he wants to win the world championship in style, according to Red Bull chief technical officer Adrian Newey.
The German passed Alonso at the exit of Curva Grande on the fifth lap at Monza, running onto the grass at an estimated 160mph to make the move. Newey believes that Vettel could have waited until the first round of pitstops to pass the Ferrari driver, but that the runaway world championship leader was happy to take the lead the hard way.
"Sebastian doesn't want to cruise to the world championship, he really wants to earn it," Newey told AUTOSPORT. "That's what you saw at Monza. It was a ballsy move.
"We knew it was going to be difficult for Seb to retake the lead. Ultimately, there was always going to be an opportunity to achieve that in the pitstops with the power of the undercut. But if we couldn't do it on the undercut, it was going to be difficult."
Newey also paid tribute to Vettel's ever-improving abilities, insisting that the 24-year-old has now proved his critics wrong.
He has no doubts that Vettel, who can seal his second successive world championship title in Singapore next Sunday, has demonstrated his overtaking prowess beyond doubt in recent races.
"What's so impressive about him is that he very rarely makes the same mistake twice," said Newey. "He learns and he keeps confounding the critics.
"Last year, people were saying he's great if he gets out in the lead but he can't overtake people. People won't be saying that after the last few races."