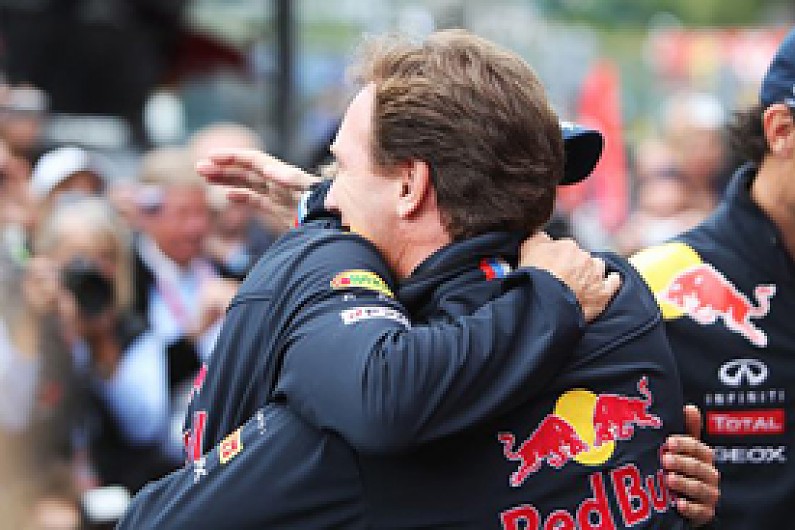 Spa saw Red Bull Racing deliver its first one-two finish since May's Turkish Grand Prix, and Sebastian Vettel end a brief victory drought that had seen him off the top step of the podium since Valencia in June.
But it was not a straightforward event, with the champion team at the centre of controversy over blistering Pirelli tyres. AUTOSPORT was there to hear team chief Christian Horner's explanation.
Q. Can you talk around the issue relating the tyres, the camber and the blistering that had appeared during qualifying?
Christian Horner: On Saturday night we saw that there were blisters not just on our car but on a couple of other competitors as well. There was concern at that stage that it could be a genuine safety concern for all the teams, so there was talk of all of the front tyres being removed from whoever ran in Q3, and perhaps a new maximum camber being allowed for the race.
But after further consultation overnight, with Pirelli, who brought in more tyres overnight just in case, Pirelli felt that they were happy with the condition of the tyres and therefore if we wanted to make a change, we would effectively break the parc ferme conditions and would need to start from the back of the grid, or the pitlane.
We had a lot of very good and open dialogue with Pirelli, and with Charlie [Whiting] and the decision was taken that we will start [normally]. We felt the tyres were safe to start the race and that is exactly what we did. We erred on the side of caution, hence the first stint being very, very short for both drivers because the blistering was in a position of the tyre that looked quite nasty, right on the shoulder.
We were all glued to the monitors; the drivers were giving us the feedback on what they could see. And having had the opportunity at the first pitstop, it enabled us to have a closer inspection of the tyre and that built our confident for the next stint.
We put Mark onto the prime, which turned out to be a fantastic race tyre, and then got the call right at the safety car for Sebastian. Then, obviously, the run on prime to the end was very, very competitive with both drivers.
Mark hunted down Fernando [Alonso] and passed him, and prior to that final stop on a very used prime, was managing to keep up with Fernando which was especially impressive. For us to get a one-two here, at a circuit where all three sectors have not traditionally been our forte, is a massive result for the team.
Q. You got quite a short stint out of the second set of softs, but quite a long one out of the third. Why was that?
CH: With the second set of softs, the safety car came out and the window opened for us to take another set. It wasn't that we needed it; it was that we would not have had that many laps after the safety car. So that call worked out well and made the second half of the race relatively comfortable.
Q. You reacted well to the safety car. When was Seb originally due to pit on that set?
CH: He would have done another five or six laps minimum.
Q. There are suggestions that the blistering issues were caused by teams running camber outside of Pirelli's recommended limits. Was that a contributing factor, and did you keep to the limits?
CH: I think that it is a unique problem here, and one that if we had had proper dry running on Friday you would have tuned out of the car potentially. On the prime tyre there was no issue at all and the tyre was very clean. You could see, particularly on the frontrunning cars, that all the teams were affected by blistering. Fernando's looked pretty bad at one stage, Lewis [Hamilton] was having issues, as was Jenson [Button]. So I think all the frontrunning cars seemed to be having issues and it was a consequence of having no dry running in P1, P2 or P3. Then, obviously, the forces put into the tyre here are somewhat different to some of the other circuits.
Q. Mark Webber mentioned a radio issue in the press conference. What happened there?
CH: I think at the point that the safety car came out, we initially wanted to box both drivers and put another set of primes onto Mark. But there was so much radio traffic that the message got jammed. We were expecting to see Mark in the pitlane but he never received the message, so then we had to alter our strategy with Mark, and it worked out fantastically well. We adapted and were quick thinking to make that really work for him. And his pace on the prime was phenomenal to go lap-to-lap with Fernando.
Q. Was this an unexpected win?
CH: In many respects yes, because at this circuit power is a dominant factor - certainly in the first and third sector. So to come here, it is great to produce arguably one of our most competitive races of the season. We had very strong race pace. We thought it would perhaps favour some of our opponents more arriving here, but it shows how difficult it is to predict performance.
Q. Mark said after the race that this was probably one of the best ever team performances - with the way you executed qualifying without trouble and dealt with the tyre issues to win the race. Would you agree?
CH: I think for the team it has been a phenomenal weekend. In qualifying it was massively tricky in the conditions and as a team it demonstrates how strong we are as a unit, to recover from difficult situations to get the calls right and the strategies right. The car has had tremendous pace, the drivers have done their bit and it shows the solidarity we have as a unit. It was a massive result for us this weekend, not only to get pole and third on the grid but a one-two here in the fashion that we did.
Q. Adrian Newey seemed particularly emotional at the end. Was there any reason for that?
CH: He was pretty stressed about the tyre, and he takes that responsibility incredibly seriously. None of us wanted to be putting our drivers in any way at any risk. I think there was a sense of relief. It was a tense race and particularly those first three or four laps on tyres that looked at best second hand going off the grid. That was why it was right that, at our first one-two on the circuit, Adrian should go and get the trophy.
Q. Did you not think Mark's move on Fernando at Eau Rouge was worth a ten year contract?
CH: I tell you what... that boy must have some balls to do that! On the outside, into Eau Rouge... Phenomenal. It must have been the pass of the day. But I would think he would have enjoyed it. But Fernando was professional and he gave him enough room to work with, and Mark was always going to brave it out around the outside. It was a phenomenal move, but I think we all closed our eyes as we followed him into Eau Rouge.
Q. Having delivered this result as a track that has not been your best in the past, does it lift confidence for Monza now?
CH: We know that Monza for sure has always, certainly in recent years, has been our weakest circuit. We know Ferrari will be strong there, as they historically are. McLaren and Mercedes will be strong there, but this result gives us a lot of confidence and we will be going to Monza trying to beat our previous best result, which is a fourth place there. But it is a different challenge to Spa. However, with the performance we have seen in the first and third sector here, hopefully it is a sign of a good omen for Monza.
Q. Did you think about putting Mark on options for the last stint, or was that an easy call to make for the primes?
CH: With the energy you put into the tyres, if you damage them in three laps in qualifying - to do 10 or 12 we thought might be too much. And with the prime, he looked really happy on it. It looked as quick after a few laps as the option, so it was logical to keep him on the prime.
Q. Seb seemed to do quick times on the option, even with the blisters. Were you surprised about that?
CH: Yes. I think by that stage we had got enough information and enough feedback from Pirelli to have enough confidence that the tyre could go a certain distance. Then you are into a standard situation in terms of the degradation of the tyre.
Q. How much consideration did you give to actually starting from the pitlane?
CH: A lot. You have to take into consideration safety at the end of the day. We had great support from Pirelli, working with their engineers and with the information they provided to us, we were able to make a decision.
Q. In terms of the championship, Vettel has made another big step towards it. So when do you declare it a done deal?
CH: When it is impossible for anyone else to win it! There are seven races to go, and still a lot of points to go on the board. This is our seventh win this year, our 12th pole position. We have got a 100 per cent finishing record, but we do not underestimate our rivals. There will be no complacency. We are heads down, focused on the next race - and not thinking anything is done and dusted at this point of time.
Q. So you don't change your stance in terms of development?
CH: We don't change our approach. Absolutely not.
Q. And Mark is still free to race?
CH: Absolutely.
Q. You went into this race with a lot of uncertainties, and Seb had to manage the tyre problems. Where would you rank this in terms of his victories?
CH: I think this is up there among some of his best - like in Monaco, where on the hard tyre he went so long on that. I think he produced a very, very mature drive here. It is quite often easy to forget that while he is having a conversation with his engineer, he is running at the front of a grand prix. He was very measured, as Mark was. The communication between the car and the pitlane was excellent, apart from the blockage around the safety car.
Q. Do you think Ferrari could have given you more of a fight if it had made the same decision as you at the safety car?
CH: I don't know. I think we just looked quicker. You saw Mark hunted him down from five and a half seconds behind, and it looked like we had more pace today. I think that was one of our most competitive races in terms of outright performance.
Q. Did the drivers support the decision not to start from the pitlane?
CH: We spoke with the drivers about it and said, look, this is the situation, this is the feedback we have from Pirelli. We sat down with Pirelli, and said we believe that the risk is minimal. We asked them if they were comfortable and they had to buy into that.
Q. Did you feel comfortable?
CH: I don't think any of us felt truly comfortable, but we had to believe in the information that we had and the feedback we had from the specialists. We had great support in that respect.
Click here to read Gary Anderson's analysis of the tyre controversy and Tony Dodgins' thoughts on how Red Bull handled the weekend in AUTOSPORT Plus.
Access even more news on Autosport.
Register for free to increase your monthly limit from 15 to 25 stories - or subscribe today and get unlimited access.
Get unlimited news
Full access to our news and in-depth Autosport Plus features - all in an ad-free enviroment.
Subscribe to Autosport Plus
Get 10 free extra stories
A quick upgrade and you'll boost your monthly news limit instantly - for free.
Register for free