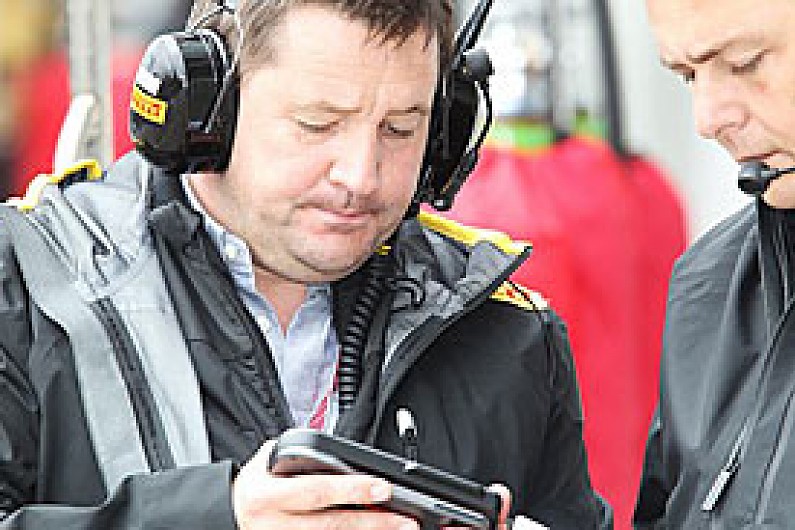 The Belgian Grand Prix became a story of tyres, with the build-up to the start dominated by the issue surrounding front tyre blistering found on some cars - and their management in the race being key to success.
Although in the end there were no issues, and Red Bull Racing overcame its fears and delivered a one-two finish, the situation remained a huge talking point on Sunday night with Pirelli clearly unimpressed about the situation it found itself in.
AUTOSPORT heard from Pirelli's director of motorsport Paul Hembery on Sunday night as he spoke to the media to deliver his perspective of how events unfolded, why he thought some teams suffered blistering and what lessons will be learned going forward.
Q. Can you talk through how the tyre situation developed from post qualifying yesterday through to the build-up to the race?
Paul Hembery: Post-qualifying we were approached by one team that had some ideas and concerns. We then analysed the situation with all the cars that we were running. Overnight we had some tyres sent over to give ourselves the option of changing front tyres if we felt there was an underlying issue with all the teams. But following investigations on Sunday morning that was found to not be the case. We spoke to all of the teams that were in Q3, and the majority consensus was that the rules should be adhered to. That was also the rule point of the FIA.
We were in a little bit of a rock and a hard place situation, because it was a situation that if we had run with some dry conditions on Friday and Saturday, ordinarily it is a situation that would have been minimised. So were left in a situation where one team in particular was stretching the limits of our recommendations and we felt that that in a race situation would create difficulties, and blistering.
In the end, what do you do? Do you make a change and end up creating a precedent? Do you make a change that would be seen to assisting one team and all the other teams, particularly with the result we had at the end? If we had, I think today you would not be asking me about this, you would be asking me why we helped Red Bull win the race? So it was a very difficult situation to be in.
We don't appreciate being put in that position. It is a slightly unfair position to be put in. Of course it could have been avoided. Teams have the ability to start from the pitlane with a different set-up and a new set of tyres. That was an option that was decided not to follow - but that is obviously the prerogative of the people making the decisions. The problem we have, of course, is that our name is on the side of the tyres and we have to live with that. So we felt a little bit powerless from that point of view.
Q. What was your recommendation pre-race? Did you want them to change the tyres and start from the pit lane?
PH: We just said four-degrees camber. That is it.
Q. But they could not change that pre-race could they?
PH: Well they could do, but they would have to start from the pitlane. So they could have done.
Q. How far beyond the recommendation of four degrees was Red Bull Racing operating then?
PH: I cannot say that.
Q. Were they the only team going beyond that limit?
PH: There was quite a good correlation between camber and the level of blistering with the teams.
Q. Going forward from here, will you now be stricter with the teams in terms of camber recommendations so you are not put in this situation again?
PH: Well we will be more conservative (with our recommendations), particularly for somewhere like Monza. You would have to look back at it and say we were confident with the structure of the tyre, to be honest. We knew that the structure of the tyre was extremely strong, and that was proven to be. There weren't any issues at all. Graining and blistering are aspects of compound performance in motor racing. It is not exactly a new phenomenon, but there are limits. And ordinarily in free practice, when you see something like this, teams would change their geometry and you would not go into a race in that situation, so it was a combination of circumstance in reality
Q. Overall, how did the compounds shape up?
PH: Yeah we were surprised considering the suggested complaints beforehand. The number of laps people were doing on the softer tyre was surprising. It is a 7km circuit and they were doing similar lap numbers on the 5km circuits. Despite the comments they were making, even more distance than they ordinarily would on other circuits. So that was a surprise - certainly for some teams.
Q. You've mentioned in the past that some teams have been pushing the limits about your camber recommendations, but this is the first time the issue has been so public. Has it been a problem for you all season?
PH: It is very circuit dependent. I've already said that the tyre structure is very strong - but the first thing we worry about is the structure of the tyre. You will find that people want to push to the limits because the tyres have been proven to be so strong. But bear in mind that what we give is a guideline - that that is as far as we want you to go; it doesn't mean you have to do it. But clearly if now people are saying that is what they are going to do, then we will have to reduce the limits.
Q. Will you be stricter with teams from now on, saying that your guidelines must be stuck to?
PH: Well we have to rely on them to measure it and tell us what they are using. And we have to believe what we are being told.
Q. Will you be writing to the teams and letting them know what you feel?
PH: We do every race, but we will remind them that this was not an ideal situation.
Q. We have had blistering in the past at Monza, so I guess this is quite an urgent issue?
PH: The issue is the same - it is all straight-line stuff in the shoulder. It is a similar phenomenon. But if you look at the medium tyre, you don't get any blistering, it has higher heat resistance. What we had hoped here, if somebody was in difficulty, that they would have run the race on the prime tyre. Then they would have run without any issues whatsoever. However, everybody went for performance and that was disappointing.
Q. You tested at Monza a couple of weeks ago, so will that help you enormously for the grand prix there?
PH: Well. It gave us the confidence to know that for here the medium compound would provide a high level of heat resistance and not blister, which has proven to be the case. I guess what you ultimately hope would happen was that people would see such a phenomenon, you would switch to a product that is not demonstrating such a thing. That is something we need to think about. Performance counts a lot in F1 and it appears people are willing to compromise in order to get that performance.
Q. If blistering is left unchecked, can it lead to tyre failures?
PH: Yes, ultimately. If you keep using a tyre and wearing it down - it depends how stupid you want to be. Ordinarily there should not be any concern; it is something that should be self regulating. Some of the images I saw today on two cars made me think that maybe they were not looking at the same images as me - or they did not have a high definition television. I don't know...
Q. Sebastian Vettel said a few times today that the team took a few risks. How do you feel about those comments?
PH: Well, they were taking the risk weren't they?
Q. But it is your name on the side of the tyre?
PH: I know, but what do you do? Stop them driving? What do you do? We were confident that if you came to me and asked if it was a safety issue I would have said no, absolutely not. Is it a performance issue? Ultimately yes. Everything can be a safety issue if you continue beyond natural limits of using it, but you have to believe that the level of professionalism of people within the sport is such that they are not going to go that far. It is one of those chicken and egg situations. We don't go out there and measure all the geometry ourselves and tell them, excuse me.
Q. Were you worried before the race then?
PH: Not with the majority, no. Absolutely not. We spoke to a lot of people and had a lot of different points of view, and we were quite confident that the majority of teams were quite comfortable with the situation.
Access even more news on Autosport.
Register for free to increase your monthly limit from 15 to 25 stories - or subscribe today and get unlimited access.
Get unlimited news
Full access to our news and in-depth Autosport Plus features - all in an ad-free enviroment.
Subscribe to Autosport Plus
Get 10 free extra stories
A quick upgrade and you'll boost your monthly news limit instantly - for free.
Register for free