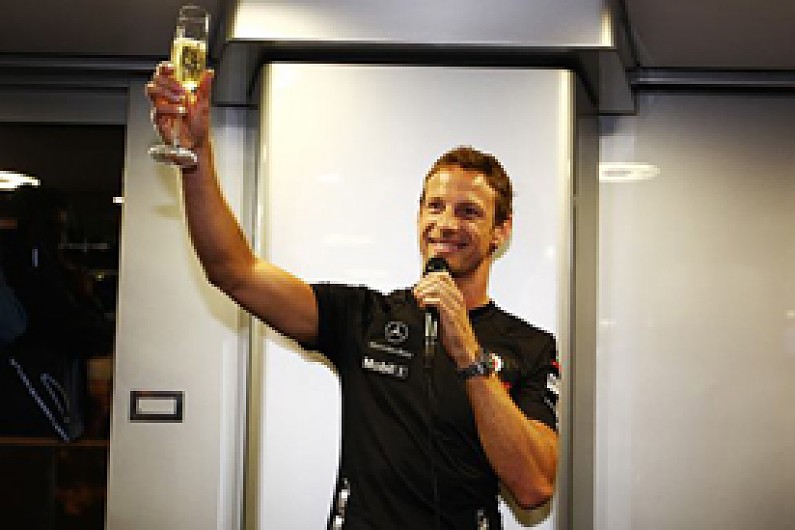 Jenson Button celebrates his 200th grand prix start in Hungary this weekend, and the occasion was marked with a get-together in the paddock on Saturday night.
It was the ideal time for the 2009 world champion to reminisce with the gathered press about the twists and turns his career has taken, and to look ahead to what the future might hold.
Q. Do you remember your first race?
Jenson Button: My first race? Yeah, wow. I remember driving out of the pitlane on the Friday morning, yeah. Because it is a street circuit and because of the time of year, all the leaves had fallen onto the track. I was driving up behind Michael [Schumacher] and, as you have with a Formula 1 car, you get the rooster tail because of the airflow through the diffuser. All the leaves were being thrown up out of the diffuser. I remember that moment, driving up behind him with a big smile on my face.
I didn't have a clue what I was getting myself in for at all as a 20-year-old, just 20 as well. I think I ran as high as fourth in that race. I nearly didn't get out for quali. In practice I put it in the wall. And then I was running as high as fourth and the engine bloody blew up.
Q. Does it seem a long time ago?
JB: It does but I can remember most of the race so it is quite scary in a way. I saw some footage of me driving the car driving around the last corner in Melbourne. I was like 'Wow, that could still be me now, strangely enough'. It didn't seem like a long time ago at all. Good memories.
Q. Has your career panned out like you thought it would back then?
JB: I think as a 20-year-old you expect life to always be easy. You get given a good hand and the chance to race in Formula 1. You think the driver can make the difference, can make up for everything else within the team. But that is not the case. You are racing in such a competitive sport so that doesn't happen. A driver can make a difference, and he does, but he is not going to turn a team around in terms of performance.
I also thought I would get my chance to fight for a win much earlier than I did and I thought I would fight for the world championship a lot earlier than I did.
Strangely enough, when 2009 came around, didn't feel like I had been in the sport that long before I had the chance of winning because it just flies by.
It doesn't feel like you get a break at the end of the season. I know it is wrong to say because you do get a big break, more than most people do in their jobs. But it does feel that it just rolls into the next year and that the sport is on non-stop. So yeah, 200 grands prix is a lot but they have gone in the blink of an eye.
Q. Is there anything you would have done differently?
JB: No, I mean I have made lots of mistakes in terms of contracts and in terms of spending money when I shouldn't have spent money... and Frank [Williams] has got a lot of it! Frank has probably enjoyed my money. But no I wouldn't change anything because it makes you the person you are and maybe I wouldn't have won the world championship [if I hadn't gone through those things].
Q. Does it make the world championship sweeter?
JB: BAR was great in terms of performance. My time at Honda was amazing, I really enjoyed it apart from 2007 when it all went a bit pear-shaped. But I had some great times at Honda, some of my best times in Formula 1. I actually might not have won races, just one race, but I had a lot of fun there.
Q. But does your rollercoaster career make you more rounded?
JB: When I crossed the line in Brazil [to win the 2009 title] I thought 'Wow!' I could suddenly breathe, all the good and the bad times came flooding back to me, the memories. I don't know what it is like to win as soon as you come into the sport, I am sure it is an amazing feeling. But having been through so much, not just racing but in terms of contracts, changing team and what have you, for me it was a great way to win the world championship.
Q. You're a popular guy, and you seem to be still the same guy as in 2000, and still so easy going?
JB: No, not as much. You grow as a person and a driver. I don't take as much s*** as I used to, maybe.
Q. From who?
JB: Everyone, on the track and off the track, and I am more open, which is great. I can be myself a lot more, not because I am allowed to be but just because you feel you can be. It is better for you guys as well.
Since I won the world championship I have enjoyed racing a hell of a lot. It is not the pressure other people put on you, it is the pressure you put on yourself to win. I still, obviously, would love to win another world championship and that is why I am here, to win another world championship.
Q. Is there another one in you?
JB: Definitely, 100 per cent. I don't think any driver who wins a world championship suddenly isn't interested in fighting for a victory or another world championship, or isn't capable. There has only been one world champion since me.
Q. A lot of people wouldn't seem to find it as much fun as you do?
JB: I think, in terms of drivers, a lot of people don't like being in the public eye in the sport. We love racing but I think some people struggle with certain other aspects of the sport. But you have got to take it in your stride because you are lucky enough to be in the position you are.
There are things you dislike but you have got to put up with them and actually try and enjoy them rather than fight them. There are certain weekends I hate and certain moments I hate. Getting out of the car in the garage when the car is facing the wrong way, walking back to the motorhome and everyone is still watching the race. You walk into your little room and have a little sulk.
That is part of the job, there is always going to be retirements and days that you hate doing what you do. But most of the time you love what you do and that is the most important thing.
Q. By the end of the year you will be eighth on the all-time list, now we have 19-20 grands prix per season, do you see yourself doing 300?
JB: I could do and I would be second on the list wouldn't I? Jesus man! That's scary isn't it?
Q. You have Jarno Trulli and Michael Schumacher ahead of you... Is 300 a possibility?
JB: I think so. I am not going to aim for 300, 200 is just a number but because it is a milestone in most people's eyes it is good because you can ask questions about our past. You look back and you remember the good, the bad and the ugly of what you have been through. I don't think we do that enough; we are always living in the moment or looking forward too much. Especially in the world of Formula 1, every year rolls into the next. So it is nice to take a step back and look back at what I have achieved.
Q. So what was the good?
JB: There have been a few good ones; there have been a few bad ones as well! The good ones are the obvious ones, they are the ones where I have got a smile and I am lifting a trophy above my head. But there have been many races in my career where I haven't been in a car capable of winning but I have still had a great race and still had a lot of fun doing it. I have enjoyed most of my career in F1 even when I have been in a car that is not very quick.
Q. The bad?
JB: Then there are the bad times when you have incidents, you hurt yourself or you have reliability issues. They are not so much fun those ones.
Q. The ugly?
JB: The ugly was probably Monaco 2003. In the wall, wondering what the f*** was going on. Waking up and there is a big scary man with big bushy eyebrows staring at me. He told me his name was Dr Sid [pause] Watkins. I didn't have a clue who he was. He was cutting up my arms, injecting all sorts into me. That was pretty ugly.
Q. Do you feel up for another five seasons?
JB: I am not so good when it comes to looking too far into the future. It is nice to be in control of my future. Saying you are going to be around for another five years is the wrong thing to do. There will be many more years that I am enjoying the sport, enjoying the racing. I don't know if I will make 300. It is not an aim of mine but here is always the possibility. That will be second highest in Formula 1, which is crazy. I am only 31 at the moment.
Q. Is it too easy to suggest the next contract you sign will be the last one?
JB: I don't know. You might say it is but when you get to the end of it you might think 'Wow, that's it then. What am I going to do now?' There are lots of possibilities but nothing quite like racing in Formula 1. Maybe I'll start my own team, what do you reckon? That worked well for so many other people!
Wherever I am they will have to pay me a lot more than I am on now, if I could afford to run a team...
Access even more news on Autosport.
Register for free to increase your monthly limit from 15 to 25 stories - or subscribe today and get unlimited access.
Get unlimited news
Full access to our news and in-depth Autosport Plus features - all in an ad-free enviroment.
Subscribe to Autosport Plus
Get 10 free extra stories
A quick upgrade and you'll boost your monthly news limit instantly - for free.
Register for free