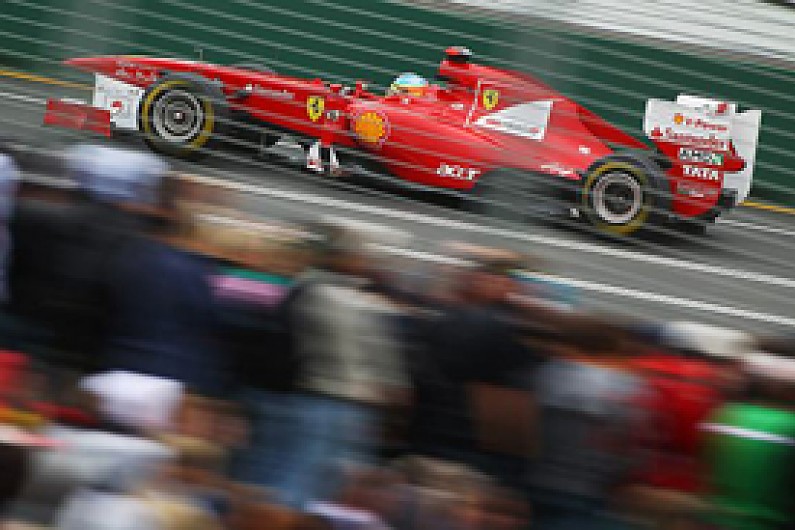 Fernando Alonso does not believe Ferrari's qualifying pace in Melbourne was really representative of what its car can do, as he lapped 1.4 seconds off Sebastian Vettel's pole time on the way to fifth on the grid.
The Spaniard admitted that Ferrari had been slightly conservative, and went into Q3 with only one set of softer tyres available after using an extra one in Q1.
"We were not super competitive today from the practice," Alonso told television crews.
"For the qualifying we took a very conservative approach, we knew that if we took risks maybe we would be fourth, if we went safe we would be fifth or sixth so it was not the time to take any risks in the first race of the championship.
"But unfortunately we found ourselves with only one [option] set in Q3. We tried to do our best and fifth position is more or less what we expected before qualifying.
"The position we are happy with, the distance from pole we are not so happy. So this is what we have to look at and analyse tonight."
Alonso cited "overall grip" as the main thing Ferrari was lacking.
"Yesterday we had more grip and more overall balance, today straightaway both Felipe [Massa] and I felt less grip," he said, "maybe the track conditions were a little bit worse, but the other people were better than yesterday.
"We need to understand it a little bit better. Also the distance from Toro Rosso, Sauber, Renault... we knew from winter testing and yesterday we were one second in front of them whereas today it was only two or three tenths. So it was something lacking in our car.
"We will try and do a good race tomorrow and in Sepang we need to be close to the pole for sure."
Alonso also believes that Red Bull will not be as superior in the race as it was in qualifying.
"You never know until the first qualifying session of the season, until then it is only rumours, it's only a guess," he said of the champion team's pace.
"Today it is true that the gap was very big, but yesterday it looked quite close to be honest, to them and to McLaren. I expect that this was not the normal pace from us, and we will get better and better tomorrow."