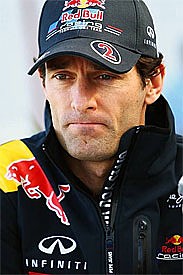 AUTOSPORT caught up with Mark Webber ahead of the first race of the season in Australia, where the Red Bull driver is eager to get his campaign rolling is strong fashion.
Q. You told me on the first day of the Barcelona test that you already just wanted to get on with the first race. So have the last few weeks been a bit frustrating with all the waiting?
Mark Webber: I think for all of us, yeah. Even with things like fitness. There is so much work going into it, but we are doing it all to go racing. So it was a disappointment for all of us that the first grand prix [in Bahrain] didn't happen, but here we are.
So it was a bit of a stall. But we now just want to get into it. All the boys want to know where we are and all of us are fired up and ready to go. It is what all of us drivers are about - we can pound around Jerez all day long but that is not what it is about.
Q. Red Bull Racing appears to have ticked the reliability box, the speed looks good. Is it safe to say that tyres are the biggest question mark for the team going into the first race?
MW: Yes, it is mate - they are. That is what is going to be on everyone's minds in terms of how the weekend might unfold and in terms of the mileage that you might complete in the build-up to the race. I think Barcelona was a pretty brutal test, and it was very pessimistic around there - so I think things will probably get better from that standpoint. But let's see how we spread the mileage over the first part of the weekend.
If it is dry, I don't really know how it is going to work in terms of these extra tyres we are going to get. But we don't get that back in engine mileage either - you can test tyres which is great, but you are then stretching your engines so there is no real point on that front.
Q. Is there a fear the tyre situation could turn the race into a bit of a lottery?
MW: It certainly opens things up more for mistakes on strategy, on areas of pitstops, on calls from the cockpit and calls from the pit wall. When you do that once, like we were doing last year, it was very, very important to get it right, and you saw the trend of people pitting and then filtering through to the front. That is potentially going to happen a lot more this year. We don't know stressful the middle of the back part of the grand prix is going to be in terms of what is going to be happening in terms of stops - purely because it is all done to the tyres.
It is totally down to the tyres in terms of how the race will unfold strategy wise. We have the fuel, so we know we can stay out there, so it is just a case of the best way to get to the finish. This place can be pretty tasty in terms of safety cars and things like that anyway. We saw with Takuma Sato in Canada a few years ago, Fernando Alonso was on the wrong tyres in the McLaren and Sato in a Super Aguri overtook him. When stuff like that happens it is alright every now and again, but if it is every weekend? No.
Q. Pirelli has said it was an intentional thing on its part to make the tyres less durable. But with the rear wing issue - at what point does it stop being a pure sport? At what point does it start being a bit too false?
MW: It is fair to ask that question, mate. But we need to see when we go racing to see how powerful the rear wing is, how dominant the tyres are on how we are competing in a grand prix. There is so much effort going into it, in terms of the car's performance and prep, in terms of what F1 is and has been about all the time, so you have to get that fine line of interfering with the pureness of it. That is the bit that we have to always get right.
All of us would like to see a bit more racing, but if you want to watch phenomenal racing go to Brands Hatch and watch the Formula Ford Festival. That is some of the best racing you will see - or go and see some dirt racing. We have to be careful not to go too far towards other categories because it has been very successful in the past. I cannot believe that last year wasn't interesting to watch. It was a pretty good season to watch in terms of car racing, and even the years before when we had a bit of a tyre war going on with Bridgestone and Michelin. The last three or four years have been pretty tidy - so it is going to be as spectacular. It is certainly not going to be any more dull, but are we going too far to perhaps take the purism out of it? That is the thing that we need to get right.
Q. Stefano Domenicali has said that one of the consequences of the tyre situation is that qualifying will perhaps not be as important in determining a race's outcome. With the difference between you and Seb last year often being less than one tenth in qualifying, which decided races, does the tyre situation give you more of an opportunity now?
MW: On Saturday nights last year, clearly we knew that if the first sector [after the start] was clean and the car was reliable, then 80 per cent of the race was done. That was how it was.
Now, certainly that percentage has dropped. I am not looking at that and just saying, 'oh that is great' because I couldn't match Seb all the time last year - it was nip and tuck - so that's now fine and I can focus on Sundays. You still need to get Saturdays right. You will still take the front row if you can have it - that is a no-brainer.
You now need to see how you are as a leader, with the one second gap with the moveable rear wing - how does that work? So Stefano is 100 per cent right. Qualifying is less of a percentage but I am not saying that you now want to be lining up 12th on the grid. It is nice to be able to call the shots from the front of the race than always be on the attack - it is nice to be able to make decisions from the front.
Q. You seem pretty relaxed heading into this weekend. Has anything changed for you after the year you had in 2010?
MW: No, not really mate. We ticked a lot of big boxes last year - from the team and personally from me in the car. It was very, very easy for me to not have the season I did. You still have to jump some big hurdles and get on with it, which we did. We had some very, very successful weekends, and some of the second place drives weren't great in terms of the result but in terms of how the weekend went and getting them, Seb and I pushing each other, they are still rewarding weekends as a professional. I enjoyed it - I enjoyed a lot of it.
I think the relaxation comes with continuity in the team. We are a pretty well drilled outfit now. Of course you can be anxious ahead of a weekend, there will be some anticipation there for sure, but this is my tenth year here - I probably wasn't as relaxed as I am a few years ago, that that is the way it is.
Q. Sebastian Vettel has talked about the possibility of a driver strike if there were serious concerns about safety in F1, relating to the rear wing and KERS. Is it something that has been discussed between the drivers?
MW: We had a GPDA (Grand Prix Drivers' Association) meeting in Barcelona with Charlie [Whiting] and I left before the meeting finished, because it was going around a little bit in circles as can happen with a room full of 30 blokes!
I don't quite understand why we have to use the wing all through qualifying. The wing was brought in to help overtaking so for us to use KERS, which is like the F-duct as you have to get on it as soon as possible, we are doing lots of things a bit like tapping your head and rubbing your tummy. I've been around Monaco in an F3000 car when you have a gear stick, and stuff like that is fine. We can all drive with one hand, but there are things that have been added that are a bit strange.
You are trying to do a phenomenal qualifying lap, but you are pressing these buttons - and everyone is doing it the same so where is the advantage in it? We all cute enough to know that we need to be on the button as soon as possible. We all have systems and the teams are not stupid.
For qualifying, it is an added distraction and loading which we don't really need. It is not helping the show - it is another session where you want to do the ultimate lap time but everyone has the same tools to get that lap time so why overload the driver? There is no real gain for doing it.
Racing with the rear wing? It is a different story. KERS is a bit of a frustration again because everyone has got it. No one is going to have a big advantage here and there - for the start you get off and go, but then you actually have to look a lot at how you use the KERS. Looking down, you are looking at the dash and how much you are getting rid of your KERS, and then you have to look for the wing crossing the line. This is the stuff we have to learn when we go racing.
Q. Is it worse than the F-duct last year?
MW: Yes, I think so. We only had one thing. We like to be challenged at this level, and all the drivers like that, but when everyone has got it, what is the advantage of complicating it? And also, going around Singapore for example trying to use the button....
Q. And the problem of lapped drivers being able to unlap themselves?
MW: I certainly don't want, having just passed a backmarker, for him to then have a crack at me with a 10 km/h difference on the straight. I don't see why that should be used, as we may as well get rid of blue flags then. If he can re-overtake you then we are racing for position.
We need to see how good the rear wing is for racing. I think it can work in terms of a tool, but keep in mind - I have to change the brake balance, I have to do an oil transfer...
Q. Is there also an issue of the gamble of taking the wing off through some high-speed stuff?
MW: Yeah, for quick corners. If you look at Eau Rouge at Spa - that is why I am saying for qualifying - why not just have it at the same points we have it for the race. On the straight. Everyone does it, it is easy. If you take Eau Rouge, Copse, or Becketts - it is not improving the situation. For us, it is making it a little bit more sketchy.
We know the teams are pushing us completely to the limit and it is not nice to open the door up for them. It was for racing, so I don't see why we need to be trying to get through Eau Rouge with an open rear wing. We tried that with the F-duct, it was a little on the edge and Charlie wasn't too happy with that...
Access even more news on Autosport.
Register for free to increase your monthly limit from 15 to 25 stories - or subscribe today and get unlimited access.
Get unlimited news
Full access to our news and in-depth Autosport Plus features - all in an ad-free enviroment.
Subscribe to Autosport Plus
Get 10 free extra stories
A quick upgrade and you'll boost your monthly news limit instantly - for free.
Register for free