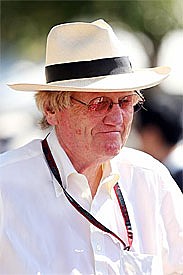 The future of the Australian Grand Prix is still a matter of speculation, but its boss Ron Walker insists the race is 'very secure'.
AUTOSPORT talked to Walker exclusively about the situation.
Q. What difference has it made to the build-up to the Australian Grand Prix that you are the first race again on the calendar this year?
Ron Walker: The focus is clearly more concentrated on Melbourne than it would have been if Bahrain had happened, because of all the changes on the cars. I regret that it has happened to my colleagues in Bahrain, but that is the world at the moment.
Q. How has local interest in the race been ahead of the race?
RW: We think we will have 20-30,000 people from overseas coming to the race. It is a sell-out with both Qantas and Jetstar at the moment, as you cannot get a flight in our out for four days. We have sold all the grandstand seats, and built more grandstands than we have done for the last ten years. The Paddock Club is also sold out, so corporate Australia has returned to the grand prix in droves. And we are busy selling tickets for families now.
Q. What do you put the upturn in interest down to? Is it the Mark Webber effect?
RW: It is like Casey Stoner winning the MotoGP championship a few years ago - we were sold out at Phillip Island. I think Mark Webber is a sporting hero in this country, and if he is lucky enough to win then it will help promote good ticket sales for next year. It is always the same - when Alan Jones was world champion it was great for Australia and Jack Brabham before him.
Q. How annoying has it been for you that all the talk in the past few weeks has been about whether the Australian GP has a future?
RW: With great respect to the Lord Mayor, the fee has got nothing to do with him. It is to do with the government of Victoria, which signs the contract. There has just been an election in Australia, and when the Premier gets the chance to meet Mr. Ecclestone I am sure they will fall in love together.
Q. Ever since you got the race in 1996 it seems you have been defending the high costs of the race. Why is that?
RW: The cost is actually irrelevant when you think of the overseas publicity of the brand that Melbourne gets. We go out to all these major trading partners at midday because of the twilight race, and I think you will find when the Economic Benefit Study is completed then it will probably be about $160 million (AUSTRALIAN DOLLARS) in economic benefit, and $20 million in tax. I have said consistently that to advertise Melbourne's brand consistently around the world it would cost you about $100 million per year if you had to buy the television time. So it is a great thing for Melbourne - as is the tennis, football and soccer and everything else we do well.
Q. Did it take much twisting of the mayor's arm to get the Lord Mayor to help promote this year's race?
RW: No it didn't actually. We have been big friends for 20-30 years. I don't know who called who first, but he understood he was the leader of the city and it would be unusual of a major city globally to oppose an event like F1 - most of them are scrabbling to get an event.
Q. So you are not surprised that he is out here today?
RW: No, this is his place. He has to be out here greeting the girls, kissing the babies and kissing F1 cars!
Q. Will you be introducing him to Bernie Ecclestone?
RW: I certainly am! With great pride...
Q. You have been a close friend of Bernie's for many years now. What do you make of his comments when he says F1 doesn't need Australia on the calendar any more?
RW: I would say the same thing if I was him. If you have the mayor of a capital city criticising the race and saying we don't really need it as it is too costly, I would turn around and say: 'Well, I'll give it to President Putin, or to the Prime Minister of India, or Korea.' The Mayor of New York wants one for Staten Island. So that is what I would be saying - Bernie doesn't want a race to come to a capital city where it is unwelcome.
Q. How secure do you feel this race is beyond 2015 then?
RW: I think it is very secure. There is a five-year option there that goes either way, and Mr. Ecclestone recognises that this is a great city to come to. It is like Montreal. They lost it, and then they turned around and wanted to get it back. It is one of these things that advertises the city on free to air television. And I keep saying that - because our tennis is on cable television, the football is on cable television, the Melbourne Cup is cable and Tiger Woods is on cable when he comes here. But we are free to air. It is an amazing sport to help publicise the city.
Q. Is there any merit in having a permanent track in the future?
RW: Now that Mr. Ecclestone has raised the issue again, maybe we might go to Avalon and look at the plans. It is a lot of money to build it, but then again the government has $1 billion invested in the Tennis Centre. If you take the interest rate of that, it is slightly more than the grand prix costs. So, there are various ways of cutting the cat.
Q. So would a longer term extension to the contract justify the investment in a permanent track then?
RW: Yes, if the government decided to invest in a train line, as we would need public transport there. If you did that, and the government builds a line to Avalon Airport - there are 3000 hectares out there, then it could work for us on a permanent basis. Like they have done with a new soccer centre here.
Q. So what sort of time frame would that be then?
RW: It would take about three years to build, and the decision would have to be made next year. Or, as part of the new contract from 2015 going forward.
Q. So it is something that is being considered?
RW: It is something that we will raise with the government very soon after the race.
Q. There are races like China that have renegotiated the terms of their deals with FOM because it has been costing too much. Do race promoters' fees need to be reduced in the future?
RW: Well, it depends. Some countries are struggling. There is no place today for private entrepreneurs to run races. It all has to be government backed. Mr. Ecclestone understands that, so it is a case of whether governments can afford it. Emerging countries need the publicity, which is why the Arab States wanted races. It has been ideal for Malaysia, it is great for Singapore. It will be great for India to push the tourism aspect of Delhi. People do these things for different reasons.
Access even more news on Autosport.
Register for free to increase your monthly limit from 15 to 25 stories - or subscribe today and get unlimited access.
Get unlimited news
Full access to our news and in-depth Autosport Plus features - all in an ad-free enviroment.
Subscribe to Autosport Plus
Get 10 free extra stories
A quick upgrade and you'll boost your monthly news limit instantly - for free.
Register for free