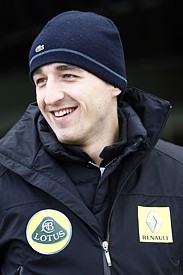 Renault team doctor Riccardo Ceccarelli says it is impossible to predict when Robert Kubica will return to action following his accident.
Although the Pole is recovering well and has vowed to be back in the cockpit this year, Ceccarelli insists there is no way to predict how long his rehabilitation will take.
Ceccarelli said all the operations Kubica underwent had been successful, but made it clear it was up to nature to set the recovery time.
"This is obviously a question we cannot answer. No one can answer when or how, because we can only say that the surgeons did a great job," Ceccarelli told reporters at Barcelona on Thursday.
"Robert is very strong and he is recovering in a good way. But, there is a third factor which is nature - how will nature be with him? Nice or not? Fast or not? This is something we cannot say.
"So it is a question that is impossible to answer. We only think we have two positive aspects: the job done by the doctors and Robert, who is strong. So, these are the only things we have at the moment. All the rest is impossible to say."
He added: "What we can say - this year, next year or three years? It makes no sense [to say] in this moment. I can only tell what I know.
"And what I told you is exactly what we know - he has made a good job, he is reacting well and it will take time, a long time. After that, honestly, I am not a magician so honestly I cannot say anything more than this."
Ceccarelli admitted, however, that he was very pleased with how Kubica is progressing after his accident over a month ago.
"Robert is getting better every day. I see that he is recovering, psychologically and physically, very quickly. This is not a surprise for us because we know Robert very well.
"But it is a big surprise for the doctors of the Pietra Ligure hospital - so this is good news because they are satisfied how he is reacting to the surgery and all the injuries he had. We are quite happy for this strong reaction. This is the first positive things in a traumatic situation."
Although Kubica can move the fingers of his injured hand, Ceccarelli acknowledged there was no way to know if he will regain full functionality.
"Robert is moving fingers, he is moving his wrist. So it is good. That is positive but we cannot predict anything else."
Ceccarelli also believes Kubica will not have to undergo further surgery, although he is not ruling anything out yet.
"At the moment that is impossible to say," he said. "At the moment everything is going very well, and there are no complications coming out. So, we don't plan any other surgery for the moment. At the moment there is no reason to do it."