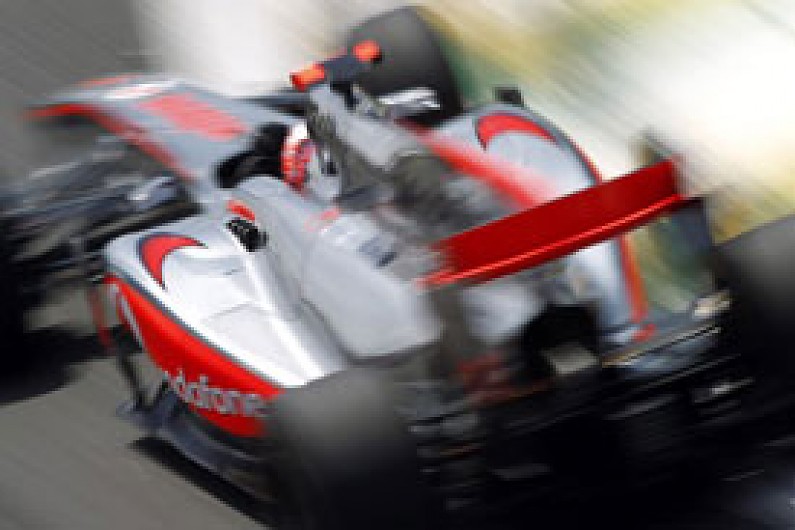 McLaren is set to use an interim car for the first Formula 1 test of 2011 at Valencia, AUTOSPORT understands, after announcing on Friday that its launch will be held in Berlin on February 4.
The first official test of the year takes place at Valencia from February 1-3, but McLaren will not unveil its new MP4-26 until the day after that test finishes.
AUTOSPORT understands that the launch is not simply a colour-scheme unveiling - but will be the actual first public appearance of the new car.
McLaren has declined to comment on its intentions for the first test at Valencia, but sources suggest the team is looking at using an updated version of the MP4-25 for the test - rather than its 2011 model.
It is understood that the car that will run at Valencia will likely be a modified hybrid of the current MP4-25, but fitted with aerodynamic developments and updates from the 2011 car.
Such a move would allow the team a few extra days of development time in the wind tunnel. Using a well-known platform will also ensure that McLaren should be able to complete plenty of mileage to gain data on how Pirelli's 2011 rubber interacts with the cars.
Tim Goss, chief engineer of McLaren's 2010 car, told AUTOSPORT last month that the outfit was upbeat about the progress being made with the new car.
"It's looking very good," Goss said. "We can't say much about it at the moment, but Doug [McKiernan, chief aerodynamicist] and his team have done a great job of creating the aerodynamic platform for the car, and it is looking good."
McLaren is not the only team that is choosing not to run its 2011 car in Valencia - with Force India, Virgin Racing and HRT all having so far confirmed that they will only run 2010 models for the first test.
World champion Red Bull Racing, which missed the first test last year, is making a big push to get its car ready for Valencia so it can understand better how the Pirellis work on the actual 2011 challenger.