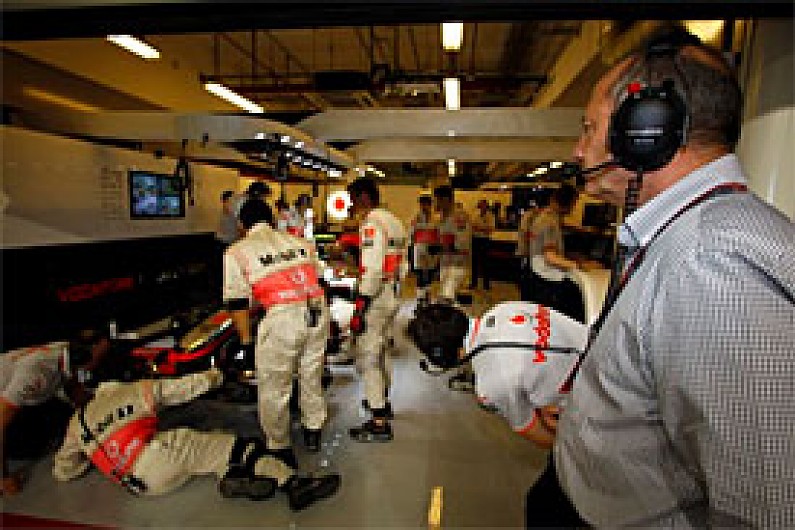 Formula 1 will impose a curfew on team personnel next season in a bid to try and cut down on the working hours expected of staff.
Following concerns expressed by the new outfits in particular at the start of 2010, when they worked around the clock at the first few races of the campaign, the FIA has agreed on a working limit from the beginning of next year.
In its published 2011 F1 sporting regulations that appeared on Monday following last week's ratification by the World Motor Sport Council, the FIA announced the details of the curfew.
The curfew will be from midnight to 6am when practice starts at 10am and from 1am to 7am if practice starts at 11am.
"No team personnel who are associated in any way with the operation of the cars are permitted within the confines of the circuit during two six hour periods which commence ten hours before the scheduled start times of P1 and P3," stated the regulations.
"However, each team will be permitted four individual exceptions to the above during a Championship season."
The FIA has also announced that for next year only teams will be allowed a penalty-free gearbox change - with units now due to last for five events.
Article 28.6 f) stages: "For 2011 only, except during the last Event of the Championship season, each driver will be permitted to use a replacement gearbox without incurring a penalty the first time this becomes necessary during the season. Under such circumstances the replacement gearbox will only be required to complete the remainder of the Event in question."
The FIA also confirmed the tyre regulations for 2011 following the return of Pirelli to Formula 1 as the official tyre supplier.
For next season, each driver will have a nominated three sets of dry weather tyres for use in P1 and P2, with one set returned after each session. A further eight sets are then available for the rest of the weekend, with one set handed back before qualifying.
The FIA also confirmed how penalties will be handed out if drivers do not use both tyres of dry weather tyres during races.
"If the race is suspended and cannot be re-started, thirty seconds will be added to the elapsed time of any driver who was unable to use both specifications of dry-weather tyre during the race," stated the regulations. "However, any driver who completes the race without using both specifications of dry-weather tyre will be excluded from the race results."
As well as confirming the details of well-known technical changes, including moveable rear wings plus the banning of driver-activated F-ducts and double diffusers, the FIA confirmed the 107% per cent rule which will see cars not quick enough in Q1 excluded from starting the races.
The full regulations can be found here.