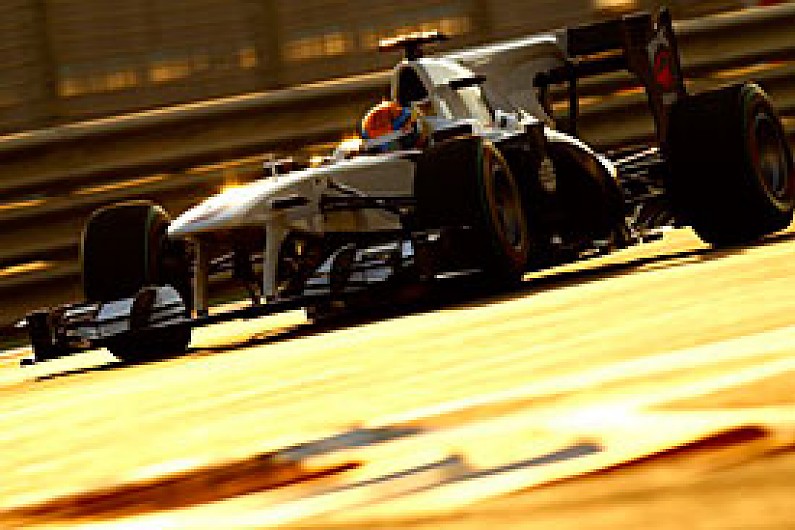 GP3 champion Esteban Gutierrez says he feels ready to step into a race seat if required next year in his new role as Sauber's reserve driver, after his second test with the team during this week's rookie sessions in Abu Dhabi.
The 19-year-old Mexican had tested for Sauber the previous winter when it was still owned by BMW, having got the chance as a reward for winning the 2008 Formula BMW Europe title. He was later taken on as a protege of the team, working with Sauber at grand prix weekends, and will be the official reserve for 2011.
While stressing that he was not wishing any ill on race drivers Kamui Kobayashi and Sergio Perez, Gutierrez said that this week's test had convinced him he could do a capable job if he was called up to deputise for either of them.
"I'm going step by step," said Gutierrez. "First of all this year it was great to be spending some time with the team, and it was a big advantage now knowing the team compared to last year's test.
"I think the main thing is that I was consistent. We didn't do any things like mistakes or crashes, that was really the main thing.
"Of course it was an important test for me to get the feeling in case I get to drive a race next year.
"I will not drive for sure, and hopefully not, because it would mean that somebody is hurt, so let's hope not.
"I'll just keep focused on what I have at present, enjoy it and get the most experience."
Gutierrez said he had tried to do a sensible and methodical job on Tuesday.
"To be honest it took me a bit of time to adapt to the track in combination with a big car that I had not driven for a year," he said.
"My mentality was to be very progressive, use the whole day, and know what I did with each step. In the end it was a very positive day because we were able to be very consistent and at a high level. We tried many things that were very interesting from my point of view.
"My experience increases even more with each test we can do in the car and it gives me more confidence."
He added that he felt much better prepared for this test than for his first F1 experience last winter.
"I feel more relaxed, and I've improved in many aspects of my physical preparation," said Gutierrez. "Last year wasn't really difficult but you could feel the pain of where you needed to work.
"I'm working together with Sauber on my physical preparation and hopefully this kind of thing will make me even better in the future. I'm using this experience to know where I need to get better."
Autosport has produced a standalone special magazine to celebrate our 70th birthday. All current print subscribers will receive a copy for free. To order your copy of the 196-page Autosport 70th Anniversary issue, please go to: autosport.com/autosport70th