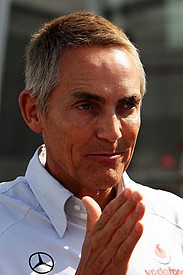 McLaren is currently the long-shot contender in the title battle, but team boss Martin Whitmarsh is convinced there is still plenty to fight for.
In a pre-Brazilian Grand Prix teleconference, Whitmarsh told the media how his team was feeling about the fight ahead and the prospects for Interlagos this weekend.
Q. In Korea McLaren was on the pace until Q3, then couldn't get in the fight for pole. Have you pinpointed why this happened, and do you expect to be in better shape for Interlagos qualifying, or are you going to have to try and fight from behind in the race?
Martin Whitmarsh: In Korea we were on the pace through practice one, practice two, practice three - I think we were first, third and second through those - and we were competitive in Q1 and Q2. It was very close, and I'm sure that we've all got different forms of qualifying mode, and times when we exploit those qualifying modes. It was tight, but we didn't quite get the performance. I think in Jenson's case, we didn't give him a car that he was comfortable with throughout qualifying, so he did a good job just to get it up there anyway. Certainly Red Bull found extra pace in Q3 relatively to practically everyone.
We're bringing developments to Brazil, we're pushing hard and we have a range of tests that we will perform on Friday before we finalise the spec of the car to be used on Saturday and Sunday. Naturally we hope that those will put us way out in front, but I think a realistic expectation is that they will make us competitive, and if we as a team, the drivers and ourselves, work together, there's no reason why, if we do bring that performance, we can't be competing for pole position, and therefore try and win from the front.
If we're not at the front, we'll try and win from behind. We've done that a few times this year. We've got two great racing drivers and there's no reason why we can't do that. Generally Brazil provides an exciting race, and let's hope for everyone that we have an exciting race and keep the championship alive until Abu Dhabi.
Q. You said you'll allow both drivers to push for the title, but with Lewis Hamilton in such a superior position, have you worked through situations where you might ask Jenson Button to help him out?
MW: I think we all know there are no team orders, so I think the right thing for a racing driver is to go there and try to win. I'd be disappointed if Jenson wasn't going there trying to win. I think the championship for Jenson in particular is tough, but if he was telling me that he'd given up, then I would be deeply disappointed.
So I think the right thing is that if he's getting his car in front of all our competitors, then that's the absolute right target and we'll see what happens in the course of the weekend. There's a good relationship between the two drivers. I'm sure they're going to co-operate with each other, I think Jenson is a remarkably composed, mature, thinking driver, and he should go there with the attitude of trying and seeking to win the race.
During the course of the weekend, I'm sure he'll do everything he can to fulfil the ambitions of the team.
Q. So are you thinking of the possibility of Jenson helping Lewis out if things aren't going well for Button?
MW: I think Lewis and Jenson are both going to try and win the race. In the race itself, then we'll see what that situation is. If we are in the fortunate position of being in a strong one-two position, then that's a nice challenge to have... But I think the right frame of mind for the team and both drivers is we should be going to any event trying to win it, and trying to have a one-two. In order to do that, we're going to have to deliver performance improvements, which we're seeking to, on the car, we're going to have to perform well in the setting up and as a team, and the drivers have got to be performing as well.
We can try and consider a variety of scenarios. We've been in championship hunts many times before, so have both the drivers. The best thing to do is to try and go there and win. We are not in the fortunate position of defending a lead, we're going there to attack and try and win.
Q. But presumably conversation about those team scenarios are taking place?
MW: I think the conversations are 'guys, let's focus, we'll try and make the car as good as we can, you try and win'. That's the depth of conversations going on at the moment.
Q. Do you feel you're in a better position regarding engine usage than Ferrari and Red Bull?
MW: I think we are. We're not going to get overly-confident. Mercedes-Benz have done a great job. We will not expect engines to run more than two race distances in races until the end of the season. Certainly some of our competitors are going to have to have more mileage on their engines, and their engines classically have not been quite as reliable as the Mercedes-Benz engine.
So I think there is a potential advantage that we have there. But that can change in one revolution of an engine... So we are fairly comfortable and confident where we are with the engines, that some of the title contenders will have to use higher mileage engines than either of our drivers.
Q. Christian Horner said earlier this week that if Fernando Alonso were to win the world championship, it would be frustrating because 'Red Bull has been working in the belief that team orders are illegal'. Do you share that point of view?
MW: I have lots of private views on the outcome. I think if anyone other than a McLaren driver wins the championship it will be very frustrating... I'm not going to cast aspersions on what others have done. We run our team as we wish to, and we understand the rules in one sense. It may well be that other teams have got a different view on that, but at the end of the day, Red Bull have produced a fast car and they've been highly competitive all year. You've got to give Ferrari credit, regardless of the team order debate and all those other things, Ferrari were really struggling mid-season, they've had a resurgence and they've looked very competitive - and Alonso is a formidable competitor.
We shouldn't detract from what really, probably, is one of the greatest Formula 1 championships in our history, with issues about what teams did or didn't do during the course of the year. It's been a fantastic championship. Genuinely, at the moment, there are a number of contenders from three different teams, competing for this championship, and I think that's been fantastic and we've had three one-twos, some great moments, we've had some struggling moments. Red Bull have had moments of triumph and tragedy, and so have Ferrari, and that's moved around during the year. I hope the last two races see McLaren resurgent and dominant and scoring a one-two in the last two races, that would be a nice end to the season.
Q. So do you think it would reflect badly on the sport if what happened at Hockenheim was seen as decisive?
MW: I think we've had a very good championship and that's what we should think about, full stop.
Q. Is it possible to predict which of the title contending teams' cars will be most suited to Interlagos?
MW: I think it is quite difficult to predict, and I think that's good. Maybe other teams or other pundits can. I can't predict it. I'd like to believe that we're going to be quick there. I think our advantage in F-duct territory has diminished, as you'd expect during the course of the year. It was a very innovative concept but it was very cheap to implement and other people have implemented it. We may have stayed ahead a little bit but I think our advantage there has diminished. Maybe we still have a little bit of an edge as the original creators of it.
With regard to the bumps, we made a number of developments. Bahrain, the very first race, in the new part of that circuit, Silverstone for various reasons was a lot bumpier than it's ever been, they were relatively low moments for us in our performance. We're aware of that challenge in Brazil. We've got a number of things that we have done which we hope will help us. But whether they help us enough, we'll start to establish in the next 48 hours. But certainly we've made some progress.
I think there is no reason why we can't be competitive in Brazil. I believe that, the engineers and the drivers believe it. We're in a fierce championship at the moment. Ferrari and Red Bull won't stand still, they'll be doing everything they can to win, and I think frankly that's the great thing about this championship - no one, I think, with high levels of confidence, whether you're inside a team or outside, can predict which car will be quicker around Interlagos between a McLaren, a Ferrari and a Red Bull.
Q. In your preview press release, Lewis suggested that you had the third-fastest car heading to Brazil. Bearing this in mind, do you think if it's wet in Brazil that would be to your advantage?
MW: We'll see. I think we've got some interesting developments. I'd like to run them in the dry on Friday. Friday is a test day for all of us, and it's easier to do that in the dry. I'd certainly like Friday to be a dry day.
We expect to be competitive. We've seen many times wet races are very exciting, but if you're competitive there is a threat to executing the result that your competitiveness deserves. So we'll see. I've seen forecasts that tell me it's going to be dry every day and I've seen forecasts that tell me it's going to be wet every day. There's a reasonable probability of some water on the track, there often is in Brazil.
But either way, Brazil, strangely, is a circuit which maybe some modern-day circuits ought to go and visit, because generally it produces fantastic races. It's a great theatre when you go and watch it, not just the atmosphere, which is also extraordinary there of course. It's a great venue and considering how long it's been around, I think there are a few lessons there to be learned for any budding circuit designer.
Access even more news on Autosport.
Register for free to increase your monthly limit from 15 to 25 stories - or subscribe today and get unlimited access.
Get unlimited news
Full access to our news and in-depth Autosport Plus features - all in an ad-free enviroment.
Subscribe to Autosport Plus
Get 10 free extra stories
A quick upgrade and you'll boost your monthly news limit instantly - for free.
Register for free