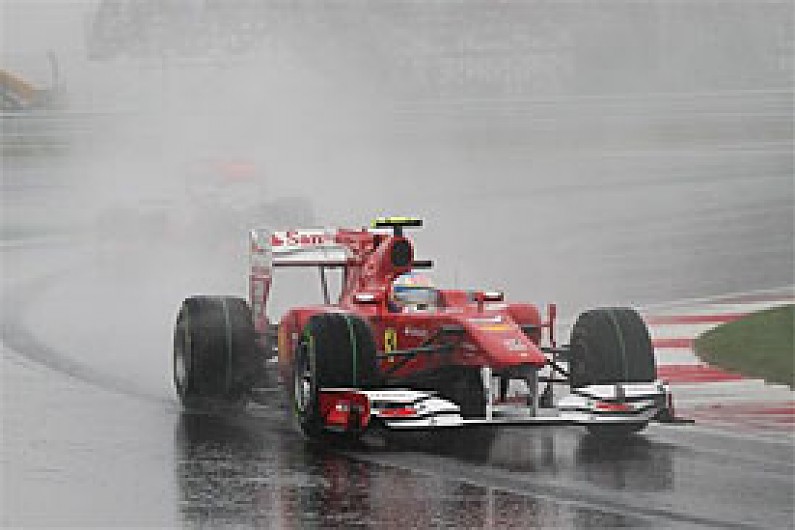 Ferrari's Fernando Alonso stormed into the world championship lead by winning a wet and delayed Korean Grand Prix, on a disastrous day for Red Bull that saw Mark Webber crash out of second and Sebastian Vettel have an engine failure while leading.
Lewis Hamilton boosted his title prospects with second for McLaren, but a lowly 12th all but ended his team-mate Jenson Button's hopes.
Racing would not actually start until nearly one hour and three quarters after the scheduled time. The rain forced first a short delay, then four laps behind the safety car, then a pause of nearly an hour, and then a further 13 laps of following the pace car before conditions were deemed satisfactory - to the delight of Hamilton, who had been adamant over the radio, unlike most of his peers, that the track was dry enough for racing.
Vettel immediately pulled out a 2.8-second gap over Webber on the first lap of racing. Then it all went hideously wrong for the pre-race championship leader next time around, as he ran slightly wide at the right-hander heading into the 'city' section, and spun into the opposite wall, before rebounding back and collecting the passing Nico Rosberg's Mercedes, which had overtaken Hamilton for third at Turn 3 a lap earlier.
With two wrecked cars to collect from a narrow section of the course, the safety car returned for a few more laps before racing finally got underway in earnest. Vettel made a break once again, establishing a three-second cushion over Alonso before the next safety car interruption on lap 30, when Toro Rosso's Sebastien Buemi - who had already tipped Heikki Kovalainen's Lotus into a spin - speared into Timo Glock's Virgin at the end of the long straight.
Buemi was among those who had already taken on intermediates, and everyone still on full wets followed suit during the caution. Vettel and Alonso had passed the pits when the yellow came out so had to do another lap, but Vettel retained his lead. A problem with the right-front wheel change on Alonso's car let Hamilton into second - but not for long, as the McLaren ran wide at Turn 1 at the restart and handed the place straight back.
Vettel could not escape to the same extent in the next stint, with Alonso and Hamilton lurking within a few seconds of him, but still seemed to have the race under control until his Red Bull's Renault engine erupted at the start of lap 46.
Alonso then edged away from Hamilton in the gloom to clinch his fifth win of the year and open up an 11-point lead over Webber, with Hamilton's second place putting him up to third in the standings, 10 points further adrift.
Felipe Massa completed the podium in the second Ferrari after a consistent race, while Michael Schumacher produced his best performance of the year by taking fourth, the Mercedes driver flying in the very wet opening laps.
Renault's Robert Kubica slipped through to fifth, passing both Williams as their tyres faded in the closing stages. Tonio Liuzzi followed him through to take sixth for Force India, as Williams's potential fifth and sixth became seventh (Rubens Barrichello) and 10th (Nico Hulkenberg, after a pitstop). Sauber got both cars in the points again, Kamui Kobayashi in eighth ahead of Nick Heidfeld.
Button was running sixth when he made a relatively early stop for intermediates, which dropped him to the tail of the midfield pack in 16th, behind various cars which had made even earlier stops. He then lost more ground as all those able to pit under the safety car got ahead of him, and when he bounced off the road while battling with Adrian Sutil's Force India. Struggling with the McLaren's handling and tyre wear, Button had a late spin and finished only 12th.
Other drivers to slip up included Vitaly Petrov, who had a massive crash at the final corner when seventh on lap 40, Sutil, who had a series of wheel-banging incidents and excursions while battling with Saubers until finally breaking his suspension against Kobayashi's car, and Lucas di Grassi, who spun his Virgin into the wall while trying to pass Sakon Yamamoto's Hispania.
Heikki Kovalainen was top new team driver for Lotus, despite a pitlane speeding penalty, while his team-mate Jarno Trulli had a spin, a clash with Bruno Senna's Hispania and eventually a race-ended hydraulic problem.
PROVISIONAL RACE RESULTS

The Korean Grand Prix
Korea Auto Valley, Yeongam, Korea;
55 laps; 308.825km;
Weather: Wet.

Classified:

Pos  Driver        Team                       Time
 1.  Alonso        Ferrari                    2h48:20.810
 2.  Hamilton      McLaren-Mercedes           +    14.999
 3.  Massa         Ferrari                    +    30.868
 4.  Schumacher    Mercedes                   +    39.688
 5.  Kubica        Renault                    +    47.734
 6.  Liuzzi        Force India-Mercedes       +    53.571
 7.  Barrichello   Williams-Cosworth          +  1:09.257
 8.  Kobayashi     Sauber-Ferrari             +  1:17.889
 9.  Heidfeld      Sauber-Ferrari             +  1:20.107
10.  Hulkenberg    Williams-Cosworth          +  1:20.851
11.  Alguersuari   Toro Rosso-Ferrari         +  1:24.146
12.  Button        McLaren-Mercedes           +  1:29.939
13.  Kovalainen    Lotus-Cosworth             +     1 lap
14.  Senna         HRT-Cosworth               +    2 laps
15.  Yamamoto      HRT-Cosworth               +    2 laps

Fastest lap: Alonso, 1:50.257

Not classified/retirements:

Driver        Team                       On lap
Sutil         Force India-Mercedes         46
Vettel        Red Bull-Renault             45
Petrov        Renault                      39
Glock         Virgin-Cosworth              31
Buemi         Toro Rosso-Ferrari           30
Di Grassi     Virgin-Cosworth              25
Trulli        Lotus-Cosworth               25
Webber        Red Bull-Renault             18
Rosberg       Mercedes                     18


World Championship standings, round 17:                

Drivers:                    Constructors:             
 1.  Alonso       231        1.  Red Bull-Renault          426
 2.  Webber       220        2.  McLaren-Mercedes          399
 3.  Hamilton     210        3.  Ferrari                   374
 4.  Vettel       206        4.  Mercedes                  188
 5.  Button       189        5.  Renault                   143
 6.  Massa        143        6.  Force India-Mercedes       68
 7.  Kubica       124        7.  Williams-Cosworth          65
 8.  Rosberg      122        8.  Sauber-Ferrari             43
 9.  Schumacher    66        9.  Toro Rosso-Ferrari         11
10.  Barrichello   47       
11.  Sutil         47       
12.  Kobayashi     31       
13.  Liuzzi        21       
14.  Petrov        19       
15.  Hulkenberg    18       
16.  Buemi          8       
17.  De la Rosa     6       
18.  Heidfeld       6       
19.  Alguersuari    3       
       
All timing unofficial