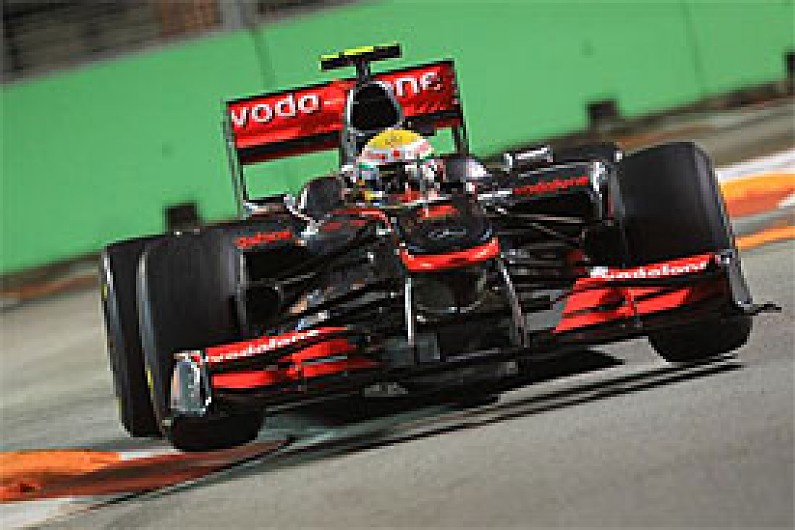 Lewis Hamilton fears there could be a "nasty" accident at the Singapore Grand Prix, after slamming the circuit's chicane as "ridiculous".
Several tweaks have been made to the Marina Bay circuit for this year's race, with the 'Singapore Sling' chicane modified as it had been a cause of concern for drivers over the past years.
Organisers have re-profiled the kerbs to make the turn more gradual, but Hamilton reckons the changes have simply made it the worst corner in Formula 1.
"I think they made the track worse," said Hamilton of the changes. "The chicane is probably the worst corner I've ever driven in Formula 1. I mean, it's just ridiculous.
"Last year was already small, but now it's just more dangerous. We saw one car take off already, I think Adrian Sutil.
"You approach that corner at 160 mph and you have to brake down. If something goes wrong or someone's brakes fail and hits one of those kerbs, we are going to see a nasty accident."
McLaren team-mate Jenson Button said his main concern was Turn 5, which was very slippery during today's practice.
"Turn 5 for me is the biggest issue," said Button. "They resurfaced it and it's very negative camber so you turn in and you lose the rear end and it feels pretty uncontrollable.
"It's a pretty tough corner, especially because the water is still in the asphalt there."
Hamilton finished the day as fifth quickest, but over 1.1 seconds off the pace of Red Bull's Sebastian Vettel.
The Briton, however, believes his team is not that far from Red Bull.
"We are reasonably close. They are not that far ahead. We are competitive and I think there is a little more time to find, so we'll be pushing."
Button, on the other hand, said the pace of his rivals was "crazy".
"The car is working well. I don't know where our pace is. At the moment the Red Bull looks crazy quick, but we wanna wait until tomorrow," said the world champion, third quickest today.