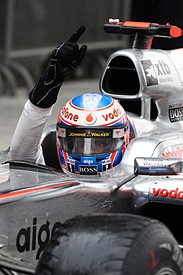 Jenson Button says he doubts the significance of winning races with McLaren will sink in properly until he retires from racing.
The reigning world champion has now won two of his four starts for the multiple title-winning outfit.
He believes being among the drivers who has contributed to McLaren's record of success will ultimately be among his proudest achievements when he takes time to reflect on it.
"I think it will in the future, more than now," Button replied when asked if winning for a team with McLaren's history and profile would mean more to him than his triumphs with Honda and Brawn.
"Being part of the team I think it's very different to when you look back on your career, and you look back at pictures of you in McLaren overalls. When I look back it will make a bigger difference.
"At the moment I've just had my head down, focusing, at every race we get to because it's been non-stop."
Button said the feeling of being accustomed to success had been palpable when he joined McLaren.
"The difference at McLaren is that they know what winning is like, and they've done a lot of it over the last couple of decades," he said.
"Whereas Honda hadn't, as a team, with engines they had, but not as a team. It was different in that respect.
"With McLaren you know that pretty much every year they race, they're going to be fighting for the championship. If they're not then they've done something seriously wrong.
"Whereas most teams in the pitlane, I'm not saying that they can't fight for championships, but they're not as used to it as this team.
"But you're never going to take anything away from Honda and Brawn, because those two teams have really made me as a person and as a driver."