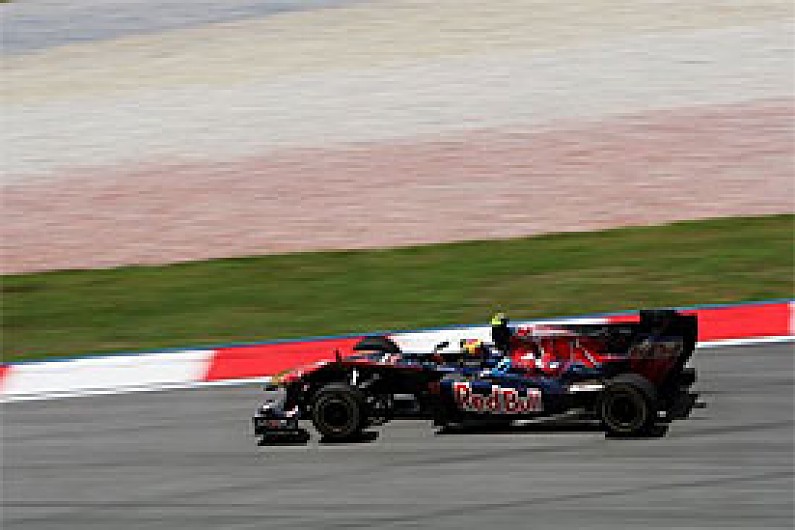 Jaime Alguersuari said he never expected to score his first Formula 1 points so early in the season and admitted he was delighted with the result.
The Toro Rosso driver put on one of the strongest performances of his F1 career so far at Sepang, battling his way to ninth place to pick up two points.
Alguersuari, 20, says the result is a confidence boost for the upcoming races.
"I am very happy to have scored points today and I have to say I never expected to do it so early in the season," said the Spaniard. "A big thanks to everyone in the team who have worked so hard to achieve this result.
"Step by step, I have improved my performance, but this weekend was very tough because I didn't know the track. I enjoyed this race, especially the fights I had with some of the others: I think I learned a bit about the art of fighting with Michael (Schumacher) last weekend in Melbourne.
"Towards the end, I was a bit worried about how the tyres would last, as I was on the soft ones, but I had no degradation. It is very satisfying and I feel a lot more confident now going into the upcoming races."
Sebastien Buemi wound up just outside of the points in 11th after damaging his car early in the race when he made contact with Kamui Kobayashi.
The Swiss, however, was still upbeat about the pace of his car over the past two races.
"This race didn't go so well for me, because, after quite a good start, my front wing was damaged on the first lap when I made contact with Kobayashi," Buemi explained. "It meant that from then on, I lacked grip and had a lot of understeer.
"I ended driving for much of the race with a damaged wing, but once it was changed I was able to put in some very fast lap times, but by then it was too late to do much.
"A one-stop strategy in any case was not on for me, as I did two stints on the Option tyre. In general, these two races in one week have not gone well for me, but we can be optimistic about Shanghai, as the whole package, the car and the team seems to have made a step forward this weekend."