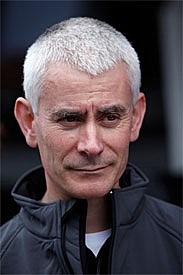 Hispania Racing's technical consultant Geoff Willis says he has been unimpressed with the design of the Spanish squad's first Formula 1 car.
The Cosworth-powered machine was designed for the Campos operation by Italian race car manufacturer Dallara, who was believed to have halted the project more than once due to financial problems from the Spanish outfit.
Campos become Hispania after it was saved by a last-minute deal, showing up at the season-opening race in Bahrain without having run its car.
Willis, a former Red Bull technical director, has been working as a consultant to the team since before the first race of the year.
And while the Briton admits circumstances were not easy for Dallara, he says the car is simply disappointing and not up to the current F1 standard.
"Frankly I'm disappointed. I was expecting better," Willis told AUTOSPORT about the HRT car.
"There a lot of reasons why this design has been compromised, not least because the programme was stopped and started, stopped and started. So there's quite a lot of corners that were cut in the last few weeks to get to Bahrain.
"But fundamentally I'm disappointed at the level of engineering in the car and I don't think it reflects current F1 practise by quite some margin.
"Now you put that down to time, some of it down to experience, some of it down to finance, but I think overall, even allowing for those things, I'm disappointed with what I see."
He added: "I'm less worried about the overall performance, because the aero programme was stopped quite some while ago, and it was a relatively small aero programme. But it's probably the same level of aero programme to the Lotus and the car is clearly not as quick as the Lotus.
"And I'm thinking just of the built quality, the design quality, the refinement of the design. I think it's missing a lot of tricks that would be taken for granted by anybody in the pitlane now."
Willis admitted he is yet to decide if he is going to continue working with the team, with a decision to be based on what the Spanish squad's plans for the future are.
"I'm not particularly interested in staying with a car that's at the back of the grid," Willis said. "I'm interested in making cars go faster and manage the whole thing.
"I don't mind whether you are trying to win the championship from the front of the grid or if you are trying to get better from the back of the grid, but I'm just keen to make sure we've got a programme with enough funding to make it an interesting challenge, and that's something that we need to sort out."
He also conceded it was vital for the team to begin a development programme as soon as possible, even if he is unsure who would be in charge of doing that.
"That's going to depend on how the contract with Dallara comes to its final conclusion, because of course at the moment they have all the design information and in order to develop the car either they will need to do it under our instruction or we will need to do it and for that we'll need the car data and the aerodynamic data, and all the things like that," he added.
"That will have to be resolved. One of the options is starting from scratch. You can reverse engineer to the car you have in the garage, but that's very painful, it's quite a few weeks' work and then you have a few weeks to set your wind tunnel and your safety programme and then a few weeks to understand what you've got.
"At that rate you are not going to have anything for quite a few months and that's too late for what this team needs. So we need a shortcut way of putting performance on the car. And right now we've looked at our options and we need to make a decision, probably next week."