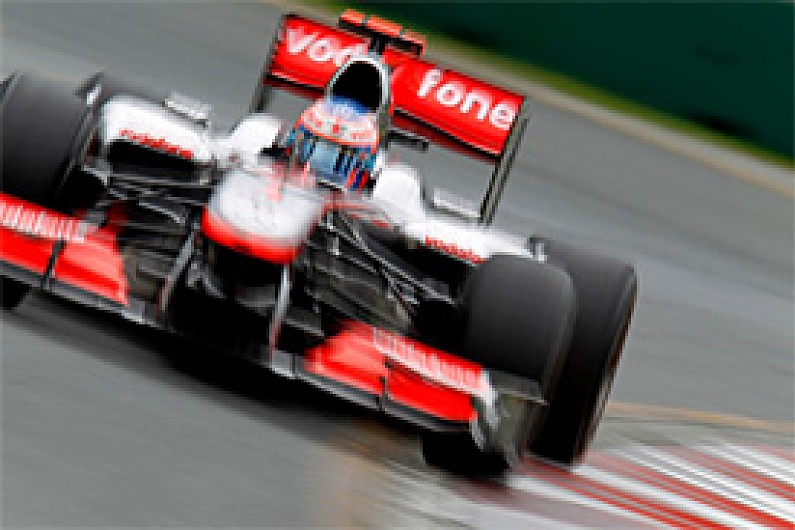 Jenson Button claimed his first victory for McLaren with a brilliant drive and a perfect tyre strategy in a thrilling Australian Grand Prix.
The reigning world champion's bold early switch to dry tyres in a race that began damp put him in position to inherit the lead when a brake failure pitched Sebastian Vettel (Red Bull) into the gravel and out of a race he had hitherto controlled.
Robert Kubica claimed a superb second for Renault, fending off Felipe Massa and Fernando Alonso's Ferraris, and Nico Rosberg's Mercedes in a tense finale as the top four finishers nursed their tyres to the end while their pursuers took on fresh rubber at half-distance. Lewis Hamilton (McLaren) and Mark Webber (Red Bull) had been in the thick of this fight too until a late tangle.
In contrast to the lacklustre Sakhir race, Melbourne delivered thrills and spills from the outside, with the race commencing on a damp track.
As the field slithered through Turn 1 for the first time, contact between the slow-starting Alonso and Button sent the Ferrari spinning into Michael Schumacher's Mercedes, breaking its front wing, with Hamilton jinking over the grass in avoidance.
Sauber's Kamui Kobayashi then arrived at the kink before Turn 6 already missing his front wing from a previous incident, and speared into the inside wall before sledging back across the track and violently collecting both Sebastien Buemi's Toro Rosso and Nico Hulkenberg's Williams mid-corner. That inevitably prompted a safety car.
The Red Bulls had been split into the first corner by Ferrari's Felipe Massa, who made a superb start from fifth on the grid. But Red Bull formation was resumed two laps after the restart, as Webber slipped past the Brazilian into Turn 6 and left him to try and fend off Kubica and Rosberg.
The McLarens had ended up sixth and seventh once the first corner mess unfolded, with Button in front until Hamilton dived past him into Turn 3 on lap six. Button then decided the track was ready for slicks and pitted.
This looked like an over-bold move when he skittered over the gravel at Turn 3 on his out-lap - but fastest sector times around the rest of the lap proved Button's gamble was wise.
Soon the whole field was following Button's example, although the two Red Bulls stayed out longer than most as the team expected more rain. Ultimately only light drizzle came, and the leaders belatedly went for slicks as well.
That tactic still succeeded for Vettel, who rejoined from his stop just ahead of the flying Button, who had vaulted to second thanks to his brave early tyre switch, but Webber stayed out until lap 10, losing out to Kubica and Rosberg - and then Massa too as he went over the grass at Turn 1 as he rejoined.
Vettel soon started edging away from Button, with Kubica and Rosberg dropping back from the two leaders. Behind them, some epic racing was underway, mostly involving drivers trying to get around Massa.
Webber surged down the inside of the Ferrari into Turn 1 on lap 15, with Hamilton immediately following him through and then attacking the Red Bull into Turn 3 - where both went wide, with Webber going right over the gravel. That allowed Massa back ahead of Hamilton, while by the time Webber regained the asphalt the charging Alonso had also gone through, the Bahrain winner having rapidly hacked through the midfield following his first lap spin.
Six laps later Hamilton successfully passed Massa for fifth into Turn 1, despite the Ferrari's best defensive efforts, with Alonso trying to do likewise into Turn 3, only to get hung out on the still-damp extremes of the track and lose a place to Webber again.
Once free of Massa, Hamilton charged straight onto Rosberg's tail and took fourth from the Mercedes with an incredible move around the outside into the sixth gear Turn 11. That cost the McLaren momentum onto the next straight and Rosberg looked set to repass into Turn 13 - but had to back off for yellow flags as moments earlier race leader Vettel had slid into the gravel as his Red Bull suffered a brake failure.
That denied Vettel a near-certain victory, and while the disconsolate German trudged back to the pits, Button found himself in the lead by 6s over Kubica, who soon had Hamilton all over the back of him, while behind them Webber made it past Massa with an outside line move at Turn 3. Alonso, however, would not get past his team-mate so easily, remaining trapped behind Massa for lap after lap.
By half-distance many drivers were struggling with wear on the soft tyres they had taken once the track dried, and after an initial slew of midfield pitstops, Hamilton, Rosberg and Webber all decided they needed fresh rubber too.
Webber was the first of the leaders to pit on lap 31, and managed to get around Rosberg through Turns 2 and 3 as the Mercedes rejoined after its stop a lap later. Hamilton waited two laps longer and stayed ahead of the now-flying Webber, despite a scare at Turn 13 when he took to the grass but was able to muscle back in front of the Red Bull at Turn 14 as it too slid wide.
Button had no concerns about tyre wear and continued to pull away from Kubica, who now had both Ferraris hounding him, while half a minute behind Button, Hamilton, Webber and Rosberg made the most of their fresher tyres to start taking 1-2s per lap out of the leaders.
With eight laps to go, Kubica, Massa, Alonso, Hamilton and Webber were nose to tail in second to sixth places, with Rosberg gaining on the queue as well. Hamilton's tyres went off again in the Ferraris' dirty air, but he still got alongside Alonso into Turn 13 two laps from the end. As Alonso kept Hamilton to the outside, Webber hit the back of the McLaren under braking, smashing the Red Bull's front wing and spinning Hamilton through the gravel. The latter rejoined in sixth, with Webber falling to ninth.
Button stayed comfortably clear of this mayhem, masterfully keeping his tyres in shape and cruising to victory with a 12s margin over Kubica.
Although Adrian Sutil was an early retirement, Tonio Liuzzi scored again for Force India in seventh, passing Sauber's Pedro de la Rosa mid-race and then gaining another place when Rubens Barrichello decided to pit for new tyres and dropped from eighth to 10th. He then inherited seventh thanks to the Hamilton/Webber tangle.
Barrichello fought back to reclaim ninth from de la Rosa and was elevated another place thanks to Webber's stop.
Schumacher never really recovered from his first lap delay, spending the majority of the afternoon trapped behind Jaime Alguersuari's Toro Rosso. Although he eventually overtook the young Spaniard, they would swap places again when both pitted for tyres and had to muscle back past the Toro Rosso in the closing stages. Both then passed the struggling de la Rosa, allowing Schumacher to at least salvage a point.
Heikki Kovalainen got to the finish for Lotus in 13th, with Karun Chandhok also going the distance for Hispania in 14th. The other new team cars all retired - Lotus's Jarno Trulli not even making the start due to hydraulic problems. Renault's Vitaly Petrov was the other retirement, spinning into the gravel on lap nine.
PROVISIONAL RACE RESULTS

The Australian Grand Prix
Albert Park, Melbourne, Australia;
58 laps; 307.574km;
Weather: Wet then dry.

Classified:

Pos  Driver        Team                       Time
 1.  Button        McLaren-Mercedes           1h33:36.531
 2.  Kubica        Renault                    +    12.034
 3.  Massa         Ferrari                    +    14.488
 4.  Alonso        Ferrari                    +    16.304
 5.  Rosberg       Mercedes                   +    16.683
 6.  Hamilton      McLaren-Mercedes           +    29.898
 7.  Liuzzi        Force India-Mercedes       +    59.847
 8.  Barrichello   Williams-Cosworth          +  1:00.536
 9.  Webber        Red Bull-Renault           +  1:07.319
10.  Schumacher    Mercedes                   +  1:09.391
11.  Alguersuari   Toro Rosso-Ferrari         +  1:11.301
12.  De la Rosa    Sauber-Ferrari             +  1:14.084
13.  Kovalainen    Lotus-Cosworth             +    2 laps
14.  Chandhok      HRT-Cosworth               +    4 laps

Fastest lap: Webber 1:28.358 

Not classified/retirements:

Driver        Team                         On lap
Glock         Virgin-Cosworth              41
Di Grassi     Virgin-Cosworth              26
Vettel        Red Bull-Renault             25
Sutil         Force India-Mercedes         12
Petrov        Renault                      10
Senna         HRT-Cosworth                 5
Buemi         Toro Rosso-Ferrari           1
Hulkenberg    Williams-Cosworth            1
Kobayashi     Sauber-Ferrari               1
Trulli        Lotus-Cosworth               1


World Championship standings, round 2:                

Drivers:                    Constructors:             
 1.  Alonso        37        1.  Ferrari                    70
 2.  Massa         33        2.  McLaren-Mercedes           54
 3.  Button        31        3.  Mercedes                   29
 4.  Hamilton      23        4.  Red Bull-Renault           18
 5.  Rosberg       20        5.  Renault                    18
 6.  Kubica        18        6.  Force India-Mercedes        8
 7.  Vettel        12        7.  Williams-Cosworth           5
 8.  Schumacher     9       
 9.  Liuzzi         8       
10.  Webber         6       
11.  Barrichello    5       
       
All timing unofficial

Autosport has produced a standalone special magazine to celebrate our 70th birthday. All current print subscribers will receive a copy for free. To order your copy of the 196-page Autosport 70th Anniversary issue, please go to: autosport.com/autosport70th