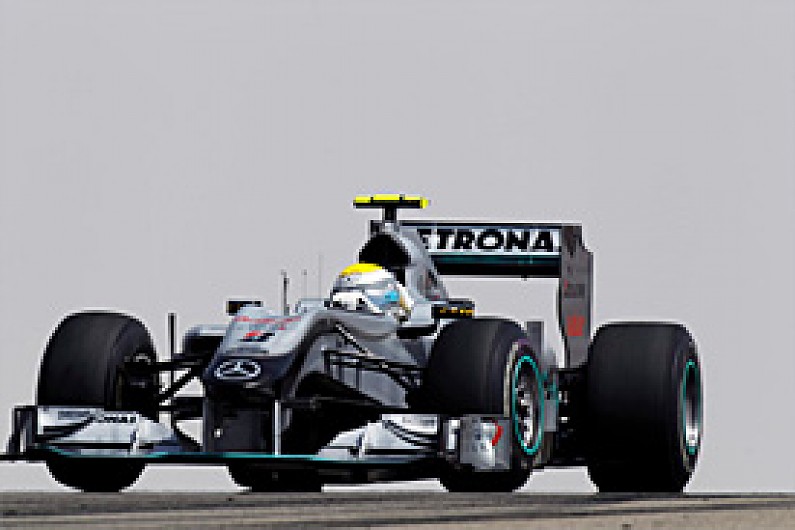 Nico Rosberg led the way in Friday afternoon practice at Sakhir, as Mercedes-powered cars filled the top four in 2010's second official session.
The two works Mercedes entries were first and third with Rosberg and Michael Schumacher, while McLaren's Lewis Hamilton and Jenson Button surrounded them in second and fourth.
Rosberg hit the front after 20 minutes, and the only subsequent change at the top came when the German shaved a further tenth off his time a quarter of an hour later, getting down to 1m55.409s. By then the field had settled into a run of longer stints and the times remained relatively static.
Hamilton's best lap was 0.4s slower than Rosberg's, and the former world champion reported severe tyre wear after just a handful of tours on the harder rubber early on. Schumacher was half a second off his team-mate's pace in third, and 0.2s ahead of Button.
Red Bull's two teams both had difficult sessions. Sebastian Vettel was the best of the quartet in fifth, but had two trips over the run-off at the final corner, while his team-mate Mark Webber was sidelined in the pits with a driveshaft problem after just 12 laps.
At Toro Rosso, Sebastien Buemi spent the entire afternoon in the pits while the team worked on a problem at the rear of his car, and his team-mate Jaime Alguersuari only narrowly avoided reversing into the barriers when he ran wide over a kerb in the new section of the circuit and spun back across the track.
Nico Hulkenberg got into the top six for Williams, ahead of Felipe Massa in the best of the Ferraris. His team-mate Fernando Alonso was ninth behind Renault's Vitaly Petrov, whose car shed its headrest under braking on an early run, but later showed encouraging pace.
Pedro de la Rosa completed the top ten for Sauber, followed by team-mate Kamui Kobayashi and morning pacesetter Adrian Sutil (Force India).
This time it was Lotus that emerged as the fastest of the new teams, with Heikki Kovalainen and Jarno Trulli jumping ahead of Virgin right at the end of the session. The duo had carried heavy fuel for most of the afternoon, but then ran lighter for their final runs and got to within 5.5s of the pace, and beat the Virgins by a second.
Bruno Senna got Hispania's F1 life underway in earnest and completed 17 laps, 11.5s off the pace. But his session ended with a scare as his car lurched under braking for the first corner and slid off the road - with replays suggesting it had shed a wheelnut. Senna's team-mate Karun Chandhok spent the day on the sidelines - with his car not ready to run yet, the Indian will not join the fray until final practice on Saturday.

Pos  Driver         Team                    Time              Laps
 1.  Rosberg        Mercedes                1:55.409            23
 2.  Hamilton       McLaren-Mercedes        1:55.854  + 0.445   22
 3.  Schumacher     Mercedes                1:55.903  + 0.494   23
 4.  Button         McLaren-Mercedes        1:56.076  + 0.667   28
 5.  Vettel         Red Bull-Renault        1:56.459  + 1.050   18
 6.  Hulkenberg     Williams-Cosworth       1:56.501  + 1.092   26
 7.  Massa          Ferrari                 1:56.555  + 1.146   30
 8.  Petrov         Renault                 1:56.750  + 1.341   26
 9.  Alonso         Ferrari                 1:57.140  + 1.731   25
10.  de la Rosa     Sauber-Ferrari          1:57.255  + 1.846   24
11.  Kobayashi      Sauber-Ferrari          1:57.352  + 1.943   27
12.  Sutil          Force India-Mercedes    1:57.361  + 1.952   29
13.  Barrichello    Williams-Cosworth       1:57.452  + 2.043   21
14.  Liuzzi         Force India-Mercedes    1:57.833  + 2.424   29
15.  Kubica         Renault                 1:58.155  + 2.746   29
16.  Alguersuari    Toro Rosso-Ferrari      1:59.799  + 4.390   31
17.  Webber         Red Bull-Renault        2:00.444  + 5.035   12
18.  Kovalainen     Lotus-Cosworth          2:00.873  + 5.464   23
19.  Trulli         Lotus-Cosworth          2:00.990  + 5.581   14
20.  Glock          Virgin-Cosworth         2:02.037  + 6.628    3
21.  di Grassi      Virgin-Cosworth         2:02.188  + 6.779   21
22.  Senna          HRT-Cosworth            2:06.968  + 11.559  17
23.  Buemi          Toro Rosso-Ferrari                           1
24.  Chandhok       HRT-Cosworth

All Timing Unofficial