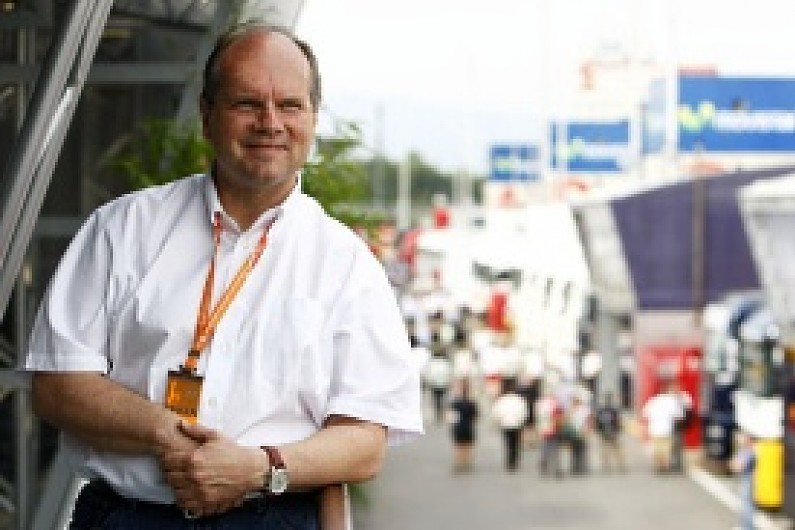 The saga that has surrounded Team US F1 has moved forward a great deal in the last 24 hours - with the American outfit and the FIA finally confirming that the team will not be on the grid in 2010.
While there remains uncertainty about its 2011 plans, with the FIA due to re-open the Formula 1 entry process in the next few days, team boss Ken Anderson remains in a state of flux about what the future holds for the Charlotte-based operation.
Although Anderson has kept deliberately silent about the situation at the team over recent weeks, he finally broke his silence today to explain what went wrong from his perspective.
In a lengthy interview with AUTOSPORT, Anderson reveals how the political turmoil in F1 last season allied to sponsorship problems in January were the main factors behind its troubles - as he cleared up speculation about links with Campos, Stefan GP and Toyota.
Q. So what is the latest situation at the team?
Ken Anderson: We are waiting to hear from the FIA.
Q. Have you not heard anything from them?
KA: We went back and forth quite a lot last week, and they finally got all the information needed on Friday and they are looking at. I am waiting for them, and we hope to move forward in the next couple of days here.
Q. So is it now guaranteed that you will not be competing this year?
KA: Yes. The way the chips fell in January, that put us behind. [Then] there was really no point in trying to show up any time this year once you have missed the testing, and there is no testing during the year. There is no point in trying to miss races and show up, just to show up. That would just look bad for everybody. It has been very difficult for all the new teams to get to the first tests - but once the racing season starts, with no testing, if you have problems it is just very difficult to solve them.
What we want to do is regroup, finish the car for 2011, be testing late summer/early fall (Autumn), and be really ready for next year. The irony of the situation is - we filed our entry in December of 2008 and we were supposed to know something by March.
We moved into this building [in Charlotte] in March, ready to go. Then, if you remember last year, that was when all hell broke loose with the FIA, FOTA, cost cap teams versus non-cost cap teams and all that. Then everybody who wanted to get into Formula 1, all the new teams, [they] tried to get in with the cost cap regulations... and we didn't get approved by the FIA until June 12. Then the Concorde Agreement wasn't signed to absolutely know that we could go forward until July 31. Losing those four months was always going to be difficult to recapture, but we were on schedule right up until mid-January, and that was when some issues arose with sponsors that kind of locked us up.
Q. So are you saying the reason for the present situation is a sponsor who pulled out in the early or middle stages of January?
KA: Yes. There was a contract that we had that didn't come through, for whatever reason. It has been a struggle for all the new teams. Even after we signed the Concorde Agreement, the next day was August 1, and it was still probably two months before word really got around that the war was over, this was the direction and there wasn't going to be a breakaway series. That was tough for sponsors - so it was difficult to get what we had. Then, when that didn't come through we were well and truly locked up.
Q. So what is the situation at the moment? You put your staff on unpaid leave yesterday?
KA: Yes.
Q. Are you expecting to hear some news soon to bring them back?
KA: I think we will get a yes or no from the FIA relatively quickly. It doesn't do anyone any good to prolong this. They have been very understanding and very helpful - and no one is happy about the situation. I certainly don't get any impression that there is any vindictiveness or they want to shut us down. We have invested a lot of time and money, and built a proper F1 facility here, and have a lot of people carrying on it.
If they [the FIA] turn us down, then we are done. We can do a really good job for next year. This year was going to damage limitation anyway. We gave it our best shot, but once you get a little bit behind then there is no catching up.
They understand, yes. We have offered solutions as to how we can be there for next year. A year ago they knew our business plan, and Charlie Whiting was here last week. We did what we said we were going to do. A couple of CFD people were here, parts were made, and companies made parts for us. There is no doubt we can make a car, the doubt is can we make it in the next 30 weeks - or however much time we needed to do it.
Q. Is it true that you offered a bond in case you did not make the start of 2011?
KA: Yes.
Q. And what sort of number? We are hearing all sorts of things - $5 million, $8 million, $15 million...
KA: Well, it is substantial. I am on pretty shaky ground here because this is supposed to be confidential negotiations. But it is substantial and it shows we are willing. The other side of this is that we have invested over $20 million already, so to get shut down and walk away from it is going to be tragic. It is a bond that would get refunded once we showed up. The old bond was $48 million - and in 10 years only Honda and Toyota paid it - Honda for Super Aguri and Toyota on their own behalf. So, I think it was too restrictive.
Q. What was it that the FIA was looking at when it visited you?
KA: It looked at the facility, it looked at the car and it looked at the parts we were making. We showed that it was definitely F1 spec.
Q. So no looking at financial numbers?
KA: It just wanted to look at where we were with the state of the car, and we were exactly where I thought we would be until the money stopped in mid-January and that was when production stopped. So the inspection was four weeks on.
Q. Is Chad Hurley still on board, because there are stories that he doesn't speak to you, that he has left - then we hear he is still there. We also hear rumours that Peter Windsor has left, and then that he is back again?
KA: The situation is that nobody has left anybody. Everybody is still on board. We were exploring different options - we weren't calling the press to say, 'Hey, we are going to talk to Campos.' We tried to keep it under wraps a little bit.
We chat to Chad every day, and he has been great. Chad did everything he said he was going to do. He put the money in. He got us to where we could go racing. He never agreed to sponsor the team - and as you can imagine that is a pretty significant number in itself. As of January 15, we were right on course for where we said we were going to be. But then when the stuff did not show up - then the warning bells started sounding. I scrambled to keep it together, but I just couldn't do it quick enough.
Peter has now gone back to England, but he lives there. He has stayed in a hotel here for the last three months. We are well and truly on hold until we hear from the FIA because there really is nothing we can do. There is no point spending a lot of money finishing the car if they say no, and if they say yes then we can have everybody back by the end of the week.
Q. You say Peter has gone back to England. Is he still part of US F1, is he still a director of the company?
KA: Yes. Nothing has changed. We explored all options to fulfil our obligation to be in Bahrain, and those options were obviously partnering up with Campos, because they had Dallara cars and our car was going to be a little late. But it didn't work out. We both have Cosworth engine contracts, we both have entries, so there was nothing we had that they needed that bad. So it didn't happen.
We talked to Stefan GP, but that didn't come to anything. We explored everything so that we could not be accused of not trying, but at the end of the day you have to do what makes business sense.
The most sensible thing right now is not to be running around like a bunch of headless chickens trying to make the fifth race, or something like that - and then not being able to test and look even worse. So we need to regroup, get it right and come out stronger in 2011.
Q. As part of your bid to stay on the grid, I understand you went to Toyota at look at their cars?
KA: Toyota heavily invested in that car, and didn't want to stop doing that [work]. But they didn't really know, if Toyota was laying off a bunch of people, where next year's car was going to come from. So that would not be anything other than a short-term solution. Plus we had a deal with Cosworth - and there wasn't an option to break that deal. So there was really nothing we could do with the Toyota deal at the time.
Q. You spoke to John Howett two weeks ago, what was that about?
KA: We were just exploring all the options of being in Bahrain, and it just didn't seem feasible. It was a lot of money and we didn't have that kind of money to really throw around. And I'm not sure what deal Zoran Stefanovic had with them.
Q. What do you say to Bernie Ecclestone's comments as saying that US F1 is finished? Have you heard from him recently?
KA: I haven't. We got to him when we were trying to put something together with Campos. Bernie has always been great, he has been very supportive, very gracious and has always tried to help. I read the same things in the press as everybody does - but I don't know. Bernie is Bernie!
Q. What do you think your chances are of getting the concession from the FIA that you are after? Can you put a percentage on it?
KA: I've never really thought of it in a percentage way. I would say more from a practicality standpoint - we did everything we said we would do in regard of our application to the FIA, to the point of something outside of our hands caused us not to be able to bring it home.
We said we would build a certain facility, design and build the car in-house, and we are a proper F1 team. The schedule was so tight, and we overcame a couple of speed bumps on the way, but the last couple were just insurmountable for this year. We can easily do it for next year. We have come this far and we are fully capable of designing and building a car. What we would do now is make changes for the 2011 car, as there is no point in building the 2010 car. We would start on the 2011 car now, and I know what most of the changes would be anyway.
If they don't allow us to come in 2011 and they shut us down, then I assume they will open the selection process again. And I don't know who else out there has what we have already done.
So I've never thought about it in terms of percentage. I would think 90 per cent! I think America is a big market, and we have shown that by investing in the building, the people and the equipment, that we have the staying power. We are not just having another company make a car for us. I think that has always been our plan, even before a cost cap or a resource restriction agreement came to light.
Q. If you are not granted the dispensation to delay your entry until 2011, do you have the money to stay open and keep waiting until the entry selection process happens?
KA: Put it this way, if the FIA grants us a reprieve to be able to come out in 2011 then we have the funding committed.
Chad got into this deal a year ago with his business plan and an idea, now we have a factory, people, machines and parts. People can come here and see how we can be on the grid in 2011 - so it is a lot easier to raise money for that.
I guess Plan C if they say no, and we have to go to the back of the queue and resubmit a proposal like everybody else... I think the proof is in the pudding. If we have a car sitting here... it would be pretty compelling evidence that we can do it.
Q. Do you have the money to stay open for another year waiting for that process?
KA: I haven't even tried to line that up. If we are granted 2011, then it is not a problem. If we are not, then it is a leap of faith for somebody, and I don't have that lined up. Until they tell us no, we are not quite going down that route too far.
Q. And Chad would be willing to bankroll it until 2011?
KA: Chad would participate. He would not put all the money in. We have other investors who want to buy into the company, but it is in Chad's interest, if it keeps going, to stay involved. He is in, but he is not going to pay for the whole thing. We do have investors lined up to do that.
Q. Have you now released Jose Maria Lopez from his commitments?
KA: Yes.
Q. Are there any drivers you have under contract?
KA: No. Lopez was the main one. We had other drivers we were talking to, but until we knew we were moving forward we didn't sign them.
Q. These must be difficult times for you...
KA: I just want to thank everyone for their support, and hopefully we will be able to be there next year. It is ironic that this is exactly where we wanted to be in a year ago - to start in March and do it all year long. We were very, very close but it didn't happen. But it would be pretty easy to do for next year.
Q. How many people do you have on the payroll?
KA: We are almost 90 people on the design and build side, but quite a few of those were [temporary] contracts. As they started dropping off, we started hiring racing people. And then, once things started getting difficult we didn't take people on and said to people that if there was something else they wanted to do they might want to go look at it. We are probably at 50-60 right now - that we could get back next week if we get the nod.
Q. What is the situation with Aragon in Spain now?
KA: The building is there. They only just completed it about a month ago, and we were just about to start moving some equipment in. That is the thing - we said we would have a factory here, a facility there and all the trucks and trailers. We were all geared up and ready to be in Bahrain.
Q. So you actually had trucks ready?
KA: Yes, we bought two trailers from Brawn. They were the old Honda test trailers. They only had 1500 miles on them - as the only journey they ever did was Brackley to Silverstone! We got them refurbished and ready to go. So from the equipment standpoint we are good to go.
Q. So your future hinges on the FIA decision?
KA: Absolutely.