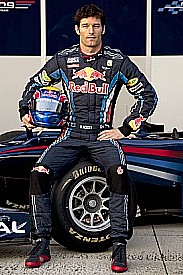 Mark Webber completed the first laps aboard Red Bull's new RB6 following the team's launch at Jerez this morning.
AUTOSPORT.com listened in as the Australian talked about his team's prospects for the forthcoming F1 season.
Q. What are your first impressions of the new car?
Mark Webber: My first impressions are it's been a long time since I've been in a Formula 1 car. It's a new journey for both of us, me and the car. It looks great, but perhaps not as good as last year because of the new regulations. I'm looking forward to seeing what the car can do in the next few weeks. Lap times are always tricky, but we'll find out in Bahrain if we've done enough.
Q. How are you feeling physically heading into this season?
MW: It was certainly amazing last year to get through those tough first few weeks. It never really affected me in the car too much, but I think it can only be a benefit to me, particularly in the first part of the championship, that I have a slightly better start to what I had last year in terms of my physio situation. So my training this year has been different obviously to last year and it's much nicer to be able to walk around normally.
Q. How do you feel about driving around on a much bigger tank of fuel?
MW: Well those early laps are going to be a bit of a slog, but it will be the same for everyone.
I'm not sure what it's going to be like in terms of the spectacle for the people at home, in terms of strategy and how the races will unfold.
If you're asking in terms of the safety aspects, I think the cars are very safe these days. We have a bigger fuel volume, but we have some very good materials to make sure that fuel volume is in good shape.
I hope there's obviously been some good research done on things like Robert Kubica's crash in Canada a few years ago - now we're carrying an extra 100kg of fuel, what the result might have been in terms of how the fuel cell would survive that impact. But I think the fuel cell will be fine.
Q. What's the main difference between the last car and this one?
MW: Everybody's had to make their cars a bit longer. We've made some small aerodynamic changes, but to be honest we finished last season with a first and a second, so we didn't want to go to great lengths to design another car on the back of that or go too crazy.
I think there are a lot of subtle, small things that will hopefully make this car more successful than last year's. On the downside, we have had to make the car longer because of the extra fuel capacity.
Q. Did you follow the testing last week and what did you make of it?
MW: I followed it at home. We had some information coming through, some data and lap times and things like that. It looked like there was obviously some different fuel loads going on - people doing fuel runs quite a lot, getting to grips with the new tyres.
Ferrari looked okay. They maybe wanted to look at Felipe more [by having Massa out for two days to Fernando Alonso's one], but having Fernando in Spain is also quite a good news story. So you never know what they're doing, but Ferrari is very much optimising their programme to get the information they need for the first race.
Apart from that it looked like a pretty normal three-day test. Valencia's not the best track in the world for characteristics. We would have liked to have been there, but I don't think we lost too much [by not going].
Q. How do you fit in this year's car?
MW: Pretty good so far. I've just done the installation lap, but once I do a bit more running we've maybe got a few tweaks to make, but generally the guys have done a sensational job. I was already sitting in this car four times before today in terms of getting everything right. The guys had the best material for me, to make sure I was comfortable. The guys at the drawing board and the factory did an awesome job to get the car into a good state so we could do all this little stuff and not lose any track time.
Q. Will Sebastian Vettel be your biggest rival this year?
MW: No. I think there's a lot of quick drivers and some pretty good teams. Seb is going to be a quick driver, no question about it. But I'm not going to bed thinking about him, I'm going to bed thinking about myself and doing the best job I can, to get the best results I can, for myself.
Q. Are you looking forward to racing Michael Schumacher again?
MW: Yeah, it's good to have him back obviously. I didn't do a huge amount of racing with him last time because there was a bit of a difference between our cars, and also he's a pretty handy driver, but I'm looking forward to being around each other a bit more often.
Q. Because you missed Valencia, how concerned are you about bad weather over the next three or four days?
MW: Not that bothered. We race in the rain as well and it's the same for everyone here. I don't think a few days of weather here are going to decide any more championships. I'm pretty relaxed about it.
Q. Do you feel like you are championship favourites heading into this season?
MW: Yeah, I think the team has some very good, high expectations. We had a great season last year and we are not looking to go backwards from that position, so we have some tough goals to meet - as do all the other teams.
To go forward from there we need everything right and that's what we've tried to do as best we can. We are very excited, we've worked hard and there's been a lot of anticipation.
It's very rewarding to see lots of people have used our concept from last year and put it into their cars this year. That was a real feather in the cap for our people, and particularly Adrian [Newey] and how clever he is. The longer the regulations stay the same, it's harder for him to show people the way, but he did a great job last year with the team we had at Red Bull. Hopefully this year's car is enough to be having a try at the front and challenging at every grand prix track we go to.
Q. Do you see it as a big advantage that your team has not had to change as much as others like Ferrari?
MW: Continuity is a very good thing, particularly drivers and their engineers and understanding what you need. It has maybe a bit less of an effect because we've had pretty big rule changes over this off season - not on the aerodynamic side so much, but in fuel and tyres.
The tyres, both front and rear, are going to take some understanding and if you are a fresh driver in a team of course you have to learn that [on top of everything else]. Obviously Seb and I can learn with the same people.
I think you have traits in engineers and drivers and it's difficult to learn the system with such limited time. You have drivers who only have a handful of days to get ready for the first race and I think it's going to be interesting when they're under pressure. On race weekends you have to make big decisions at key times and you don't want to be learning about each other too much at those times.
Our continuity in the team over the past few years I think will help us, particularly in the first part [of the season]. It's going to be a strength for us early on.
Access even more news on Autosport.
Register for free to increase your monthly limit from 15 to 25 stories - or subscribe today and get unlimited access.
Get unlimited news
Full access to our news and in-depth Autosport Plus features - all in an ad-free enviroment.
Subscribe to Autosport Plus
Get 10 free extra stories
A quick upgrade and you'll boost your monthly news limit instantly - for free.
Register for free