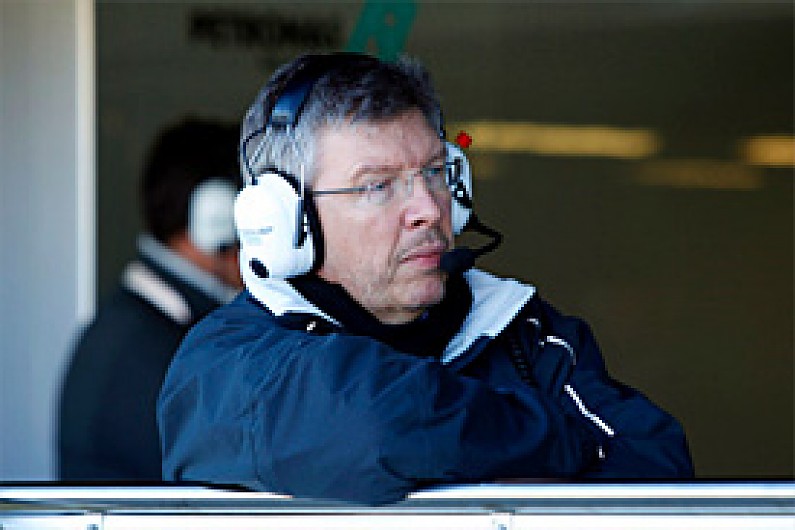 Most eyes were on Mercedes GP and Michael Schumacher on the first day of testing at Valencia on Monday. And neither the driver nor the team disappointed, showing strong pace straight away.
AUTOSPORT talked to team boss Ross Brawn about the first impressions of the car and about Schumacher's performance.
Q. The first test does not give you an answer as to whether your car is a title winner or not, but it can give you an idea of what kind of season you may have. What is your impression after the first day of running?
Ross Brawn: Okay. I don't think we have got a full picture. There is nothing fundamentally wrong with the car. The drivers are reasonably happy with the balance. This is not a great track for really assessing the car, but it is a useful start. Nothing suggests that there is anything strange but it is far too early to judge how all the cars compare.
Q. Do you think that picture will remain for all the four tests, because the spread of fuel now runs between 10kg and around 160kg?
RB: Yes, the spread of fuel will be much bigger. We ran a few fuel loads today to check a few things, but tomorrow and Wednesday we will want to do much more work on the range of fuel loads to find any issues we have low fuel with pick-up, high fuel with brakes. Those sort of things. So it will be much more difficult to judge, particularly in testing, where everybody is.
Q. Why is this circuit so bad to find out what the performance of the car is?
RB: It's not got a great range of corners. It is all second and third gear. Turn 1 is a little bit quicker, then you have got Turn 10 which is a quick corner but it is very short. So, you haven't got a great range of corners really.
Q. Michael's first day back in the car which has attracted a lot of attention, are you impressed with the times he was setting?
RB: Yes. They were okay. It was good to run both drivers today because Nico (Rosberg) had some difficulty with his driving position and we are going to fix that tonight. So the picture of Nico's situation was clouded because of that, so we know the fuel loads between the two drivers and I think it was good.
Effectively we had one driver who didn't fit the car properly and one who hadn't driven for three years so it was a starting day. It was a day to get things moving. There is clearly nothing wrong but as always until you get to the really sharp end of it, where a few tenths matter it is impossible to judge but there is absolutely no reason not to think that things are good.
Q. Michael said he felt like a kid with a new toy today.
RB: Yes, he was very enthusiastic. It was good to see the enthusiasm.
Q. No great surprises though.
RB: It would have been more of a surprise for me if he hadn't been where he is today - so it was just confirmation really of what we both thought, that Michael should be competitive.
Q. Michael said it took him back to 1991, did you have any memories?
RB: Not particularly. One thing that came through was Michael's precision about what is going on in the car. He has great clarity of reasoning in what he does and that is nice to work with again. It was a bit like old days but not as far back as '91.
Q. What about your competitors, can you take anything away from today?
RB: No, it is very difficult to judge. I think you can see people that don't have problems. I mean Ferrari have clearly got a good car, looks like the Sauber is a reasonable car, maybe Renault and Williams have got a few issues but it is far too early to say.
I think we need a few days here. Even at the end of all this testing, presumably you will be able to judge what cars do with no fuel in, because eventually everybody will take the fuel out and that will be the reference point but testing is notoriously difficult. You remember us last year, there were all sorts of theories and reasons.
Q. Were you surprised how quickly Michael was on the pace, I think it was on his fifth lap he was in Rosberg's range already?
RB: First of all I don't think Nico's was representative because of the difficulties he had in the car and I wasn't surprised but it was good to see. We all know how quickly Michael used to do it. We are all optimistic, as am sure that he is, that there is a lot more to come. He has had one or two sessions but he hasn't driven a Formula 1 car seriously for three years so it is pretty encouraging.
Q. I imagine you were delighted to see Felipe Massa back today, bearing in mind how concerned you were following his accident last year.
RB: Yes. I followed it quietly behind the scenes with Stefano, who kept me well informed. I had a few conversations with Felipe when he first came back. I am obviously delighted because he is a genuinely nice guy. He is very competitive, but genuinely nice and it would have been difficult to come to terms with on our side as well as his if he hadn't been able to make this comeback. But clearly he is well fired up and probably the break has done him a little bit of good.
Q. Ferrari voiced concerns that some teams may be pushing the legal limit of the double diffuser, are you comfortable that all the technical people are in line with what is allowed?
RB: I think so. There were some interesting requests to Charlie Whiting a few months ago. I thought Charlie was very clear on what he considered to be acceptable. So I think Ferrari is probably referring to those requests because they were pretty extreme and I think they got tidied up. Whether there is something we don't know about, who knows? We haven't seen other people's cars. We have got the Red Bull next week and Adrian (Newey) normally manages to think pretty laterally about what he is doing. I am not aware of anything we will have to wait and see.
Q. Are there any surprises when you look at the other cars, are there any components which are worth looking at?
RB: It's too early to say, to be honest, we haven't had a very good look. All the photographers are out there gathering data for the teams. I am sure when the engineers pour all over the photographs there will be some interesting things. Obviously most teams have gone to high front chassis of varying degrees - as we have.
Q. But yours is lower than others.
RB: Hmm, the tip of the nose, but where we feel it most beneficial which is on the front bulkhead it is fairly high. That was the problem for Nico, when he got in the car he was finding a problem with the height that was necessary to see the corner apexes properly. Obviously he did his seat fitting in the factory and when he got out on the circuit it was a little bit different.
Q. What areas have you looked to improve over last year's car?
RB: Well there were a few challenges. One is obviously the fuel capacity. We believe the Bridgestone tyres need a different weight distribution than they had last year, they have a different characteristic so we had to design the car around that. I think the predominant thing is for all the teams to find more aerodynamic performance. This is not the definitive car, the definitive car comes out for Bahrain. It's an interim car for us as I am sure it is for all the major teams. Mainly aerodynamic performance.
Q. How will it be different to optimise the car for Michael to the drivers you had in the car last year?
RB: Michael is very precise in describing what's going on and what he wants, and what he feels is needed. He is very clear on what he feels and what he thinks the direction is for the changes to come. That has always been notable about Michael in his career. That is probably the most noticeable difference but both Rubens (Barrichello) and Jenson (Button) gave very good information on the car, so it was never a problem. It's that Michael is perhaps more precise in his opinions and what is happening.
Q. What did he bring to the table after today?
RB: It is a constant process, it is not a specific thing. You are constantly trying to develop the car and understand what it is doing. At the moment he is fairly happy with the car and has not really pinpointed any areas we need to work on but I am sure as he gets into it more, and starts to find the limits of it more, then he will have stronger opinions about the areas we need to improve.
Q. What were the essentials that you wanted to take from today?
RB: We wanted to make sure that the drivers fitted properly, we needed to make sure the fundamental function of the car was good. All the basics really. You should also remember that Michael has never driven these tyres. I know they are new tyres this year but he didn't drive last year's tyres either. So he has never driven them since '06. He needed to get a bit of an understanding with those - it was really the fundamentals today, we hardly touched the car. Apart from some front wing settings the car ran as it started all day.
Q. Was that because you didn't have a shakedown before you came?
RB: We had to do a lot of checking, checking the engine function, checking the fuel system, that's why there was a fairly big gap in the middle. We had to change the car for Michael, but we knew we had that gap and so that's why we configured the day to use both drivers to get a quick snapshot of how they both felt about the car.
Q. Were you afraid that Michael wouldn't be able to achieve a fast time for his self-confidence?
RB: No, I don't think Michael lacks self-confidence.
Q. Do you think Wednesday will be an exciting day with Michael meeting other world champions Jenson Button and Fernando Alonso on the track?
RB: I think testing is a work programme. It don't think it is really a consideration for him, it's not really for us. It's what we see at the first race when it starts to get exciting.
Q. It's not about intimidation slightly? Taking a psychological edge?
RB: Not in testing, I don't believe. You have got to do the work. You have got to run the programmes properly and make sure the information is accurate. If you start doing those sort of things you can distort the programme.
Access even more news on Autosport.
Register for free to increase your monthly limit from 15 to 25 stories - or subscribe today and get unlimited access.
Get unlimited news
Full access to our news and in-depth Autosport Plus features - all in an ad-free enviroment.
Subscribe to Autosport Plus
Get 10 free extra stories
A quick upgrade and you'll boost your monthly news limit instantly - for free.
Register for free