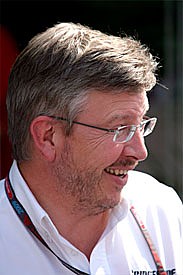 Q. Red Bull Racing came here quite pessimistic about its chances, but the situation seems very different after what we saw in qualifying. What is your take on how things stand right now?
Ross Brawn: That F1 is a very tough business! I think we seem to have hit that wall again that we hit in Hungary, where the car was very good on the Friday, looked okay on Saturday morning on fuel and when we got into qualifying we started to run the low fuels. Then when we went onto high fuel in Q3 the car still wasn't here, it wasn't what we expected to have. So, it has been frustrating because the car genuinely did look good. We ran proper fuel levels on Friday and Saturday morning, and when it came to stepping up for qualifying we could not find the performance. So it is quite disappointing. The only thing is that this is going to be quite an eventful race. So we have to take our breath, sort ourselves out and see if we can salvage something.
Q. Are there any specific areas that you can identify about where the problem is?
RB: The general complaint from the drivers is a lack of grip, and the car not being very stable on the tyres. It is similar to what we experience in Hungary, and we go through and seem to hit this crucial point where we can't get things to work properly. So, it is a similar experience to what we had in Hungary.
Q. So when you say it is not stable on the tyres, does that mean side-stability?
RB: Yes, it is moving around a lot and we don't feel like we have got the grip.
Q. How marginal was the call on Rubens' gearbox?
RB: We have been doing the work on the dyno, and on the dyno it survived just about three races, but it didn't seem worth taking that risk - either for reliability or for other problems. Luckily it does not look like we need another gearbox change because it hit the wall fairly hard, so I was worried that we might need to change the gearbox yet again.
Q. Jenson has not been able to match Rubens' pace. Is it a question of confidence in the car or confidence in himself?
RB: Well, they swapped a bit this weekend. If you look at Q1, for whatever reason, on primes we didn't look too bad. We didn't look too bad on options. Possibly in Q2 we didn't have the best strategy because we ran old options and then new options, and because we did not get the laps together on new options, we almost put too much pressure on the drivers. In retrospect, we should have run two new sets of options in Q2 and given the drivers just that little bit more security. This is a track where you need a lot of commitment and if the car is moving around a lot, and not feeling good with it, it is difficult. We thought we had a strong car here this weekend, and we probably still have, but we perhaps underestimated our competitors' performance and overestimated our own.
Q. Now your two drivers are locked in a clear world championship fight, how easy is it managing the pair of them, and avoiding the problem of either being suspicious of the other holding information back?
RB: Well, they are not. I can assure you that the information is all there on the data screens and each engineer is free to look at the other drivers' data. So, I don't think the drivers ever tell each other the nuances of how they brake or steer into a corner. I have never seen that happen before, and I am sure I will never see it happen again. You don't get the apprentice and master style approach, but this is as good as I've ever seen it in terms of two drivers trying to beat each other in a championship. They are very open and very honest with each other.
Q. Is it more fun for you managing a situation like this, rather than what you experienced at Ferrari?
RB: Are you implying something!! The only political pressure is from within the team, if you like. There is no pressure from outside the team and we just want to do things as openly and fairly as we can. Something may happen where one driver gets upset with the other, or gets upset with the team, and we cannot predict that. All we can do it be as straightforward as we can. I think the two drivers of the calibre we have got, you cannot separate one out unless it becomes mathematically impossible to win.
Q. Is it damage limitation in the Singapore race?
RB: Pretty much, yes. It is an amazing season because it is 180-degrees from Monza. We've got to score as many points as we can in the race and hope that Red Bull don't.
Q. How much work is there to do on Rubens' car?
RB: The left side has gone, so that is being replaced. And we need to check out the chassis and gearbox, and there will be some new bodywork needed.
Q. Since Silverstone Rubens seems to have had the edge on Jenson. Can that be explained purely from his change of brake material, or is there more in it?
RB: I think the brake material he had at the beginning of the season had more potential but it was more difficult to use. Now you don't talk about brakes with Rubens, whereas last year it was a constant discussion. So that has possibly helped. But I think they are so close, it was unnatural that Jenson was winning all the races and Rubens wasn't, because they are pretty close. So, I think by the end of this season it will probably have balanced out quite well.
Q. It seems that we have a high downforce and low downforce championship going on?
RB: Well except that we have been pretty good at high downforce. This is an unusual one. The track temperature today was 32-degrees, the track temperature in Hungary was 32-degrees. It is clutching at straws a bit, but it was very peculiar. We didn't understand it. Both cars had different set-ups but both experienced differently difficulties - and again we had a very good Friday. We felt quite buoyant after Friday because we ran 50-60kg of fuel all day and the car looked very good.
Q. Were you expecting the track to be hotter here?
RB: No, not particularly. Obviously there is no sunlight on it, but we thought it would be enough. Something strange happened. We lost performance which we haven't fully understood why.
Q. What is the time frame for you to decide on your drivers for next year?
RB: At the end of season.
Q. So there will be no decision before the last race?
RB: No. We've got this championship going on at the moment and discussions are going on, but nothing will be announced until much later.
Q. Is it possible that the outcome of the world championship could decide which of your drivers stays?
RB: I don't think so, no. I don't think it will get to that.
Access even more news on Autosport.
Register for free to increase your monthly limit from 15 to 25 stories - or subscribe today and get unlimited access.
Get unlimited news
Full access to our news and in-depth Autosport Plus features - all in an ad-free enviroment.
Subscribe to Autosport Plus
Get 10 free extra stories
A quick upgrade and you'll boost your monthly news limit instantly - for free.
Register for free