Sebastian Vettel says Ferrari team-mate Charles Leclerc is simply in a "different class", after another frustrating qualifying result at the Portuguese Grand Prix.
While Leclerc was able to grab fourth place on the grid to confirm Ferrari's recent progress, Vettel endured difficulties switching his tyres on in Q2 and ended up in 15th spot.
Speaking to Sky Germany after qualifying about the difference between him and Leclerc, he said that his team-mate was miles away.
"It's not just beating, it's like a different class," he said. "I try everything I can. I think the laps I hit, and I'm satisfied with them, are still too slow. At the moment there is nothing more I can do than to get what I have inside me."
Vettel tried to get through Q2 on the medium tyre but his efforts were in vain. And although his pace on the soft in Q1 would have been enough to make it, he still thinks he did the right thing in committing to the medium for both runs.
"I actually had a pretty good feeling after the first try," he said. "But in the second run, the tyres didn't get up to temperature at all. I locked a wheel right at Turn 3 and then the lap was already messed up."
The German said he had no answer as to why he had those difficulties, considering how good he had felt with the first medium lap effort.
"I don't know why I have such a hard time getting the tyres up to temperature, and that it feels a bit different every time. As I said, the car felt good the first time I tried it," he explained.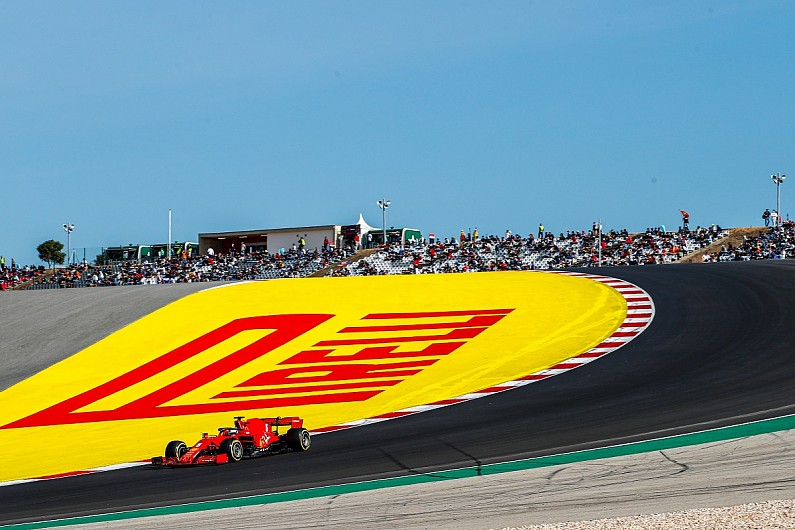 "I thought that with the medium I could easily repeat the time of Q1. That was the target, but it wasn't that easy."
Vettel said there was also a reluctance to go for the soft because he had experienced graining with it in free practice.
"I've been struggling a bit with the soft tyres all weekend," he said. "For me, the tyres quickly let go and we got graining.
"The medium tyre seemed to be more durable. In the first attempt I had a good feeling and it was a good lap. Then I thought the time should be easy. But I couldn't get the tyres to work."
Leclerc was satisfied with his qualifying performance for Ferrari to reach the second row and despite feeling there was "more to give" he remains optimistic for tomorrow's Portuguese GP starting on the medium tyres.
"I'm very happy with the lap, especially considering the conditions in the last two runs in Q3," Leclerc told Sky Sports F1.
"The wind picked up, and in the last sector it was very, very tricky, but I managed to do quite a good last sector anyway. Very, very happy with the lap. There's always more to give, but I'm happy.
"We are starting also with the medium, which is maybe a bit tricky, but we will see tomorrow. For now we can't know. I believe the medium is a good choice to start with. The only tricky part will be the start, but we won't know until we do it."
Autosport has produced a standalone special magazine to celebrate our 70th birthday. All current print subscribers will receive a copy for free. To order your copy of the 196-page Autosport 70th Anniversary issue, please go to: autosport.com/autosport70th