Pierre Gasly believes that AlphaTauri beating Ferrari in this year's Formula 1 constructors' championship is not "unachievable".
Ferrari currently lies in sixth place on 80 points, while AlphaTauri is just 13 points behind in seventh, its score boosted by Gasly's surprise victory in the Italian GP.
The two teams have been evenly matched in scoring terms recently, with AlphaTauri logging 20 points in the three races since Monza, and Ferrari taking 19.
Gasly acknowledged that his team has to do better than that in order to close the gap.
"We know that [Ferrari] is obviously the next team ahead of us in the championship and that's why it should be our target," said the Frenchman.
"Obviously, we know Ferrari is pushing very hard on their side, bringing updates pretty much every weekend. And in terms of performances, I think we are not far from them, and we have six races remaining, 13 points, so we need to outscore them more than two points every weekend.
"It's a difficult target, obviously considering their pace at the moment, but not unachievable, and that's why as a team it will be very important that we maximise our opportunities with the two cars and try to get very strong results until the end of the year.
"So, as I said, that's our target and we'll do everything to make it happen. But we know it's not going to be an easy one at the same time."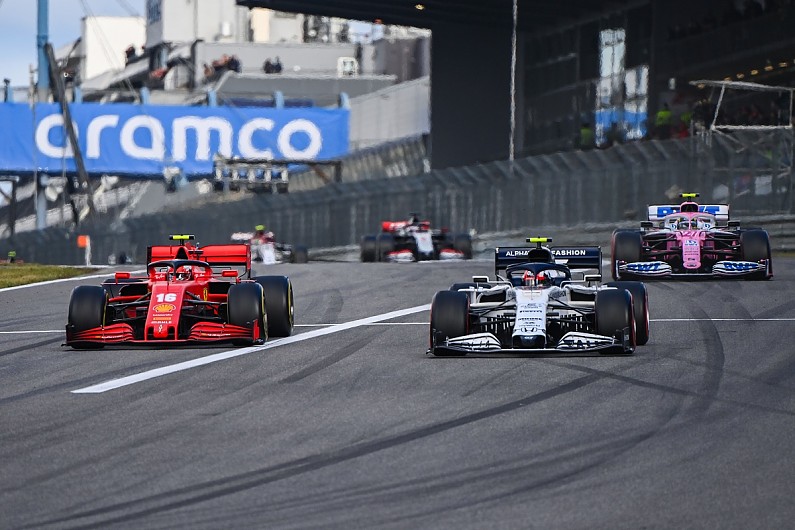 Gasly made some intriguing observations about how the two Italian cars compare, suggesting that Ferrari has found more downforce and grip recently.
"I think their pace is evolving so much from track to track, and also recently looking at Ferrari's pace in the last two races, they seem to have made a pretty big step in terms of grip limited sections and in the corners," he said.
"I think in medium speed corners at the moment we're struggling compared to them. A bit of balance, we're not like really far off from them, but clearly lacking a bit of pace there.
"I think low speeds, some tracks we seem to do well, some other tracks they seem to be slightly better, but generally they have a bit more downforce than we have.
"So we manage to make up some time a bit in the straights, because they are dragging quite a lot."
Gasly believes that the upcoming unknown venues could provide a boost: "I would say it is different from track to track, and I think we'll have to use the opportunities with these new tracks, Portimao, Imola, Turkey.
"Also in Bahrain, because nobody has any references, and I think in these conditions it gives good opportunities.
"We need a couple of strong results if possible. We finished sixth in Nurburgring.
"If we manage to do this another couple of times it can bring a lot of points, and that's what we'll try to do, and that's what we need, if we want to pass them in the championship."
Gasly's team boss Franz Tost conceded that beating Ferrari would not be a straightforward task.
"It will not be an easy target," said the Austrian.
"But we will do everything to score as many points as possible, hopefully more than Ferrari, and to catch up, and to be in front of them at the end of the season.
"It will become a very big challenge because they've brought new upgrades, also here to Portimao, and they look quite fast in FP1, especially [Charles] Leclerc. The rest we will see."
Autosport has produced a standalone special magazine to celebrate our 70th birthday. All current print subscribers will receive a copy for free. To order your copy of the 196-page Autosport 70th Anniversary issue, please go to: autosport.com/autosport70th