McLaren says Formula 1's move to impose factory closures during the coronavirus lockdown period was key to its team not being held back by early year financial headaches.
The shutdown of automotive sales and the suspension of the early part of the F1 season badly hit the McLaren Group's cash flow, and prompted it to take a £150 million loan from the National Bank of Bahrain as well as make plans for redundancies.
But the F1 operation has since shown no signs of being impacted by the money issues, as it has taken two podium finishes this season and is currently third in the constructors' championship.
McLaren CEO Zak Brown thinks the team's ability to come through its troubles in such strong shape was down to the factory shutdowns governing body the FIA imposed.
Speaking exclusively to Autosport, Brown said: "Fortunately, the issues that we had during COVID, which were big and well documented, didn't really impact us because we couldn't spend money even if he had it, because everything was shut down.
"So while it didn't look good, and it wasn't good, it didn't actually impact progress with the team, because there was just nothing you could do in that period.
"By the time we could turn things back on, we'd come through that. We were fragile before COVID and that just pushed us into the red zone.
"But the good news is that's now behind us, and so things like the [factory] sale leaseback, those are just all good business financial restructuring decisions.
"So we're no longer under the pressure COVID put us in and we're in a good place now."
As well as its solid form this season, McLaren is excited about how F1's incoming new structure - including a budget cap and revised prize money distribution - will stand to benefit it.
"Nothing's automatic, but I think if I look at just how everything's playing out for McLaren, it's playing out as we'd hoped," he said.
"We've got Andreas [Seidl, team principal], who's doing a great job with the whole team.
"We've got two great drivers now. We're going to have an outstanding driver line-up in the future.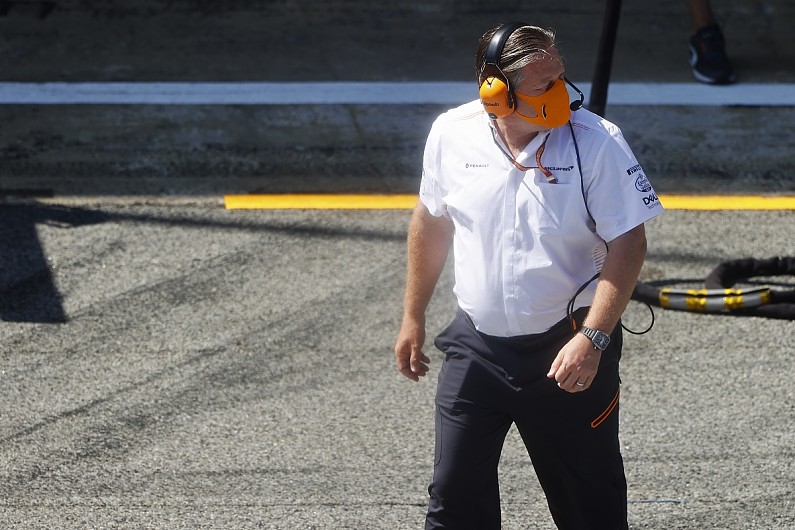 "Sponsorship targets are all being met and exceeded, and we've got great brands: the Dells, the Coca-Colas, the BATs, the Arrows.
"Morale is really strong and results are good. So it's all coming together, although of course you have a weekend like Mugello and it just reminds you that it's not so easy.
"Then, you've got at a macro level the sport resetting itself to where is McLaren's sweet spot. So it's all coming together. It's going to take some time, but we're excited."
Although McLaren knows it remains behind teams like Mercedes and Red Bull with its infrastructure, as plans for a new windtunnel and simulator have been delayed, Brown does not see them as anything that will stop the team progressing.
"Those are things that will all give us continued improvement," he said. "But we're already in a windtunnel. We have simulators. We already have CFD.
"We just, I think, under-invested in Cap-Ex the last 5/6/7 years. And now we're catching up. So I think everything's coming together at kind of the same pace.
"I think 2021 looks like 2020 for everybody, but I think 2022 is game on.
"I think also it's going to take a little bit of time before the budget cap settles and we get our revenues up.
"To me, it feels like we're on this five year journey, and we're a couple years into it. We're kind of on course for where we want to be.
"But I don't think it's a flip of the switch and next year or 2022 we're fighting for the championship all of a sudden."