Williams was surprised George Russell's Tuscan Grand Prix qualifying off did not ruin his final lap, but has revealed the incident did minor damage to his Formula 1 car.
Russell qualified in 18th after being in eliminated in Q1, where he ran wide into the gravel exiting Savelli on his last flying effort, but was still able to go on and set his best time in the opening segment at the end of the tour.
Dave Robson, Williams' head of vehicle performance, reckons the incident - as well as Russell encountering traffic in the form of eventual pole-winner Lewis Hamilton right at the end of the lap - cost Russell a sixth Q2 appearance of 2020.
"It was a surprise it wasn't a lap-ruining mistake," Robson said of Russell's off.
"I have to say, the fact that he actually kept on and I think he lost a tenth, maybe a tenth-and-a-half, but the fact that the car and the tyres were still happy to complete the rest of the lap, was actually pretty impressive, and a bit surprising.
"I guess a bit frustrating [too], the time he lost there, and I think probably he lost a little bit of time with Lewis in the last corner as well, which is a bit frustrating.
"I think he could have got through. Yeah, annoying."
When asked by Autosport if Russell had damaged his FW43 when he rejoined the track at high-speed ahead of the Arrabbiata turns, Robson said: "Yeah, so there's a little bit of damage.
"It was quite a big bang coming back onto the track so we're just reviewing the loads and checking the rear suspension.
"At that moment [there's] nothing too concerning, but there's a little bit more to go through because it was a big bang, definitely.
"But hopefully we'll be OK for [the race].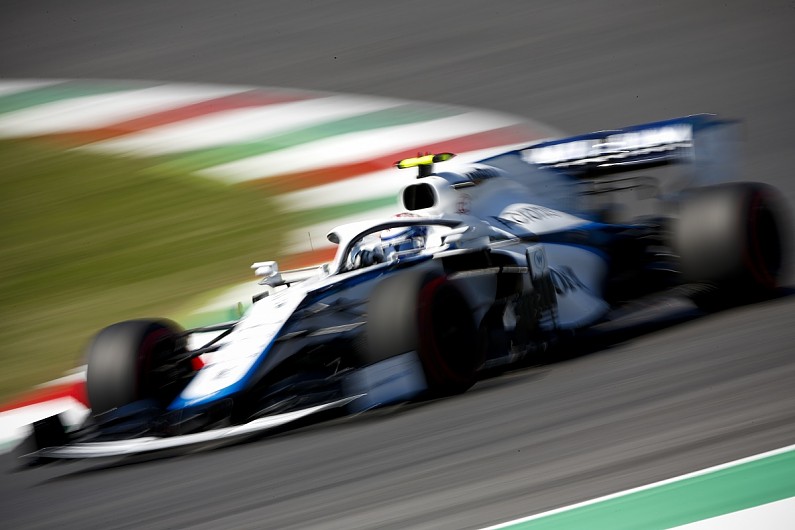 Russell's team-mate Nicholas Latifi had looked like he would be the lead Williams driver in qualifying at Mugello, but he could not improve on his final run and was shuffled down when Russell crossed the line, which meant he will line up P19.
Robson felt Latifi's lack of a personal best on his last Q1 lap was down to a combination of Williams not adding the correct amount of front wing angle to his car as the session progressed and the Canadian's tyre preparation on his final warm-up lap not going to plan.
"His first run in Q1 was very good, he was able to kind of chip away at it," said Robson.
"Unfortunately for him that final lap, I think some of the understeer, probably we misjudged how much front wing to add during the session, which is one of those things that I think at other circuits we would've had a better idea of.
"So we probably misjudged that a little bit. But, on top of that, I think he didn't quite get the tyre preparation he was after - just with a little bit of traffic.
"So it comes back to the tyres again and getting the front tyres working from the start of the lap.
"I think that's where the main problem was today, and probably we did misjudge the front wing a little bit.
"But, he is getting better and better, and the momentum and stringing these triple headers together is actually probably a pretty good thing for him."