Red Bull's Max Verstappen must wait until the Austrian Grand Prix for his first chance to drive a Formula 1 car since lockdown started, amid the UK's quarantine restrictions.
Red Bull has elected to use up one of its filming days on Thursday at Silverstone with its 2020 F1 car to get its drivers and staff up to speed again.
As well as giving the drivers a refresher in the cockpit, such tests have been valuable in helping teams better understand the protocols that will be in place for the closed-door events at the start of the season.
Back on track! #ChargeOn pic.twitter.com/McNywAJKTh

— Aston Martin Red Bull Racing (@redbullracing) June 25, 2020
While in an ideal world Red Bull would have both its drivers present, instead Alex Albon will run alone for the day because the UK's mandatory 14-day quarantine for anyone arriving from abroad meant that it was too hard to arrange for Verstappen to fly in from his home in Monaco.
For Verstappen to have joined the test, he would have needed to arrive in the UK in the first week of the quarantine in early June - with sports stars currently not exempt from the restriction that force people to self-isolate for two weeks after their arrival.
Allied to the fact that the test is limited to just 100km, plus the car would be running on show car tyres, all the factors came together for team and driver to agree that the run went ahead without him.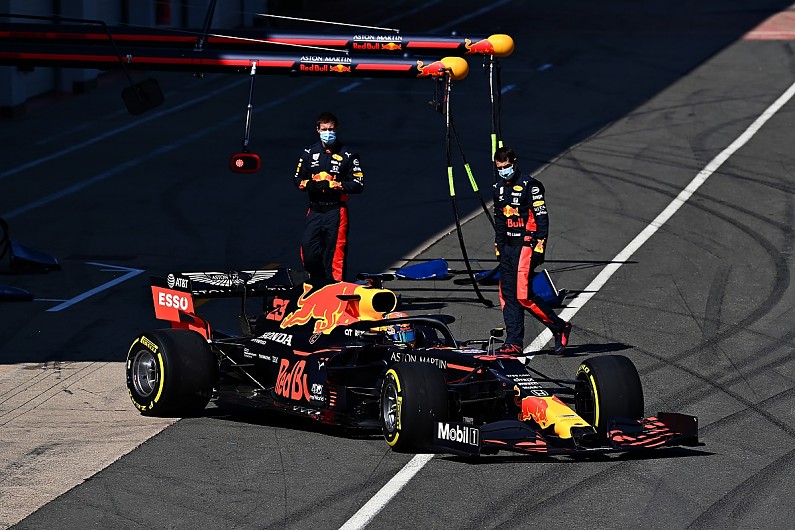 Verstappen's absence means that he will be one of the few drivers that will not have run in either current or past F1 machinery before the first race of the campaign at the Red Bull Ring.
We're back but not quite as we know it! ? Promise there are some big grins under there! ? #ChargeOn ? pic.twitter.com/bLTzDqXusA

— Aston Martin Red Bull Racing (@redbullracing) June 25, 2020
Mercedes conducted a test with a 2018 car shortly after the UK's quarantine restrictions started, with both Lewis Hamilton and Valtteri Bottas having been able to get into the country before the rules came into force.
Ferrari has been testing at Mugello with both its drivers, while Renault elected to take an old car to the Red Bull Ring so Daniel Ricciardo and Esteban Ocon could get some running.
Red Bull's options for running have been restricted, however, because of the current testing rules limitations.
In theory it could have taken a 2018 car to a foreign track for a multi-day test, but it was running Renault powerunits that year so it would have been a challenge to have arranged a proper test with its former engine partner.
And while it would have been allowed to take its 2020 F1 car to a foreign track so both drivers could run a 'filming day', the fact that it would have been limited to just 100km would have meant there would have been a lot of effort for little return.
In the end, it made sense for a 2020 car test to take place at Silverstone with Albon alone, and Verstappen is unlikely to be at much of a disadvantage through missing out.