Dutch-born Egbert 'Eppie' Wietzes, whose two Formula 1 race starts were seven years apart at Ontario's Mosport Park, has died at the age of 82.
One of his adopted country's most enduring and versatile racers - his family had emigrated from Assen when he was 12 - Wietzes' driving career spanned 30 years, from 1958 until '87.
Having made a name for himself in brawny V8 closed-wheelers, notably AC Cobra, Ford Mustang and a Ford GT40 in which he contested Can-Am races, big single-seaters proved attractive.
The introduction of Formula A (as F5000 was known) was to be his metier.
He was a consummate Canadian champion in 1969 and '70, in his Formula Racing Lola T142 and McLaren M10B, respectively.
Never afraid of competition, Wietzes finished fourth in the more competitive US series in both '70 and '71 (McLaren M18).
While he slipped to fifth in '72, winning at Donnybrooke, Minnesota, in a Lola T300 made everybody take notice.
By '74 he was a regular frontrunner, mixing with the likes of future triple F5000 champion Brian Redman and F1 king Mario Andretti, but finished fourth again in a Lola T332.
F1 in a cameo role was less lucrative. Wietzes' Comstock backers had ambitiously rented the third works Lotus 49 for the '67 Canadian GP (below, with Jim Clark, far right) but the effort was inauspicious.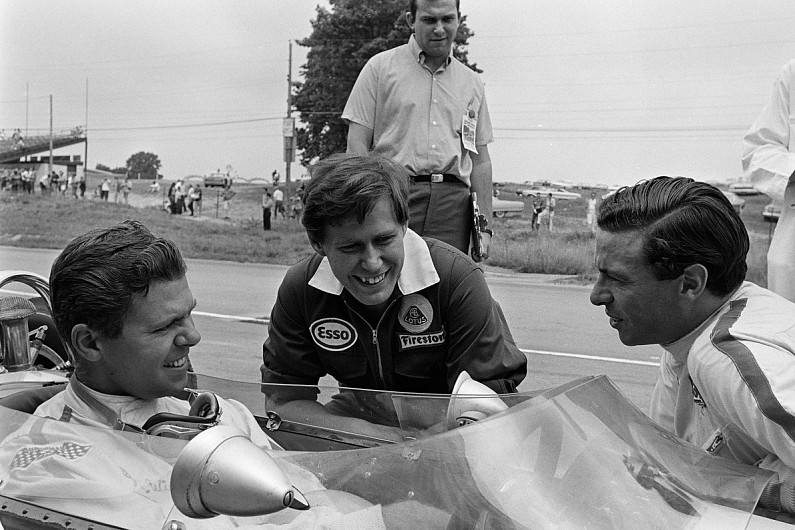 Outside assistance following ignition woes with its DFV engine brought disqualification.
In '74 he tried again, hiring a Brabham BT42 from Bernie Ecclestone but engine problems ended his race.
In fact it was the third Canadian F1 GP he'd driven in because the previous year he'd piloted the Porsche 914-6 safety car, its intervention signalling a new development in the sport.
Eppie continued to race hard - outlasting Can-Am and F5000 - enjoying it long into the 1980s.
He earned the SCCA's Trans-Am title in '81, winning at Charlotte and Trois-Rivieres in a Bob Garretson-owned Chevrolet Corvette.
Wietzes also raced in the IMSA GTP championship - second in the '81 Mosport 6 Hours, partnering Redman in the Cooke-Woods Racing Lola-Chevrolet T600, was the highlight.
He was inducted into the Canadian Motorsport Hall of Fame among its first intake in 1993.