Formula 1 looks set to begin the season with two double-header rounds in Austria and at Silverstone, as various provisional timetables hint at 2020's condensed European leg.
Autosport has learned that teams from FIA Formula 2 and Formula 3 were given a draft provisional calendar in an online meeting on Monday of this week - with all rounds in support of F1.
Meanwhile the Dutch, Canadian and Singapore GPs are all missing from another provisional version of the 2020 F1 schedule, and all three events look set to be officially cancelled at some stage.
Autosport understands that the provisional calendar kicks off with the two Austrian events at the Red Bull Ring, which Formula 1 is hoping to run on the 5 July and 12 July weekends, followed by rounds at Silverstone on the last weekend of July and the first weekend of August.
The two Silverstone rounds would be part of a triple-header of rounds and held without any fans in attendance, with the third currently set to be at the Hungaroring.
Any rounds in Hungary would also be held behind closed doors as the government has put restrictions on large gatherings.
A second triple header provisionally consisting of races at Barcelona, Spa-Francorchamps and Monza is set to span the end of August and the start of September, with F1 expecting to visit Baku and Sochi later that month.
Hockenheim is on standby as the track not on the original schedule most likely to step in if needed - and it is currently mooted as a replacement for Silverstone if no deal can be concluded with the British GP venue.
F1 looks set to end the 2020 season with rounds in Bahrain and Abu Dhabi in December, with two races in Bahrain looking likely.
F1 support categories face calendar changes
Both F2 and F3 would begin their seasons on the F1 support bill, joining the premier-class series at the European rounds.
The two junior series would reunite in the Middle East in December, as F2 is expected to make the trip to Baku and Sochi with F3 in tow.
As a result, the Macau Grand Prix looks set to lose its status as an end-of-season FIA Formula 3 showcase due to the coronavirus-enforced changes.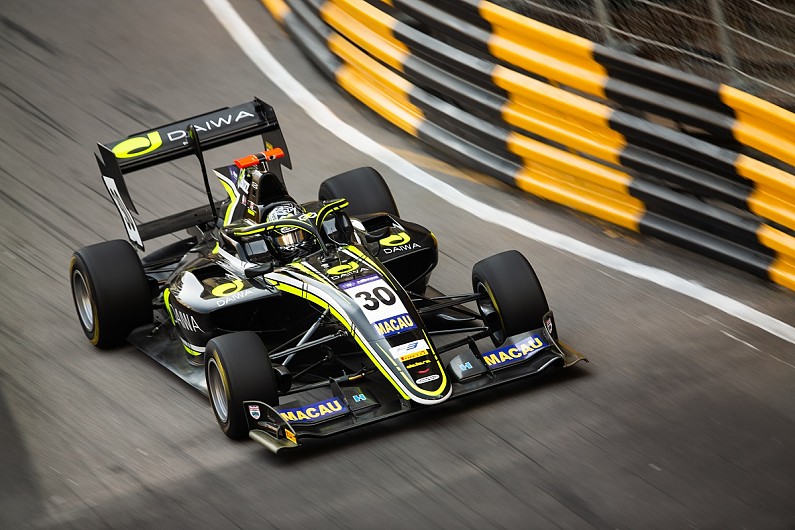 Like last year, the F3 championship season was scheduled to finish with the Russian Grand Prix support slot in late September, giving plenty of time to prepare for the standalone non-championship Macau Grand Prix on 22 November.
But the disruption to the European season means that FIA F3 is now likely to support the Bahrain and Abu Dhabi Grands Prix on putative dates in December.
Media in Macau have already reported that this would mean that their event counts for championship points, but Autosport sources have said that this will not be the case.
FIA F3 Championship sporting regulations stipulate reversed-grid second races, which would completely jeopardise the format of Macau, and it would also prevent teams doing one-off deals with drivers from other categories.
The fact that Macau would not be the end-of-season fixture does not necessarily present any further logistical challenges to teams, as the 2019 event - the first to be run for the new FIA F3 cars - was immediately followed by the Abu Dhabi test.
This would keep the F2 schedule at the intended 12 rounds and bump F3 up from nine to 10 events - although the F3 regulations stipulate that it is a nine-round series, the inability to continue pre-season official testing is offset by the extra date.
F2 requires a minimum of 10 rounds to retain its championship status.
Based on the latest information from sources, this appears to be F1's current ideal scenario - although the 19 rounds transcends F1's expectation of 15-18 rounds.
It is possible that some rounds will be dropped to bring the calendar into that bracket, and to avoid the two quadruple headers suggested below:
Potential 2020 F1 calendar and support categories
3-5 Jul Austrian GP (F2, F3)
10-12 Jul Red Bull Ring 'II' (F2, F3)
24-26 Jul British GP/Hockenheim (F2, F3)
31 Jul-2 Aug Silverstone 'II'/Hockenheim 'II' (F2, F3)
7-9 Aug Hungarian GP (F2, F3)
21-23 Aug Spanish GP (F2, F3)
28-30 Aug Belgian GP (F2, F3)
4-6 Sept Italian GP (F2, F3)
18-20 Sept Azerbaijan GP (F2)
25-27 Sept Russian GP (F2)
2-4 Oct Chinese GP
9-11 Oct Japanese GP
23-25 Oct US GP
30 Oct-1 Nov Mexican GP
8 Nov Brazilian GP
22 Nov Vietnam GP
29 Nov Bahrain 'II'
6 Dec Bahrain GP (F2, F3)
13 Dec Abu Dhabi GP (F2, F3)