Ferrari team principal Mattia Binotto has dismissed suggestions from Mercedes that it was running its Formula 1 engine at a different level to its customer teams in testing last week.
After a low-key first week of running from Ferrari at Barcelona, Mercedes hinted in a press release that it did not believe its rival had been showing its full potential last week.
In a feature release after the conclusion of the opening test, Mercedes asked "Why have Ferrari spent this test running their PU consistently at much lower levels than their partner teams?"
But asked by Autosport about whether Ferrari had run its engine in a different mode to its customers, as Mercedes implied, Binotto said: "Mercedes seems to be very much aware of what we are doing, but it's not correct."
Binotto admitted, however, that Ferrari is not as quick as it wants to be at the moment, and is especially lacking in straightline speed.
"We believe that we are not the fastest car at the moment, so I think on lap time we will be behind [at] the start of the season," he said.
"What are we lacking? The car of this season compared to the one of last season is overall faster, but we are faster in the corners, slower on the straights.
"This was an objective in designing that car. We knew last year that we were too slow in the corners, so we tried to put as much downforce as we could on the car to [make it] as fast as possible in the corners.
"But now we are paying [for it] on the straights.
"I still think in terms of overall balance, set-up, slow-speed corners, it's something where we need to improve.
"But that's part of the job and the task for this week."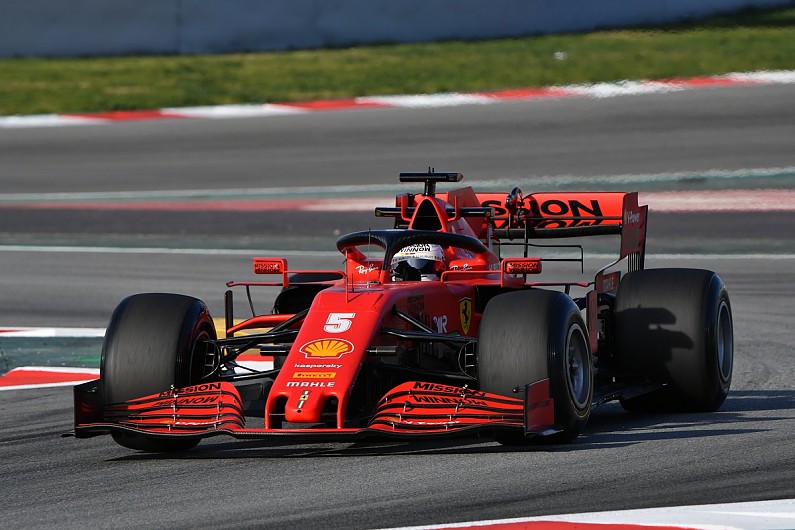 Sebastian Vettel echoed Binotto's suggestion that the new Ferrari offers a step forward in cornering performance.
"One of the objectives was to make sure that we have a faster car in the corners," said the four-time F1 world champion.
"It's not just to go fast in the corners, but also when it comes to tyre management and so on.
"As Mattia said, maybe we would like to be in a stronger position now, but also it's fair to say that the season is very long, and it's very fair to say that we didn't even start.
"I think we have plenty of work to do. The car is a step forward as I said.
"We know we can improve it from where we are, so time will tell is probably the best answer."