Ferrari Formula 1 drivers Sebastian Vettel and Charles Leclerc say the team orders controversy in the Russian Grand Prix is resolved after separate meetings with Mattia Binotto last week.
Poleman Leclerc had given third-place starter Vettel a tow on the run to Turn 2 at the start of the Sochi race and did not defend from his team-mate as Vettel moved into the lead.
The move was part of a pre-race agreement, but Vettel did not hand the place back when instructed to do so and his subsequent retirement played a part in Ferrari losing a one-two finish.
Speaking ahead of the Japanese Grand Prix, Vettel played down the importance of talks with Binotto in Maranello.
"Generally, everything is clear," said Vettel. "Of course you talk to each other.
"There was a conversation, but there were also other conversations. I wouldn't make such a fuss around the whole story.
"I think there were positive things in Russia as well. For the first time this year we had very, very good pace in the race to hold up against Mercedes.
"In the other races we might have been in front here and there, but in general we were a bit slower. So there are positive and not so positive things.
"On my side, I can't be satisfied with that. What agreement there was or wasn't, or who is right and who isn't, is perhaps not so important.
"But of course I got the message at the radio to change the place, and I did not do it. And that was certainly not right."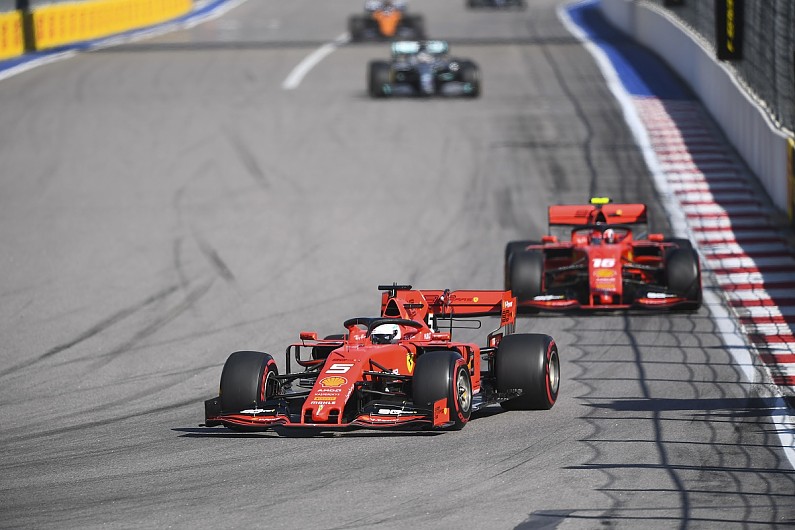 Asked if the rules on team orders were now written in stone, Vettel said: "I don't know, there's some stones but we didn't write anything in stone, I don't think it's necessary".
Vettel added that Leclerc's performances had not put pressure on him that contributed to ignoring team orders.
"I don't think it would have been any different if anybody else had been in the other car," said Vettel.
"Charles is doing a very good job, but I generally believe it's, first of all, a race against yourself and then the others. In that regard, I struggled, as I said, to extract what I know I have in me."
Leclerc said there were some 'misunderstandings' in Russia but that "we've had a discussion and everything is clear now".
He added: "Obviously it felt like it was a huge deal from the outside - which it definitely wasn't, but now everything is fine.
"I think that's clear from the beginning of the season, we need to obey team orders.
"The situation wasn't clear for both of the drivers, starting the race, and I think that's the most important [thing].
"So we spoke about it and we'll make sure that this situation doesn't happen again in the future."