Renault Formula 1 driver Daniel Ricciardo says he felt "disgraced" by an exclusion from qualifying that made his Singapore Grand Prix weekend a "waste of time".
The FIA concluded Ricciardo's MGU-K had exceeded the 120kW limit on one lap in Q1 and excluded him from qualifying, in which he had been eighth fastest.
Ricciardo was adamant after the race that the penalty was too harsh for the offence.
Asked how he took it, he said: "Disgracefully. I had a very restless night's sleep trying to go through in my head why a penalty would be so harsh.
"It happened on one occurrence on one lap - if it was happening on the same corner every lap for the whole session I would not complain at all.
"But it's like track limits - you go off, gain an advantage, delete that lap.
"We didn't even gain an advantage from this yet they delete the whole session - so, no, I was disgraced by that. And voiced my opinion - I'll keep voicing it.
"They're doing great things on track, letting us race still and all that, but then what's the point of not giving penalties on track, but then giving a massive penalty for something that's out of my control?
"If you gain an advantage then delete that lap, sure, but to literally ruin my weekend, I feel like they should pay for my business class ticket back.
"Anyway, it was a bit of a waste of time coming here now."
Ricciardo suggested the stewards did not want to listen to the defence offered by representatives of Renault, which said on Saturday evening that the power spike had been caused by a kerb strike.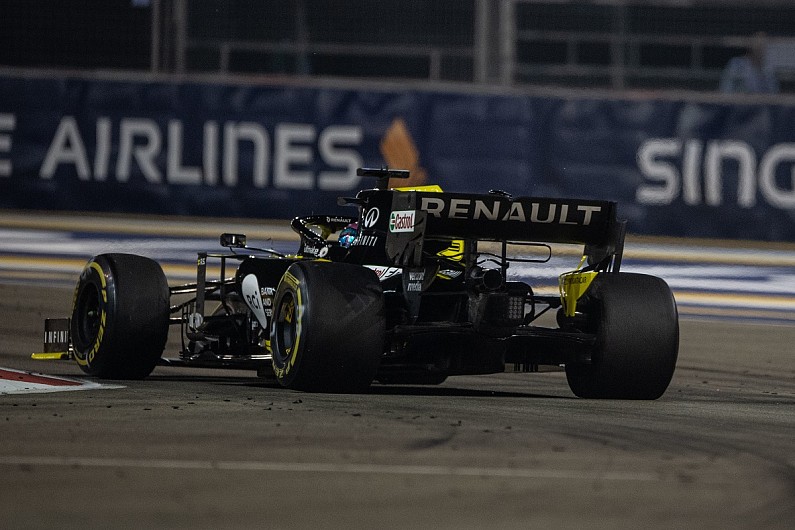 "I felt like from when they walked in there they'd made up their minds and they said it was a blank canvas," he added.
"They [Renault] were talking to people who didn't care to listen - so they didn't think it was worth appealing."
Ricciardo made good progress from 20th on the grid until he picked up a puncture following a collision with Antonio Giovinazzi and eventually finished 14th, while team-mate Nico Hulkenberg recovered to ninth after a first-lap clash with Carlos Sainz Jr.
Executive director Marcin Budkowski said Hulkenberg's points score, after a second pitstop under the first of three safety-car periods, was "damage limitation" for Renault in its battle for fourth in the constructors' championship with McLaren.
Lando Norris's seventh-place finish means McLaren has a 22-point advantage over Renault.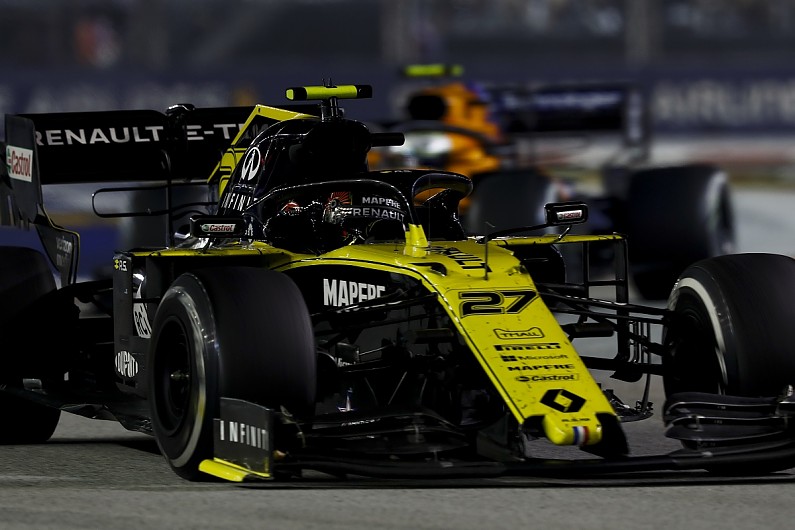 "We had more pace than that for sure, and clearly we were expecting more than that," Budkowski told Autosport.
"Both drivers had the pace to do better, and both had punctures that forced us to stop. Neither of them was able to do the strategy that we were planning for them.
"Daniel started with a mission at the beginning of the race and clearly stated on the radio a few times that he was on a mission to have a good race.
"Without the puncture, he was doing a really good job, he had the pace, he had the overtaking, but now when these cars touch each other with the wide front wings it's quite difficult not to pick up punctures.
"We thought about trying to get Nico to the end, but based on his feedback and the opportunity of stopping under the safety car, we decided to stop him, and I think it was the right call.
"I think two points and damage limitation in terms of McLaren is not that bad, with Lando finishing seventh.
"[But] given the pace of the car, and where we qualified, we were hoping for better."