Valtteri Bottas says an unplanned passing move by Mercedes Formula 1 team-mate Lewis Hamilton hurt his Q3 run in a "messy" Singapore Grand Prix qualifying.
Mercedes has a particular issue with tyre warm-up at the Marina Bay track, with its drivers requiring a faster out-lap than most of their rivals.
In the build-up to his final run in Q3 Bottas was trying to make a gap for himself while keeping up sufficient speed to maintain tyre temperature when he was unexpectedly passed by Hamilton.
That forced him to slow to create a gap once again, and his less than optimum pace in turn compromised tyre temperatures. Struggling for grip he could manage only fifth place, having been fastest in Q1.
Bottas said the incident was discussed in Mercedes' debrief in an attempt to ensure there is no repeat.
"The first run there was lots of cars," said Bottas. "All weekend we've been needing to have proper out-laps to get the tyres switched on, but I only got that in Q1. The first run in Q2 was also pretty OK, but after that always traffic affected.
"Then the last run was quite messy. No it was not planned [to swap positions].
"I was slowing down because of the Red Bull ahead trying to get a bit of a gap, and I think Lewis didn't know that there was a car ahead of me, he thought I'm just slowing down for fun.
"Obviously it was incorrect and he got ahead, so then I had to slow down again.
"We've discussed that internally and tried to make sure of ways that it won't happen again, basically. It was not the plan for sure."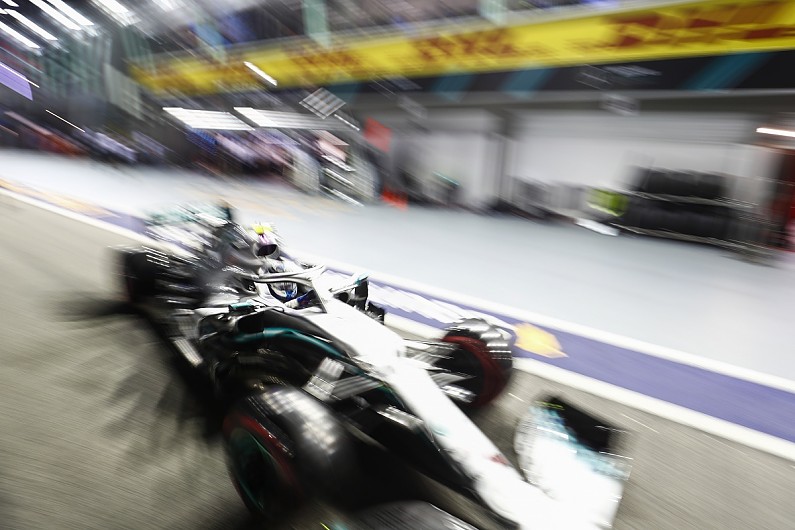 Bottas stressed Mercedes' greater need for fast out-laps in Singapore than its rivals.
"I think we had the quickest out-laps from all the teams - we needed that to get the tyres ready, especially the front tyres," he said.
"Ideally we would have had completely free air and been much quicker than we what were able to do.
"Only time I could feel the grip was the first run in quali 1 and the first run in quali 2.
"It was too much on the knife-edge for the other times, and when you start the lap too cold it's so easy to have snaps here and there.
"You build up the tyre temperature only on the surface, with the wheelspin and everything, and the grip is just not there.
"The difficult part is to get a good stagger front to rear. Obviously now this year the blanket temperatures that Pirelli is allowing are lower than last year. Even last year it was not easy to get the fronts to work, but we could.
"But now with the lower blankets I think for us for some reason it is a bit more difficult, and it's one of the most difficult tracks for that.
"Track temperature is actually quite low, there's not many high-speed corners on the out-lap to bring the temperature and the energy into the tyre. And that front to rear balance, I think that's the issue for us here."
Bottas added that while Friday was "compromised" by his crash in practice one - which led to some handling issues in the second session - the car was in good shape for Saturday.
"First of all it was a great job by the guys to get the car ready [for practice two], but as expected it wasn't quite there where it should have been. Lots of question marks last night," he said.
"Luckily we found a few things that were affecting the performance in practice two.
"So we lost a bit of useful running, but I think in practice three we found some more pace, found good direction with the set-up, and in qualifying at the start of the session it was feeling really good."
Bottas studying Hamilton for passing lessons
By Jonathan Noble
Earlier in the Singapore weekend, Bottas said he had been analysing Hamilton's ability to close in and attack rivals.
That followed team boss Toto Wolff's suggestion that Bottas has a "weakness" when following other cars - a comment that came after Bottas was unable to pass Charles Leclerc for Italian GP victory.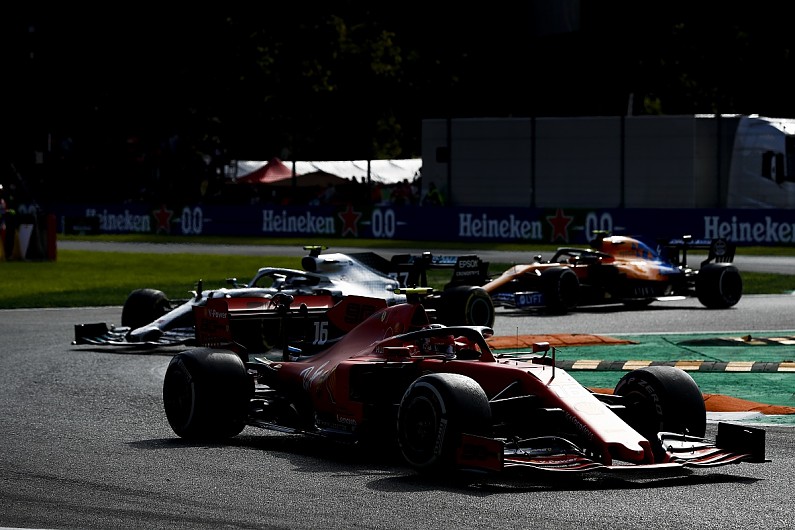 Bottas admitted that it is a factor of his performance that he needs to improve, and said he is digging deep to get a better understanding of why Hamilton has an edge on this front.
"With the team, we have started the process for me to try to get better on that," he said when asked by Autosport about Wolff's comments and if anything had been done to rectify it.
"There are some occasions when Lewis has done a better job in following another car, getting closer quicker and to be able to attack.
"So we are looking at all the things I can learn from that, and looking at videos from the past, with different races and situations and all that."
Bottas remained adamant that him attacking Leclerc harder at Monza would not have changed the result because Ferrari's straightline speed advantage was too great.
"Honestly I feel that there was no way to win Monza, with the conditions we had, with the straightline difference and the tyres dropping at the end," he said.
"Whether I had some lock ups or not, it was not going to be the case - looking back and analysing everything.
"But for sure, it's an area that I can still improve and it is a strength of Lewis."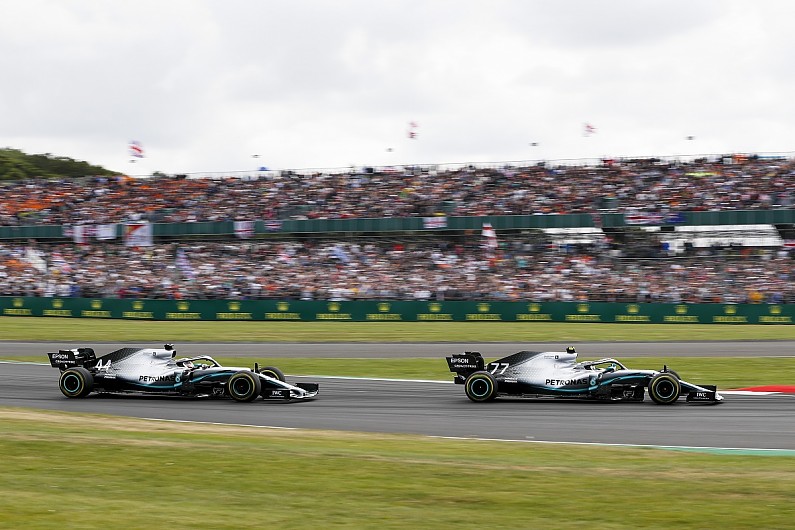 Bottas says that the work on better understanding what happens when he gets close to other cars is just one example of the level of detail he is having to look at in a bid to boost his performances.
"In this sport there are so many details and things that you can improve if you invest your time into that," he said.
"If I want to beat Lewis over a whole season, I definitely need to dig as deep as I can and not to leave any stone unturned. And I am ready for that completely with the team.
"We are in a good spirit now, with the engineers, and on my side of the garage we are pretty united for me to be able to find those gains step by step and improve.
"They can see the improvements from last year, so they are motivated as well to help me. I think we found a nice way of working now and I hope that will bring the results in the future."