Ferrari Formula 1 team boss Mattia Binotto chose the Italian Grand Prix slowing-down lap to forgive winner Charles Leclerc for his part in the qualifying farce that frustrated Sebastian Vettel.
Following the chaotic scenes in Q3 at Monza, Vettel made it clear that qualifying had not run to the plan that he understood Ferrari would deploy - indicating that he had expected Leclerc to move ahead and give him a tow.
The Ferrari drivers were initially held up by other slow cars, and when they got to the front of the queue Leclerc stayed behind Vettel.
He only passed just before Parabolica, after being urged to do so by his engineer, only for the chequered flag to come out and prevent most drivers from running their final laps.
"It was my turn to get a tow," said Vettel afterwards. "I was the one first in Q3 to give a tow, and the one second to receive a tow, but obviously we waited too long, so in the end there was no margin. Not happy."
As Leclerc drove round to parc ferme after winning the race Binotto came on the radio and said "you're forgiven" in Italian, confirming that there had been some tension in the camp.
"Sei perdonato," he explained. "It means whatever happened in the last days, that we discussed - and that's something that will remain between us three - at least he did a good job.
"That was a way of me telling him that at least we are happy with the job he did."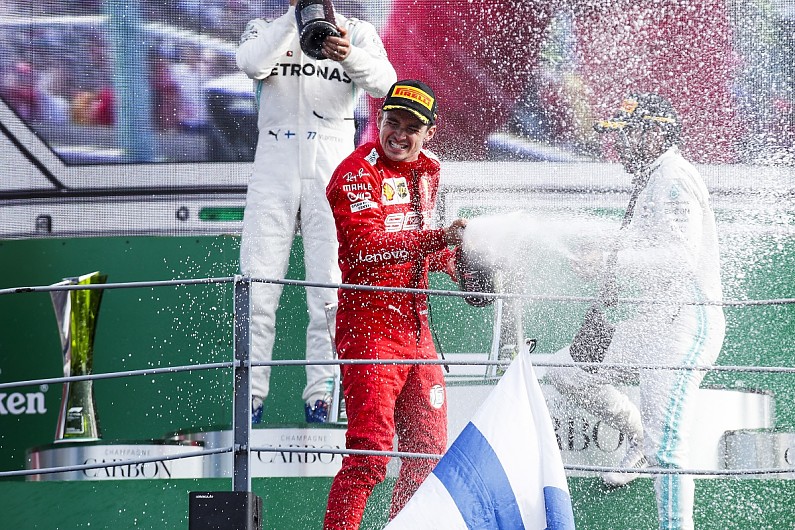 Asked if the situation would have an impact on the team Binotto - sitting with the drivers on either side of him as he spoke - said that Vettel had already moved on, although he conceded there could always be more issues in the future.
"It will not effect [things]," said Binotto.
"At first it's something we discussed internally, there may be different points of view, the outcome was certainly a very strange situation for everybody.
"I think more important was what Seb said at first: turn the page, and looking ahead.
Monza qualifying descends into farce
"I think that these guys are great, and I can count on them. So it will not effect [things], I'm pretty sure.
"Doesn't mean it will not happen again, because you never know.
"The spirit is whatever you may do, there is something to learn, and therefore it's important to make sure it's a lesson learned."
Autosport has produced a standalone special magazine to celebrate our 70th birthday. All current print subscribers will receive a copy for free. To order your copy of the 196-page Autosport 70th Anniversary issue, please go to: autosport.com/autosport70th