Honda is hopeful its latest Formula 1 engine will close its qualifying deficit to Mercedes and Ferrari but admits its rivals "won't wait for us".
The Japanese manufacturer's Spec 4 engine made its race debut last weekend in Daniil Kvyat's Toro Rosso and will be used this weekend by both Red Bull drivers.
Alex Albon served his grid penalty last weekend, so even though a new engine means Max Verstappen will start from the back, Monza will present the first chance for Honda to judge the Spec 4 against the latest upgrades Ferrari and Mercedes.
Honda's F1 managing director Toyoharu Tanabe told Autosport after Spa: "Our new Spec 4 worked properly, the result from the data shows as we expected.
"At the moment we are happy, we will analyse the data and try to optimise the calibration to improve performance as much as we can for Monza."
Honda has targeted an improved qualifying mode with its Spec 4.
Asked if he hoped its lingering Saturday deficit would be reduced now, Tanabe said: "I hope so. But other PU manufacturers have started to apply their latest specs.
"We haven't analysed the difference between their previous performance and [Spa].
"We will try to find out their improvement compared to our improvement but they don't wait for us.
"I hope we close the gap, but in reality from [Spa's] qualifying result we see a big gap between Ferrari and Mercedes - I don't know if they [Mercedes] had a problem in qualifying.
"I hope to close the gap, but it's not easy."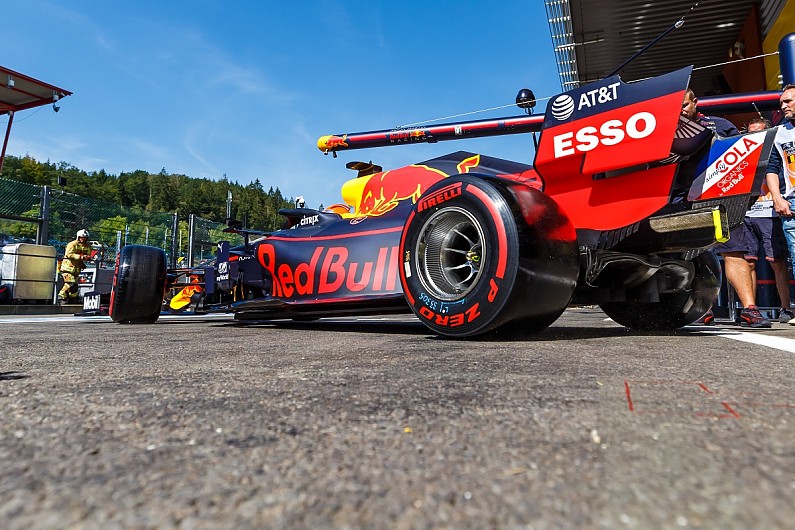 Red Bull team boss Christian Horner described Honda's data from Spa as "encouraging" and thinks the new unit has delivered "what is expected".
But Ferrari has established itself as the new benchmark on the engine side, and the works cars will use the upgrade for the first time this weekend.
Although Ferrari's straightline speed is also boosted by the car's lower-downforce philosophy, Horner said it is "doing an incredible job".
"Their straightline speed looks hugely impressive, particularly on Saturdays," said Horner of his team's rival for second in the constructors' championship.
"So they're the benchmark that we all have to strive for.
"But the group behind seems to be converging, you'd have to say, between Mercedes, Honda and Renault.
"It definitely looks like finally we have some convergence."
Spa and Monza traditionally represent Red Bull's weakest circuits of the season, although Honda's progress meant it was slightly less concerned this year.
Horner accepted that grid penalties meant these two weekends were inevitably going to be "tough".
"Let's see what we've got in Monza, but then we would expect to be hopefully strong in Singapore and the races that follow that," he said.
"It should hopefully be an exciting run-in to the end of the year."