Fernando Alonso remains an option for McLaren to call up if either of its Formula 1 drivers is indisposed.
The 2005 and '06 world champion tested McLaren's 2019 car during the winter and will return to the F1 paddock with the team for this weekend's Italian Grand Prix at Monza.
His last racing engagement with McLaren was the failed bid to qualify for this year's Indianapolis 500 and, though he is expected to at least attempt the Indy 500 again with the team's new full-time IndyCar team in 2020, Alonso's main current activity is preparing for a possible Dakar Rally entry with Toyota.
Ahead of the Belgian GP, Lando Norris hurt a foot while running over the summer break and had to wear a boot brace to help his recovery.
In the end, the pain subsided and he was given the all-clear for Spa.
McLaren can call on former Williams racer Sergey Sirotkin - who is also Renault's reserve - as an emergency replacement for race weekend dramas.
But team principal Andreas Seidl said that other options - including Alonso - would have been considered if it had been obvious that Norris could not race or McLaren had greater notice of either Norris or Carlos Sainz Jr being unavailable.
Asked to clarify whether Alonso would have been a possibility had Norris not been fit, Seidl replied: "With Lando being clear that he felt fine to race, the back-up would have been Sergey [if Norris had been ruled out late].
"It's a different situation if we know early enough, to look for alternatives. But it's something we discuss when it comes to that situation.
"Our reserve driver is Sergey, so we have the seat ready and everything, and we have prepared him in the simulator."
Pushed further on whether Alonso would have been a proper candidate due to his ongoing relationship with the team, Seidl said: "I don't know exactly how the contract is exactly, but he is still a part of McLaren.
"Zak [Brown] is still having a lot of exchange with him and other programmes I'm sure.
"If we would have an issue like that [a driver being unavailable], there would be a discussion happening."
Alonso's visit to Monza with McLaren is not to fulfil any particular performance role with the team.
"He will come as an ambassador and visit us," added Seidl.
Spa problem investigations underway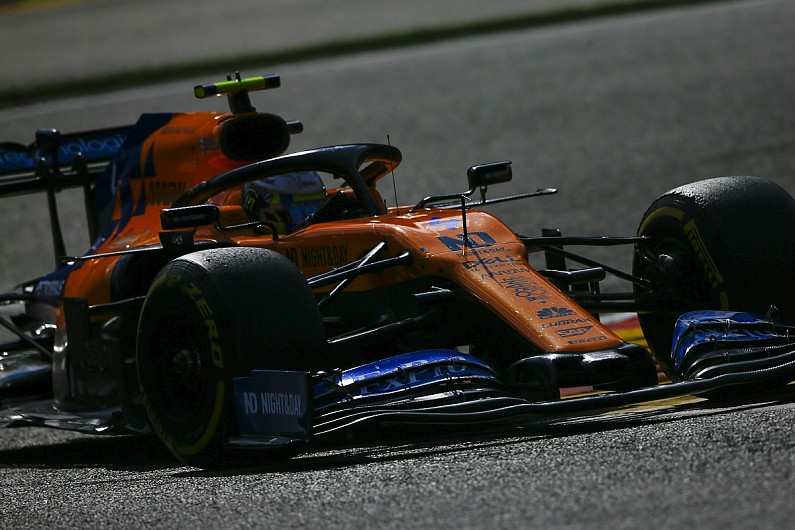 McLaren suffered failures at both the start and end of the Belgian GP and ended up not scoring with either car.
Sainz Jr's race was over before it really began after his Renault customer engine hit trouble on the formation lap, before stopping him shortly after the start.
Team-mate Norris looked set to take a well earned fifth spot before his engine lost power on the penultimate lap.
He had to park on the start/finish straight and was classified 11th.
"It's disappointing for us to have two DNFs, with one driver not even being able to make the race start," explained Seidl.
"At the same time, the situation is on Renault's side as well.
"Renault is making a huge effort in order to bring power updates throughout the season so that's encouraging to see.
"But of course, [it is] disappointing to have all these penalties and the DNFs in the races.
"It is important that we have a transparent and open relationship there, and that we analyse the issues and try to solve them together."