Alex Albon's shot with the Red Bull Formula 1 team begins with neither party likely to get a clear judgement of his true performance at the Belgian Grand Prix.
Albon will start his first race since being promoted from Toro Rosso at the back of the grid at Spa, after Honda fit an upgraded engine to the Red Bull he has taken over from Pierre Gasly.
As a result, his Friday running focused on set-up work for the race rather than extracting peak performance, and Red Bull team boss Christian Horner said Albon and Max Verstappen were running "different programmes", especially in FP2.
Albon will also not contest qualifying as normal, so it would be wrong to draw conclusions from his one-lap pace this weekend.
His early laps on Friday were spent getting up to speed with Red Bull's systems and steering wheel settings, while also battling some radio difficulties - nothing major or long-lasting, but enough to show the sort of unseen issues that can throw a spanner in the works.
Albon also repeatedly referred to making "baby steps" on Friday, as he worked to get used to his new surroundings.
"I'm still trying to understand the car," he said. "It is very different to the Toro Rosso so it is quite difficult in some respects and better in other respects.
"It's a different driving style that you have in Toro Rosso, you spend six months driving that way and you come to Red Bull car and it is kind of remembering what the other cars are like.
"You have to rewire your brain, start from the beginning and go again."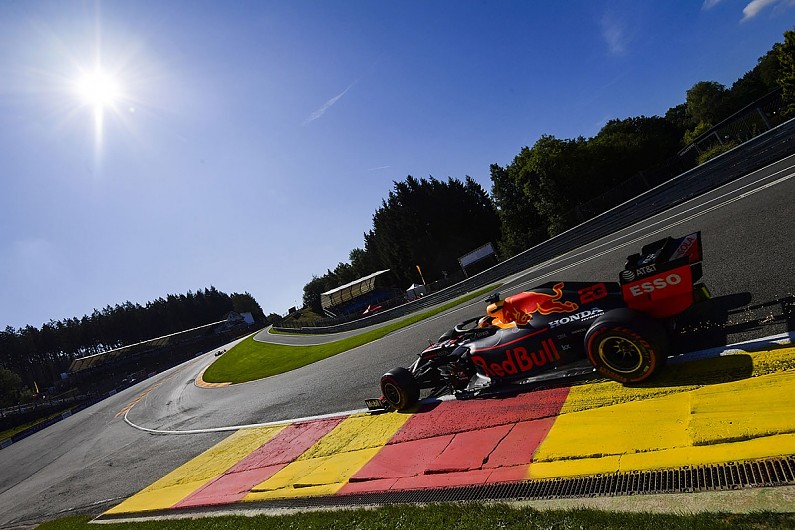 All of the above means Albon's 0.4-second deficit to Verstappen and position of 10th on Friday, mired in the midfield, is not entirely representative - although it is also clear to see there is plenty of room to improve his driving.
Once Albon started to push, two areas he seemed to struggle in were getting the tyre temperatures right, and braking performance.
Twice he started push laps with wheelspin exiting the final chicane/La Source and suffered lock-ups at the entry of the same corners when approaching at full speed.
The adjustment from his Toro Rosso - not a bad car, but one that needs to be hustled more - to the more compliant Red Bull will take some time, especially when driving on the limit is not his priority this weekend.
But Horner is pleased with what he has seen from his new driver.
"I think he has done a very good job considering he has not sat in the car previously," said Horner.
"He has got in, he has a very good feel, he is giving feedback that is consistent with that of Max's.
"He is certainly within a few tenths which is encouraging for a first run in a car at this circuit and venue.
"He says there are quite a lot of differences to the Toro Rosso that he has had to adjust to and is adjusting too, but you can tell he is very bright, he is intelligent, he is asking all the right questions."
That adds up to a positive first day on the job for Albon, and his target is to progress through the rest of the weekend.
In some ways it is unfortunate that he and Red Bull do not have the cleanest first weekend together, as it does make a full judgement difficult.
However, it is important to recognise that this is not a short-term arrangement, which amounts to what Horner terms "a slightly less pressurised weekend, which is probably a good thing for him".
That does not mean Albon's off the radar and will be allowed to underdeliver, it just means his Red Bull shot begins with something of a false start.
The two metrics that exposed Gasly against Verstappen were his qualifying pace and final finishing positions.
Red Bull cannot fairly judge Albon on those this weekend, but will be able to sooner rather than later, and has other ways to assess his performance in the meantime.
"The car is capable of delivering podiums," said Horner. "So that has to be our target, to be challenging and pushing for podiums.
"We want to see progression during these remaining nine races, and let's see where we are in Abu Dhabi - then we've got a much clearer picture."